Protect yourself: Freelance business insurance
Freelancing offers greater flexibility than many jobs, but being self employed requires adequate insurance.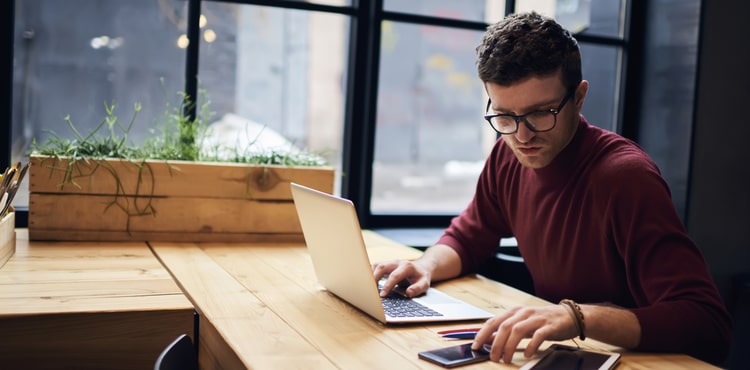 More Americans than ever before are turning to freelance and contract jobs. There are more than 57.3 million freelancers in the United States, according to a survey by freelance job platform Upwork and the Freelancers Union. By 2027, it's predicted that the majority of the U.S. workforce will be freelancing, at least on a part-time basis.
The stereotypical freelancer works hunched over a laptop, taking advantage of a coffee shop's free WiFi. However, many professions fall into the freelance category, including doctors, lawyers, plumbers, graphic designers, and more.
Freelancing offers greater flexibility than working at a traditional job, but freelancers are also considered self-employed business owners in the eyes of the law.
Freelancers are responsible for paying their own Social Security and other employment taxes.
Self-employed workers can be sued by clients – and they don't have the advantage of an employer's liability coverage.
This guide provides an overview of the unique business insurance needs of freelancers and self-employed workers. It covers key policies for freelancers, how self-employed insurance can provide a competitive edge in the marketplace, how to save money on coverage, and what insurance costs can be written off in business tax filings.
The 6 most important business insurance policies for freelancers
Freelance insurance policies offer protection from costly lawsuits. However, the type of coverage you might need depends on the type of work you do. These policies provide protection for some of the most common risks freelancers face.
General liability insurance. This is often the first policy a business owner purchases. It can help pay for common lawsuits over customer injuries, copyright infringement for some professions, and more. Commercial leases often require tenants to carry this coverage, so freelancers may need to purchase this policy before renting an office. A client contract may also require general liability coverage in order to shield the client's business from liability.
Professional liability insurance. Freelancers who provide professional services – such as writers, designers, programmers, developers, and accountants – could be sued if a customer is dissatisfied with the quality of their work. Professional liability insurance, also known as errors and omissions insurance, provides coverage for business owners accused of being negligent or making a mistake while doing their job. For example, a web designer could be sued by a client who claims errors in technical plans delayed a project, resulting in lost revenue. Even if the designer didn't make a mistake, professional liability insurance could pay for an attorney to defend against the lawsuit as well as for judgments if the case is lost.
Commercial property insurance. Commercial property insurance can cover the cost of repairing or replacing property, up to policy limits. Freelancers who work from home may need commercial property coverage because standard homeowner's and renter's insurance usually do not cover business property. Without the appropriate commercial endorsement to these policies, damaged or stolen business property might not be covered.
Cyber liability insurance. Freelancers who handle sensitive customer data could be at risk for a data breach lawsuit. For example, if your business processes credit card payments and your electronic data is stolen, you could be held financially liable for any damages. Cyber liability insurance can pay to notify customers impacted by a breach, as well as to provide them with fraud monitoring services. Cyber liability insurance can also pay for legal expenses.
Commercial auto insurance. Freelancers who use their vehicle for business purposes, such as driving to meet clients or make deliveries, should be aware that their personal policy may limit or exclude coverage for any work-related use of their car. If that's the case, commercial auto insurance can cover accidents that happen during business trips.
Bonds. Self-employed workers in IT, construction, cleaning services, and other industries are often required to purchase bonds. Bonds act as a three-party insurance agreement between your business, the client, and the insurance company. If you purchase a bond, the insurance company will pay your client a certain amount if you can't deliver on your contract as promised. Freelancers who work with financial or IT services clients may be required to purchase fidelity bonds, which provide financial protection for the client against theft, fraud, or illegally accessed data.
If you are not sure which policies are best for your freelance business, ask an insurance agent who specializes in your industry about appropriate coverage.
How business insurance helps freelancers stay competitive
In addition to protecting businesses against the high cost of lawsuits, business insurance has the potential to help freelancers land more work. Many companies prefer to hire freelancers who have their own insurance.
A joint poll with Insureon and online business directory Manta found that 53% of small business owners require freelancers to buy business insurance: 23% require freelancers to purchase general liability coverage, and 11% require freelancers to carry professional liability insurance.
Hiring freelancers that have their own insurance is one way clients can protect themselves. For example, an e-commerce company hires a self-employed developer to create a smartphone app by a specific date. If the developer is not able to deliver the app in time, causing the company to lose significant revenue, he could be sued by the company. However, if the developer has professional liability insurance, the insurance company could cover those expenses up to policy limits.
Letting potential clients know that they are insured can give freelancers an edge over their competitors, and also protect them from paying thousands of dollars out of pocket if they wind up in court.
How freelancers can save money on business insurance
It's important for business owners to have the appropriate levels of insurance coverage. However, there are ways to cut costs while still ensuring a business is protected. Here's how you can save on policies without compromising on protection.
Compare quotes from multiple carriers. To find the best rates, shop around and compare offers from different carriers – look for top-rated, trustworthy U.S. insurance companies. Business owners who apply online with Insureon receive multiple quotes from top-rated carriers with one application.
Bundle insurance coverage. By purchasing multiple policies from the same provider, you could qualify for a premium discount. Many providers offer bundled policies, too. For example, a business owner's policy combines general liability insurance and commercial property insurance at a reduced rate for eligible business owners.
Choose a policy with a higher deductible. Business owners can save money on the premium by opting for a policy with a higher deductible. However, make sure you choose a deductible you can afford. Otherwise, you are essentially paying for coverage you can't really use.
Reevaluate policies annually. As your business grows, your coverage needs may change, too. Reevaluate your policies each year they're up for renewal to make sure you still have appropriate protection at the most competitive price.
Pay premiums in full. Business owners who can afford this option may get a discount for paying the yearly premium in full.
How freelancers can write off business insurance on their taxes
Insurance is a business expense that is tax-deductible. According to the IRS, a business expense counts as tax-deductible if it is both:
Ordinary: This means the expense is common in your line of work.
Necessary: The expense is helpful and appropriate for your business.
Most businesses are required to carry insurance to comply with industry regulations, leases, or client contracts. This means that business insurance meets both qualifications for a tax-deductible business expense.
As a freelancer, you can typically deduct the following insurance policies:
General liability insurance
Professional liability insurance
Commercial property insurance
Business interruption insurance
Cyber liability insurance
Workers' compensation insurance
Commercial auto insurance
Unemployment insurance
Health insurance
Life insurance
However, there are some exceptions. You typically can't deduct:
What you pay into a self-insured reserve. This probably won't apply to freelancers, but some big businesses use these reserves instead of carrying workers' comp coverage.
Premiums on a disability policy that covers lost income
Premiums for loan protection insurance
The money you spend on self-employed insurance can be deducted from taxes each year, not just the year you begin coverage. Keep the receipts that show how much you paid for insurance coverage so you are ready to itemize these deductions at tax time.
Safeguard your freelancer business and your future
By getting insured, you are protecting your business and increasing your chances of landing more work. Instead of worrying about lawsuits, you can focus on doing the work you care about.
If you still have questions about what business insurance can cover or whether your operations warrant coverage, an Insureon agent can offer guidance. If you're ready to get insured, apply online – it only takes 15 minutes to complete an application.