How to protect yourself with freelance business insurance
Being self-employed comes with freedom as well as risks. Learn how freelance business insurance can protect your business no matter your profession.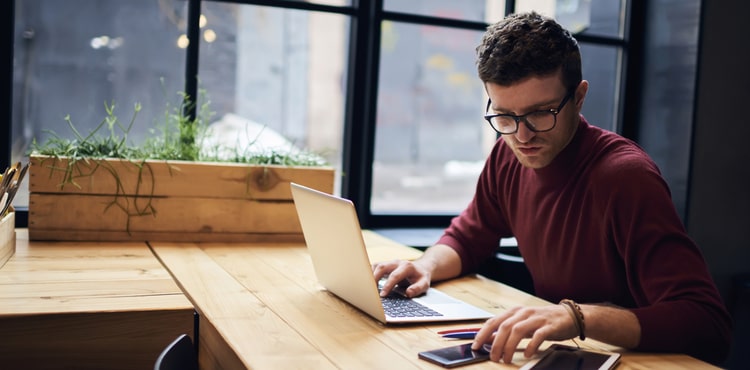 Freelancing offers many benefits, like the flexibility and freedom of being your own boss. However, being self-employed is not without risks.
When you work as an employee, you're protected by your employer's business insurance policies. Once you strike out on your own, however, you become a business owner – both practically and legally.
As a freelancer, you'll be on the hook if you cause injury, property damage, or other losses to a client or third party. However, with a few simple steps you can protect yourself and your small business.
No matter what type of freelancer you are, freelance business insurance helps protect you from client lawsuits and other common hazards for small businesses.
Let's look at who might benefit from this insurance, some scenarios when you might have to have it, and the most common small business insurance policies that you should consider.
Why do freelancers need insurance?
As a full-time freelancer, you don't have the benefit of working under the umbrella of an employer's insurance policies – which probably covers more than you realize. Whether you're in technology, consulting, building design, or freelancing in some other industry, business insurance provides critical protection from losses and lawsuits that your personal insurance coverage cannot.
Personal insurance policies usually won't cover business-related claims
Many freelancers assume that their personal insurance policies will protect their business as well, but that's not always the case. A personal insurance policy may provide limited coverage for things like property loss, but it won't protect you from business-related liability claims.
For example, if a client of your event planning business slips and injures themselves while visiting your home office for a meeting, they may file a claim with your insurance to cover their medical expenses. If you only have homeowner's insurance, the insurer could deny the claim since it was a professional meeting – which means you'd have to pay the medical costs out of pocket.
Freelancer insurance protects you from property loss
When you work as an employee, your employer's commercial property insurance protects the business's real estate and property such as computers, equipment, and furnishings from losses caused by fires, break-ins, and other unexpected events.
If you're self-employed, you no longer have that protection for the laptop you use to run your app developer business or the camera you rely on for every photography session.
Your homeowner's or renter's policy probably covers a limited amount of business property. You may also be able to able to add an endorsement to your homeowner's policy to increase your limits for business equipment coverage.
Ultimately, you may need to consider a commercial property insurance policy depending on the amount of expensive tools and equipment you are using for your business.
Freelancer insurance protects you from lawsuits
Lost, damaged, or stolen business property is only part of the risk – you also need to protect yourself against lawsuits. If you make a mistake or oversight, don't follow through on a contract, or cause a client financial or physical harm due to negligence, you could find yourself on the wrong end of a lawsuit.
Most freelancers don't have the financial resources to fight a long and costly legal battle, even if the court determines they did nothing wrong. Professional liability insurance, also known as errors and omissions insurance (E&O), can cover the costs if you're sued.
A personal insurance policy may provide limited coverage for things like property loss, but it won't protect you from business-related liability claims.
When might freelancer business insurance be required?
While freelance business insurance is frequently a good option, in some situations it may be required by law.
Client contracts
A lot of client contracts, especially for more technical freelance work like web development or architecture, will require some kind of freelancer insurance like a general liability insurance or professional liability insurance policy. Clients will often require you to provide a certificate of liability insurance before they'll do business with you. This requirement protects both you and your client in case something goes wrong during the project.
The good news is, once you have business insurance in place, it will apply to all of your contracts going forward. It can even help you attract new business by boosting your credibility with potential new clients.
Loan and lease agreements
Many landlords and lenders will want to see proof of liability insurance before they'll either allow you to rent an office or loan your business money. Carrying liability insurance helps protect both you and the landlord or lender if someone gets hurt on the property.
Freelancer marketplaces
Platforms like Fiverr and Upwork sometimes require freelancer insurance before you can list your services on their marketplaces.
On Fiverr, for example, you'll need to have sufficient general liability insurance to cover the most common risks for the type of service you offer.
Upwork, on the other hand, doesn't require any particular insurance policy. Instead, you'll have to "obtain any liability, health, workers' compensation, disability, unemployment, or other insurance needed, desired, or required by law."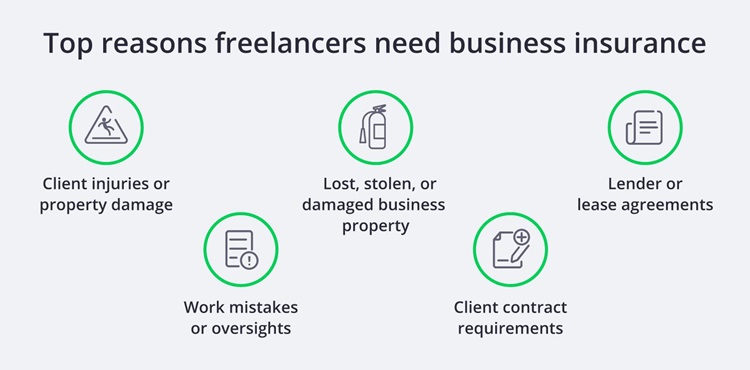 What are the most common freelance business insurance policies?
Choosing the right freelance business insurance can help protect you from costly lawsuits – but the right policies for your business will depend on the services you offer. Here are some of the most popular insurance policies for small business owners, covering the most common risks you'll face as a freelancer.
General liability insurance
The first insurance policy most small business owners purchase is general liability coverage. It protects your business from lawsuits over bodily injuries and property damage that happen on your premises or are caused by your work. It also covers advertising injuries like slander, libel, and copyright infringement.
Professional liability insurance
Freelancers who provide a service or make a living off their expertise – even home-based businesses – will definitely want to consider professional liability insurance. E&O will cover the legal costs if a client claims they suffered a financial loss because of your negligence or a mistake in your work. This insurance will pay for all your legal fees (up to the policy limit) if a client sues you – regardless of whether you're at fault.
For IT freelancers, technology errors and omissions insurance bundles E&O coverage with cyber liability insurance, often at a discount.
Commercial property insurance
Commercial property insurance covers the cost to repair or replace your business's property that's damaged in a fire, burglary, or other unexpected event. Even if you work from home, you should still consider commercial property insurance. You'll want to check whether your homeowner's or renter's policy covers business property, and to what extent.
Business owner's policy
A business owner's policy (BOP) combines a general liability insurance policy with commercial property insurance. If you think you'll need both policies for your business, you can usually save money by bundling these together instead of purchasing the two separately.
Cyber liability insurance
If you handle sensitive information – such as client data, credit card information, or personal information – you need to strongly consider cyber liability insurance. This policy covers your freelance business from the high costs of a data breach on your systems or at a client's.
If your freelance business experienced a cyberattack, it would pay for the cost of notifying anyone affected by it, credit monitoring for the victims, and any legal expenses you might encounter. If you're an IT consultant or other technology freelancer who could be blamed for a client's data breach, it can cover the costs of a lawsuit.
Hired and non-owned auto insurance
If you use your personal vehicle for business purposes, such as driving to client meetings or making deliveries, your personal auto insurance may not cover you if you're in an accident. Instead, you'll need a hired and non-owned auto insurance policy (HNOA), which covers legal defense costs, medical expenses, and property damage to others if you cause an accident while driving for work purposes.
Bonds
You may need to purchase surety bonds if you work in IT, finance, construction, cleaning services, or other professional services. Surety bonds are an agreement between you, your client, and the insurance company, saying the insurance company will pay your client if you fail to deliver on your contract.
Protect your business with freelance business insurance
Freelance business insurance is a good idea – even when it's not required
Investing in the right insurance policies for your freelance business can give you peace of mind – even when something goes wrong. You won't have to worry about unexpected events, accidents, or mistakes putting you out of business. Instead, with the right policies, you could earn the trust of more potential clients who will only work with an insured independent contractor.
If you still have questions about what types of insurance you should buy or whether your freelance business actually needs coverage, an Insureon agent can offer guidance. If you're ready to get insured, apply online – it takes just minutes to complete an application and get your insurance quotes.


Complete Insureon's easy online application today to compare quotes for business insurance from top-rated U.S. carriers. Once you find the right insurance policy for your small business, you can begin coverage in less than 24 hours.