Business Insurance for Restaurants
Compare multiple quotes from top carriers with one application.

WE ARE PARTNERED WITH THE WORLD'S TOP A-RATED INSURANCE COMPANIES
Save money by comparing insurance quotes for restaurants
Without insurance, a minor incident at your restaurant could turn into a catastrophe. Policies designed for restaurants protect against food poisoning, kitchen fires, and other risks your business faces each day.
One application, multiple quotes
Insureon helps restaurant owners compare insurance quotes from top U.S. carriers online. Get several quotes with one application.
What types of business insurance do restaurants need?
These policies provide coverage for the most common risks restaurants face.
How much does insurance cost for restaurants?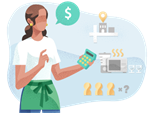 Several factors will have an impact on insurance costs, including:
Restaurant equipment and property
Services offered by your restaurant
Revenue
Location
Number of employees
View Costs
What our customers are saying
Why do restaurants need insurance?
A power outage that destroys your inventory, a claim of food poisoning, or a chef's injury could affect even the best prepared restaurant. Because the cost of a lawsuit or other unexpected incident can potentially devastate your restaurant, it's better to obtain insurance rather than gamble with exposure to risks.
Compare insurance quotes for restaurants
Save money by comparing insurance quotes from multiple carriers.