Commercial Umbrella Insurance
Save money by comparing insurance quotes from multiple carriers.

We partner with trusted A-rated insurance companies
How much does commercial umbrella insurance cost?
Commercial umbrella insurance raises your policy limit, providing your business with at least $1 million more in potential compensation per claim. Your level of risk and your policy limits affect the cost of umbrella insurance.
Average cost of commercial umbrella insurance
An umbrella insurance policy often costs less than it would to raise the policy limit on your underlying general liability insurance, commercial auto insurance, or employer's liability insurance. That's why many businesses choose this option, even if they haven't reached the maximum policy limit on the underlying policy.
For Insureon customers, the median premium for umbrella insurance is $75 per month, or $900 annually. The median offers a more accurate estimate of what your business is likely to pay than the average cost of umbrella insurance because it excludes outlier high and low premiums.
Many small businesses (17%) pay less than $500 per year for umbrella insurance and 36% pay between $500 and $1,000 per year.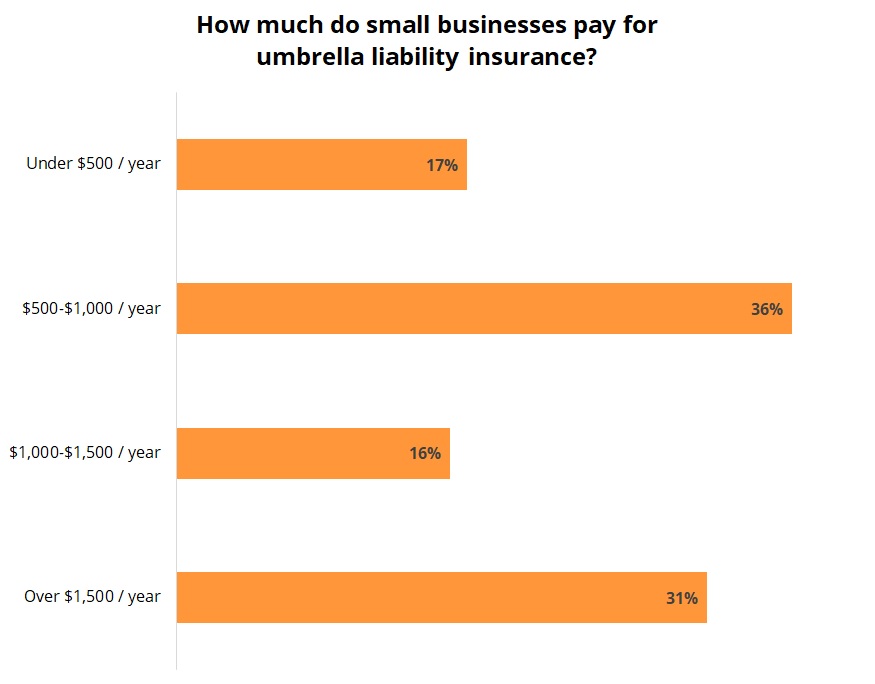 Industry risks impact the cost of umbrella insurance
The cost of umbrella insurance varies based on the likelihood of a claim on the underlying policy. Businesses in industries that are especially vulnerable to certain liabilities may need higher policy limits than those with limited liability.
In general, businesses in high-risk industries tend to pay more for umbrella insurance than low-risk ones. For example, building design professionals pay a median of $1,600 annually for umbrella coverage, whereas personal care professionals pay a median premium of $480 annually (only $40 per month).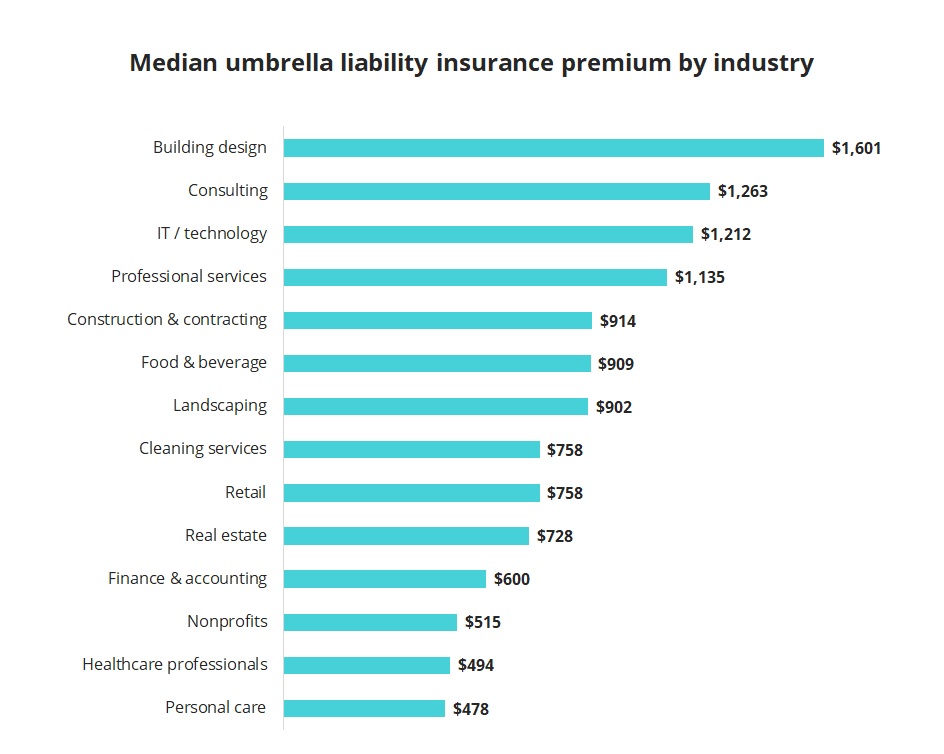 The following factors can increase the cost of umbrella insurance:
Your business is open to the public and experiences lots of foot traffic, which increases the chance of facing a general liability lawsuit.
You own a fleet of heavily used commercial vehicles, which increases the chance of a commercial auto insurance claim.
Your industry includes stressful or risky work that may lead to employer's liability insurance lawsuits.
Umbrella insurance policy limits vary
Umbrella insurance typically increases the limit of the underlying policy in $1 million increments. The higher you raise your policy limit, the more you'll end up spending on umbrella insurance. Small businesses usually purchase umbrella insurance to fulfill a contract calling for limits that are above the standard.
Standard limits for insurance are:
General liability insurance: $1 million per-occurrence limit / $2 million aggregate limit
Commercial auto insurance: $1 million generic limit
Employer's liability insurance: $1 million generic limit
It's fairly common for a client's contract to call for a $5 million limit on a policy. In that case, an umbrella policy with a limit of $4 million would be added to the standard policy to reach the total requested amount.
How policy limits affect umbrella insurance costs
The cost of umbrella insurance tends to increase with the policy limit. The average annual premium for an umbrella insurance policy that covers $2 million is 25% higher than the $1 million policy. The average for a policy that covers $3 million is more than 110% higher than the $1 million policy.
To select the most cost-effective policy for your business, take stock of the potential liabilities you face and see if extra coverage is worth the increased cost.
Tips for saving money on umbrella insurance
Pay your entire premium upfront. You can typically pay your premium in monthly or annual installments. It might be tempting to go with a smaller monthly payment, but consider paying the full premium instead. Businesses can usually save money this way because many insurers offer discounts on annual premiums.
Proactively manage your risks. If your business has no claims history, expect to pay lower insurance rates. An effective way to do this is to create a comprehensive risk management plan. For example, you might:
Develop a thorough training program for employees
Invest in a security system
Compile rules for posting to social media
Create procedure checklists and reviews
Minimize hazards on your business premises
Learn more about business insurance costs
Insurance premiums vary based on the policies a business buys. See our small business insurance cost overview or explore costs for a specific policy.
Compare umbrella liability insurance quotes
Save money by comparing insurance quotes from multiple carriers.