These four methods can help you protect your small business and save money at the same time.
How do you know if you're paying too much for business insurance?
You know you can't afford to go without insurance. But how do you know if you're paying too much?
If you haven't taken the steps listed below, you might be overpaying for small business insurance. Most small business owners can save money on insurance if they:
Remember, the cheapest policy isn't necessarily the best. Without enough protection against lawsuits, property damage, and other risks, you could end up paying more down the road.
1. Shop around to save money and find the best small business insurance
You already research and compare before spending money on items you need for your business. The same goes for insurance.
Insurance carriers offer a variety of coverage options at a wide range of prices. So, what are the best ways to shop for commercial insurance?
You could reach out to insurance companies directly and ask for quotes on the policies you're interested in. Thankfully, there's an easier method.
Instead, you can contact an insurance agent or broker to get quotes from several companies. Just make sure the insurance agency or brokerage represents multiple companies since some work with one exclusively.
They'll navigate the industry to find affordable business insurance that meets your needs. And they'll find appropriate options for rates and coverage from different carriers. Plus, you can ask them to ensure the policies you purchase provide the coverage you need to fulfill contracts, meet legal requirements, or reduce risks common to your profession.
Insureon offers both advantages. You can chat with a licensed agent who will walk you through your insurance options. You can also compare business insurance quotes from top-rated providers by filling out our easy online application.
How much does small business insurance cost?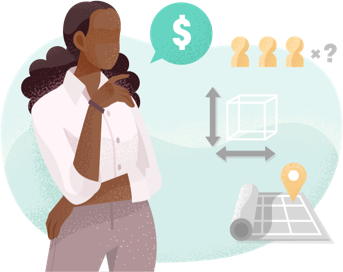 A general liability policy costs a median of $42 per month for Insureon customers. A BOP costs a median of $53 per month. Rates are based on a number of factors, including:
Policy type
Industry and risk factors
Coverage limits
Location
Business revenue
Number of employees
View Small Business Insurance Costs
2. Bundle policies for broader coverage at a reduced price
Insurance companies often give discounts when you buy more than one policy. Here are two of the most popular bundles:
A business owner's policy protects against the common risks of running a business
Small, low-risk businesses are often eligible for a business owner's policy (BOP). This policy combines two frequently purchased policies:
General liability insurance protects against lawsuits from people outside your business who sue over a bodily injury, property damage, or advertising injury. It's often required in the terms of a commercial lease or client contract.
Commercial property insurance protects your business property against fire, theft, and other risks. It's vital for businesses that rent office space or own a building, valuable inventory, or equipment.
Tech errors and omissions coverage provides specialized protection for IT and tech companies
Tech companies can often combine two important types of liability coverage in a bundle called technology errors and omissions insurance, or tech E&O. This policy includes the following protection:
Cyber liability insurance helps companies recover from cyberattacks and data breaches. It can also cover legal fees if your business is sued for failing to prevent a cyberattack or data breach.
Errors and omissions insurance helps protect against lawsuits from dissatisfied clients. It can also cover the resulting legal expenses if you miss a deadline or make a mistake in your work. This policy is called professional liability insurance in some professions.
Compare free quotes from top insurers
3. Customize your business insurance policies to match your needs
Commercial insurance policies aren't one size fits all. Your coverage should meet your business needs but not exceed it.
For example, when purchasing commercial property insurance, your coverage limits should match the value of your business equipment. If that amount changes, you'll need to change your policy too.
You can also choose to add business interruption insurance to cover expenses related to forced closure.
Commercial umbrella insurance is a good way to save money and extend liability coverage limits if you're concerned about escalating legal costs.
An agent can prevent you from paying for coverage you'll never use. Here are a few variables to keep in mind:
Deductible. A high deductible can make your insurance premium more affordable. But you'll have to pay more before you can collect insurance benefits.
Policy limits. Your policy limit is the amount your insurer will pay on claims. A lower limit usually means a cheaper premium, but it also means less coverage. Ask your agent how much is enough for you.
Inclusions and exclusions. Inclusions are the events a policy covers, and exclusions are the ones it doesn't. Cheap insurance isn't a good deal if common risks aren't covered.
Actual cash value versus replacement value. You can insure your business property for its actual cash value (depreciated value) to save money. Or you can insure it for the replacement value if you want to be able to purchase a new item after a loss.
4. Manage your risks to keep insurance coverage affordable
Insurance providers may charge more if they think you run a high-risk operation. The good news? You may qualify for cheaper business insurance if you address trouble spots.
Here are a few risk management strategies for small businesses.
Install security alarms and fire suppression systems
Many insurance companies offer a discount on commercial property insurance for businesses that invest in a central burglar alarm or sprinkler system.
Insurance carriers are particular about what qualifies for a premium reduction. Check first to make sure your upgrade will count for a cheaper policy.
Communicate clearly with clients and customers
An easy way small business owners can reduce the risks of errors and omissions insurance lawsuits is keeping in regular contact with customers.
Make sure you communicate often and honestly with your clients to resolve issues before they turn into a lawsuit. If everyone's on the same page, you're much less likely to end up in court.
Learn more ways to save money on errors and omissions insurance.
Create a safe workplace
Eliminating hazards at your business can reduce the chance of general liability claims and workers' compensation insurance claims. To reduce the chance of visitor and employee injuries:
Clean spills immediately
Keep walkways clear of clutter
Add lighting to dark areas
Install handrails on stairs
Remove loose rugs and other tripping hazards
With effective risk management, you can reduce both property and liability insurance costs. Plus, fewer accidents save your business money even beyond lower insurance costs.
Compare free quotes for your business
Save money by comparing insurance quotes from multiple carriers.