General Liability Insurance
Save money by comparing insurance quotes from multiple carriers.

We partner with trusted A-rated insurance companies
How much does general liability insurance cost?
The cost of general liability insurance varies based on your business operations and policy limits, among other factors.
Average general liability insurance costs for Insureon customers
Regardless of policy limits, the median cost of general liability insurance is $42 per month ($500 annually). The median cost offers a more accurate estimate of what your business is likely to pay than the average cost of business insurance because it excludes outlier high and low premiums.
Most small business owners (48%) pay between $300 and $600 annually for their policies, and 17% pay less than $300. These figures were derived from an analysis of thousands of insurance policies purchased by Insureon small business customers.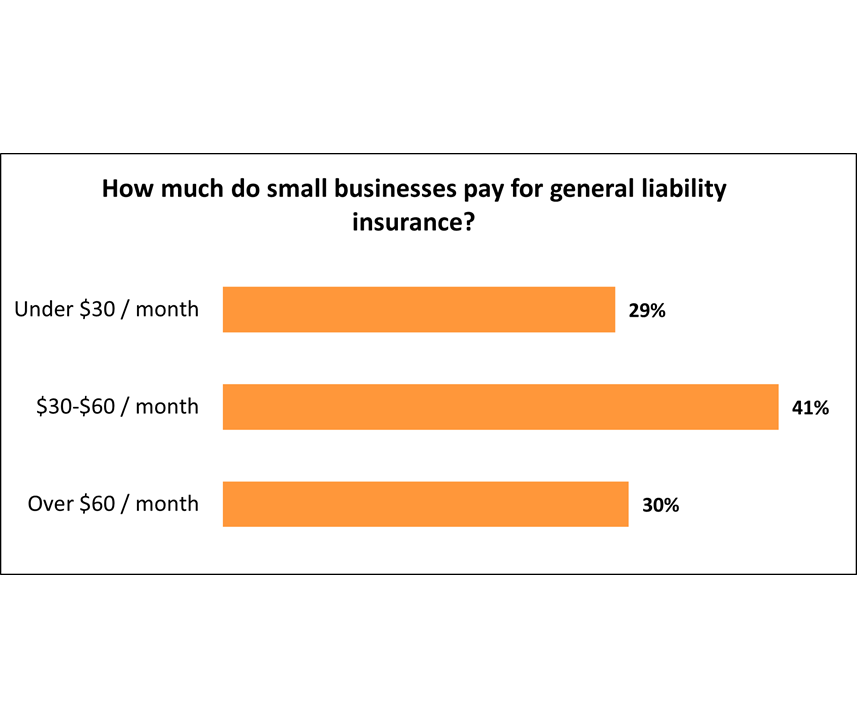 Industry risks impact general liability insurance costs
Our analysis of general liability insurance costs reveals that your industry has the biggest impact on policy costs. Generally, high-risk industries pay higher premiums, while low-risk industries enjoy lower rates.
For example, brick-and-mortar retailers open to the public are exposed to more risk than IT consultants working from a home office. The graph below illustrates how the industry you work in affects what you'll pay for a general liability policy.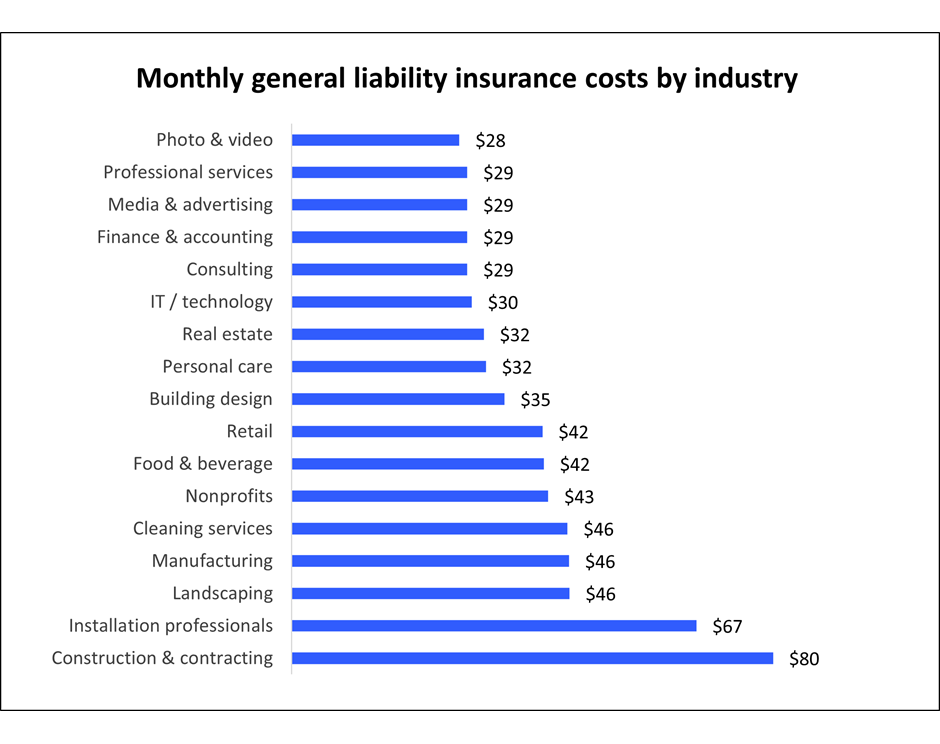 Constructing and contracting businesses, cleaning services, and landscaping businesses have the highest general liability costs because these industries often do work that involves someone else's property. General liability policies can pay for damage you or your employees cause to someone's property.
To see insurance costs for businesses in your industry, visit our industry-specific cost analyses:
How coverage limits affect general liability insurance costs
If you want car insurance that pays for a wide range of damage, you have to pay more for it. The same rule applies to business insurance. If you want a policy with higher coverage limits, expect to pay more than you would for basic coverage.
The most popular general liability policy is the $1 million / $2 million policy. This includes:
$1 million occurrence limit. While the policy is active, the insurer will pay up to $1 million to cover any single claim.
$2 million aggregate limit. During the lifetime of a policy (usually one year), the insurer will pay up to $2 million to cover claims.
The majority of Insureon customers (92%) choose a policy with $1 million / $2 million limits. Five percent of our customers choose a policy with $2 million / $4 million limits, the next most popular choice.
Tips for finding general liability cost savings
Bundle your insurance policies. With insurance, businesses can sometimes find discounts when they purchase multiple policies from the same provider. For example, if your business is considered low risk, you may qualify for a business owner's policy. A BOP bundles commercial general liability and property insurance together at a reduced rate.
Pay your entire premium upfront. Your general liability policy premium can typically be paid in monthly or annual installments. It might be tempting to go with a smaller monthly payment, but consider paying the full premium. Businesses can usually save money this way because many insurers offer discounts for annual premiums.
Proactively manage your risks. If your small business has a clean claims history, expect to pay lower insurance rates. An effective way to do this is to create a comprehensive risk management plan. For example, you might:
Develop a thorough training program for employees
Invest in a security system
Compile rules for posting to social media
Create procedure checklists and reviews
Minimize hazards on your premises
Learn more about business insurance costs
Insurance premiums vary based on the policies a business buys. See our small business insurance cost overview or explore costs for a specific policy.
Compare general liability insurance quotes
Save money by comparing insurance quotes from multiple carriers.