Inland Marine Insurance
Save money by comparing insurance quotes from top-rated carriers.

We partner with trusted A-rated insurance companies
How much does inland marine insurance cost?
Your policy limits and the value of your business property influence the cost of inland marine insurance.
Median costs for Insureon customers
The median premium for inland marine insurance is $14 per month ($169 annually). The median offers a more accurate estimate of what your business is likely to pay than the average because it excludes outlier high and low premiums.
Policy limits affect inland marine insurance costs
The median generic limit for inland marine insurance is $5,000. The higher the generic limit of coverage, the higher the premium. Professionals with expensive equipment choose higher limits and pay more for increased protection.
For example, landscapers, installation professionals, cleaning services, and contractors choose a $5,000 limit – and pay $169 in premiums. Photo and video professionals choose higher generic limits (the median is $86,000) and thus pay a higher premium ($579). Consultants and building design professionals such as architects and engineers who use more expensive equipment pay even higher premiums.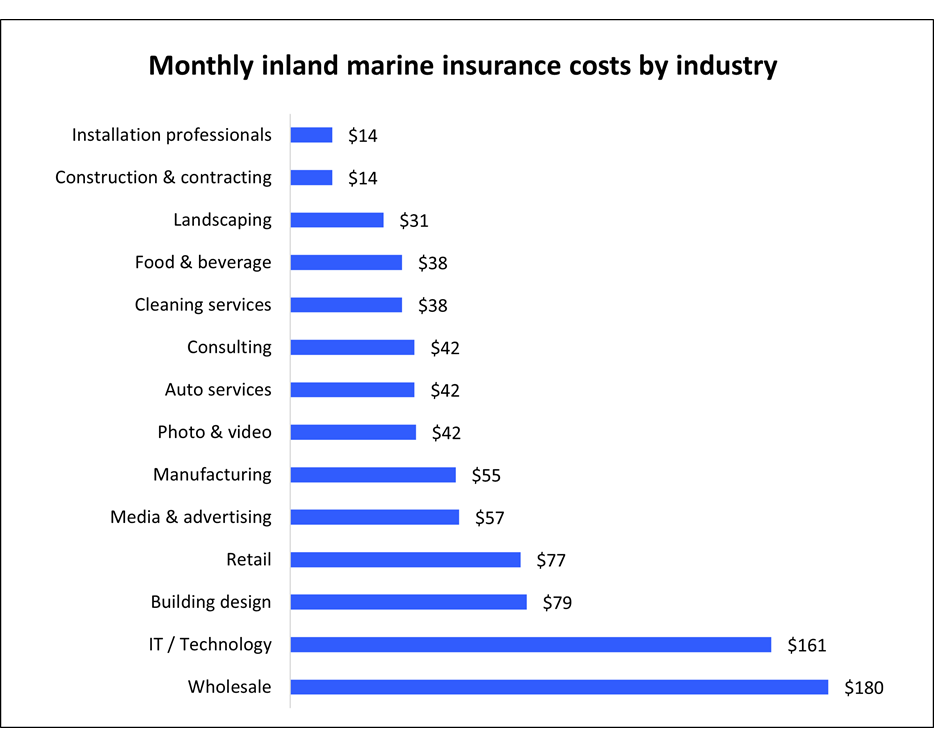 To see insurance costs for businesses in your industry, visit our industry-specific cost analyses:
Learn more about business insurance costs
Insurance premiums vary based on the policies a business buys. See our small business insurance cost overview or explore costs for a specific policy.
Compare small business insurance quotes
Save money by comparing insurance quotes from multiple carriers.