Cyber Liability Insurance
Save money by comparing insurance quotes from multiple carriers.

We partner with trusted A-rated insurance companies
How much does cyber liability insurance cost?
Cyber liability insurance protects against data breaches and cyberattacks. Policy costs are determined by how much sensitive information your business handles and other factors.
Cyber liability insurance costs for Insureon customers
Regardless of policy limits, the median cost of cyber liability insurance is $140 per month (or $1,675 per year) for Insureon small business customers. The median premium gives a better estimate of what your small business is likely to pay for this policy than the average cost of cyber insurance because it excludes high and low outliers.
Many small business owners (27%) pay less than $1,000 per year for cyber liability insurance, and another 36% pay between $1,000 and $2,000 per year. These figures are sourced from an analysis of policies issued to Insureon customers.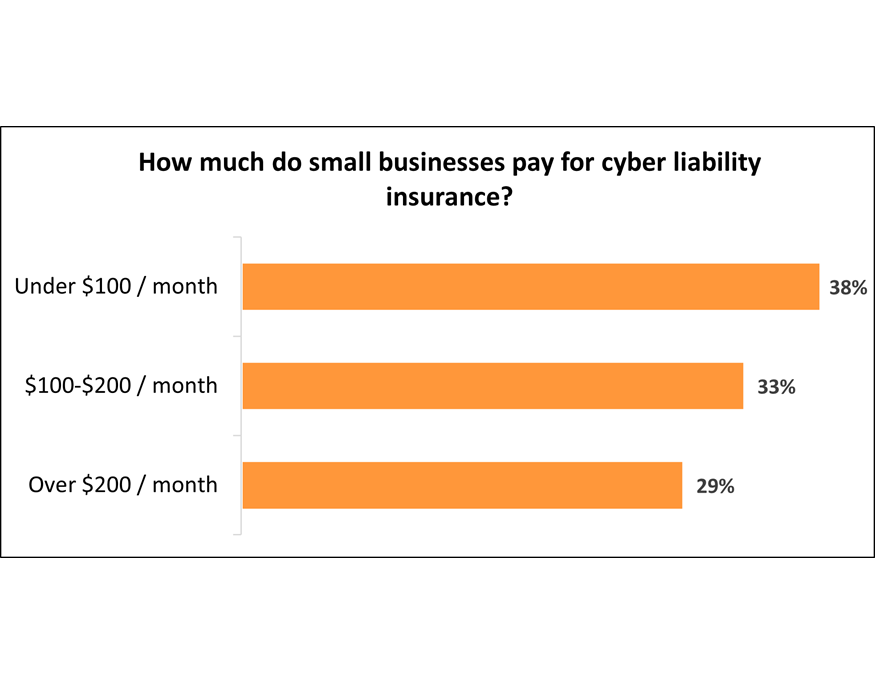 The cost of cyber liability depends on your risks
Businesses that handle a large amount of sensitive customer information typically pay a higher premium for cyber liability insurance. For example, healthcare professionals with access to customers' personal and medical information may pay more for this policy.
To see insurance costs for businesses in your industry, visit our industry-specific cost analyses:
How coverage limits affect insurance costs
Cyber liability policies have coverage limits that range from $500,000 to $5 million or more per occurrence. If you choose a cyber liability policy with a higher coverage limit, expect to pay more than you would for basic coverage since the cost of a policy is directly related to the maximum amount that policy covers.
Which cyber liability insurance limits do small businesses choose?
More than half of the small businesses that purchase cyber liability insurance through Insureon (54%) choose a policy with a $1 million limit. Other common limits are $500,000, $2 million, $3 million, and $5 million. Businesses that face higher risks, such as a potential lawsuit over mishandling thousands of credit card numbers, may choose a higher policy limit to protect against escalating lawsuit costs.
Tips for keeping cyber liability insurance costs low
Pay the annual premium upfront. You can usually choose to pay your cyber liability insurance premium in monthly or annual installments. While it's tempting to go with monthly payments because they require less cash upfront, many insurance providers offer businesses a discount for paying the entire annual premium at once.
Manage your cyber liability risks. If your small business has no cyber liability claims history, you could save money on your premium. You can also save money by implementing cybersecurity measures at your business. For example, you might:
Routinely change your business's account passwords
Invest in secure equipment and software
Develop a thorough cybersecurity training program for employees
Learn more about business insurance costs
Insurance premiums vary based on the policies a business buys. See our small business insurance cost overview or explore costs for a specific policy.
Compare cyber liability insurance quotes
Save money by comparing insurance quotes from multiple carriers.