Errors and omissions insurance

Errors and omissions insurance (E&O) helps cover the cost of a lawsuit if a client claims your work was inaccurate, late, or never delivered. It's sometimes called professional liability insurance.
Technology E&O protects against work mistakes
When a client accuses your IT company of an error or oversight, your business needs to be prepared for the consequences. Lawsuits can be devastating to daily operations, especially for small tech companies with limited resources. Technology errors and omissions insurance can help cover legal fees resulting from a client's dissatisfaction with your professional work.
This policy provides liability coverage related to:
Oversights and mistakes
Failure to deliver promised IT services
Accusations of professional negligence
Third-party cyber liability (data breach lawsuits)
What coverage can technology E&O insurance provide for IT businesses?
Oversights and mistakes
In the IT industry, a mistake can have serious consequences. For example, a DNS error at a web hosting company could lead to website downtime and potential lost customers for a client. Whether or not you're in the wrong, being accused of a professional mistake can be costly if a client sues. Errors and omissions insurance can help cover the resulting legal costs.
Failure to deliver promised IT services
Your technology services help your clients run thriving businesses. If a web designer doesn't complete a project on time, or an SEO consultant misses an appointment, the client could sue to recoup financial losses. Your errors and omissions insurance policy could help pay the costs of a lawsuit claiming you failed to provide a certain IT service or install promised equipment.
Compare insurance quotes for your technology business
Accusations of professional negligence
You strive to offer the best work possible, but if it doesn't meet industry standards, you could be accused of negligence. For example, a client could sue a mobile app developer for producing an app that freezes customers' smartphones. Technology errors and omissions insurance could help pay for an attorney, a court-ordered judgment, or a settlement.
Third-party cyber liability
Third-party cyber liability insurance provides financial protection if a client sues your business for failing to prevent a data breach. For example, a client could sue an IT consultant who recommended insecure software for computers that were affected by a cyberattack. This policy would help pay for the cost of hiring a lawyer and other legal fees.
When an errors and omissions policy includes third-party cyber liability coverage (which is typical for tech companies), the policy is called technology errors and omissions insurance, or tech E&O.
How much does technology errors and omissions insurance cost?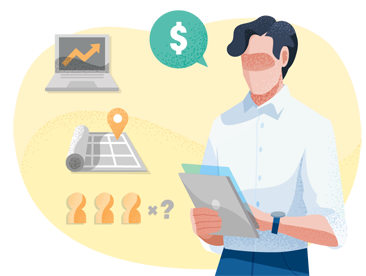 Other policies for IT businesses to consider
While E&O insurance covers numerous risks faced by technology experts, it does not provide complete protection. Software developers, data scientists, and other information technology professionals should also consider:
General liability insurance: This policy can cover expenses related to client injuries and property damage, along with advertising injuries like slander. Technology businesses can often bundle it with property insurance for savings in a business owner's policy.
Cyber liability insurance: You may want to invest in standalone cyber liability insurance to protect your own company's data, such as clients' credit card numbers.
Fidelity bonds: Because IT companies are often privy to sensitive data, an employee could jeopardize your business by engaging in unlawful access of client data, theft, or fraud. Fidelity bonds safeguard your business when an employee engages in certain criminal acts.
Workers' compensation insurance: Most states require technology businesses with employees to purchase workers' compensation. This policy covers medical bills and partial lost wages from work-related injuries and illnesses.
Commercial auto insurance: This policy is required for business-owned vehicles. It can cover property damage and medical bills in an accident involving your IT company vehicle, along with theft, vandalism, and weather damage.
Get free quotes and compare policies
Are you ready to protect your IT business with technology errors and omissions insurance? Complete Insureon's easy online application to compare quotes from top U.S. carriers. Once you find a policy that fits your needs, coverage can begin in less than 24 hours.
Compare errors and omissions insurance quotes
Save money by comparing insurance quotes from multiple carriers.