What you need to know about software liability
Your business could face a costly lawsuit if a defect in your software leads to property damage or physical injury. Here's what you should know about software product liability and how to protect your business.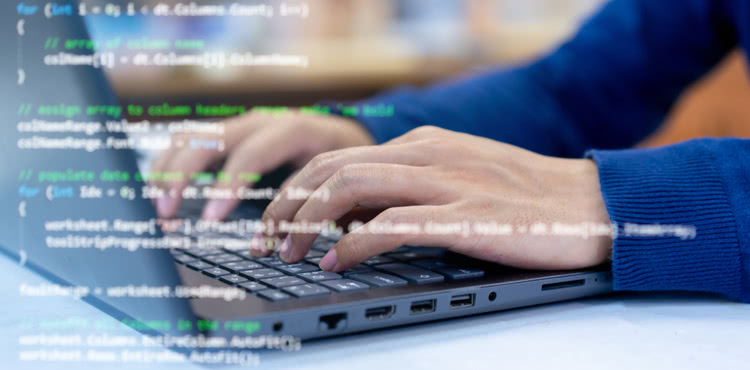 When so many aspects of business rely on software, you want to avoid risks at all costs. Given the high stakes, software liability is definitely a priority.
That's why you need to understand the basics of software liability, and how to protect your business if the software you provide is defective and leads to a lawsuit.
Why a software defect could mean trouble for your business
As a small software development business owner you might wonder:
The risk is real: You can be sued for damages in software development if your application crashes and causes physical injuries, property damage, or financial harm.
Any company can be held responsible for damage caused by a manufacturing defect or defective product – and technology companies are no exception. Fortunately, software product liability insurance can protect you from claims that your coding error caused physical harm, while errors and omissions coverage guards against lawsuits over financial harm.
State laws and license agreements can also limit your liability. But that doesn't mean you're completely off the hook.
Current software product liability laws
Software is like most other products when it comes to product liability coverage. If someone can prove that your work caused harm, they will likely be compensated for their damages in court.
For someone to successfully sue a software developer for negligence, they must prove that:
The software vendor had a duty to provide functioning software to the user
The software did not perform as promised
The user suffered harm
The software caused that harm
These criteria apply when there's no contract between the developer and client, according to standard tort law.
The importance of software licenses
Most software vendors use contracts or end user license agreements to define the terms of the relationship.
It's becoming quite common for these contracts to include language that limits a software developer's liability, even if the software doesn't work. Courts have typically upheld these contracts and limited the liability of the software company.
By including a limitation of liability clause in your contract or EULA, it could curb or even eliminate your liability if you're sued for a software defect.
Software is like most other products when it comes to product liability. If someone can prove that your work caused harm, they will likely be compensated for their damages in court.
When software causes third-party injuries
A strong license agreement between the user and software developer can greatly reduce product liability. But you could still be held liable for a software problem that causes a physical injury or property damage.
For example, a software development company is hired to write code that controls a boat's engines. The software developer hard-codes a test to run the boat's engines on full throttle for 15 minutes at a certain date and time. During the test, a boat passenger is injured.
In this case, the software development business and the boat manufacturer might both be liable for damages to the injured party.
Quality control is key to preventing software-related injury
You can never be too careful when your customer's safety is involved. You should test your products extensively to make sure you eliminate any potentially harmful bugs.
Pushing a software product before you've put it through enough quality control testing could have devastating consequences, as it did with the Therac 25 radiation therapy machine in the 1980s. In that case, software engineering errors led to deaths from massive overdoses of radiation.
Though software developers enjoy a larger degree of protection than medical device companies, contracts and license agreements may not always shield you from personal injury and tort claims. Sometimes complex circumstances can leave you vulnerable.
For example, 3D printing uses software and hardware to create a physical product. If a software defect caused the 3D printer to produce a flawed product that physically injured someone, the developer could face a lawsuit.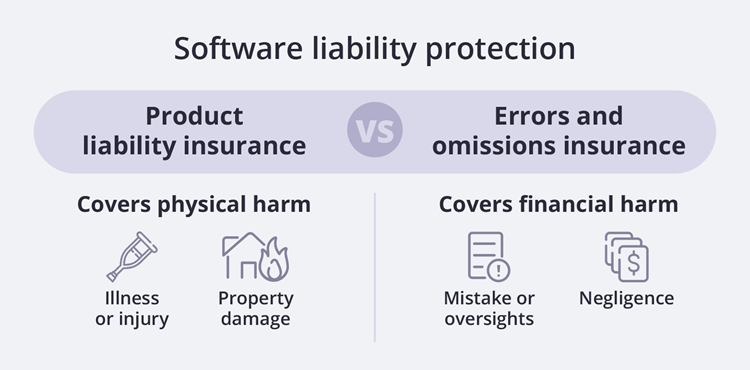 Large companies found liable for major software failures
Software defects can be disastrous, leading to costly product recalls and worse. These examples show how faulty code can lead to disasters for companies and their customers.
Toyota Prius
In late 2018, Toyota recalled nearly 2.5 million Prius vehicles after finding a software glitch that could cause the cars to stall at high speeds. Four years earlier, the company recalled 1 million cars because of a similar bug.
Toyota's alleged failure to properly patch the software generated several lawsuits.
In 2019, a jury ordered the company to pay $15.8 million in damages to a California car dealer who claimed Prius safety concerns caused his business to lose profits.
Boeing 737 MAX
The Federal Aviation Administration points to software defects as the root of two fatal Boeing 737 MAX airplane crashes due to automatic control system malfunctions.
According to Reuters, hundreds of lawsuits have been filed against Boeing by families of the victims of the October 2018 Lion Air crash in Indonesia and the March 2019 Ethiopian Air disaster.
The company settled the first lawsuits in the fall of 2019 and is expected to be held liable for more wrongful death claims.
Fortune reports that Boeing shareholders are currently suing the company's directors for negligence when rushing the aircraft to market. Boeing has since grounded all 737 MAX aircrafts, which led to a January 2020 settlement with American Airlines.
Tesla Model S and Model X
In May 2020, a class action lawsuit was filed against Tesla over a failing touch screen that operates safety-related systems, including critical gauges and warning notifications whose failure could put drivers at risk of harm.
The company refunded some owners repair costs and expanded its warranty to cover the memory device failure that led to the touchscreen issues. In January 2021, the company recalled 135,000 vehicles in response to a National Highway Traffic Safety Administration (NHTSA) request.
How to protect your business with software product liability insurance
Defective software can have serious implications for businesses of any size. For that reason, software developers typically carry some combination of these insurance policies:
General liability insurance
Most small businesses purchase general liability insurance to protect against claims of bodily injury and property damage to a third party, along with advertising injuries like libel or slander. This policy is often required in client contracts and commercial leases.
General liability insurance sometimes includes coverage for product liability claims. Check your policy documents or contact your insurance agent to see if your policy includes software liability coverage.
Software product liability insurance
If your general liability policy does not provide product liability protection, then software product liability insurance can cover the cost of lawsuits over software defects that result in third party:
While product liability laws are slowly evolving to include new technologies, this policy does not protect your business against claims of negligence that only result in economic loss. For those, you'll need errors and omissions insurance.
Errors and omissions insurance
Errors and omissions insurance (E&O), also known as professional liability insurance, will protect your software business from accusations of:
Errors or oversights
Breach of contract
Incomplete work or undelivered services
Missed deadlines
Negligence
Budget overruns
Businesses hired to develop white-label or custom applications for a product, hardware, or software manufacturer may be required to carry this coverage.
Most software developers choose to purchase technology errors and omissions insurance (tech E&O). This policy combines E&O insurance with cyber liability coverage, which protects your business from the high costs of a data breach at your business or a client's. A tech E&O policy can save you money, as it's often cheaper to bundle these policies together.
Keep in mind, limits and exclusions vary from policy to policy. Talk with your insurance agent about what your policies cover and if you need to add a rider to protect against a specific event.
You might also want to consult an insurance attorney before deciding on a policy. Since technology evolves quickly, legal advice could be key to understanding how your business could be held liable and how you can take steps to protect it.
Complete Insureon's easy online application today to compare quotes for business insurance from top-rated U.S. carriers. Once you find the right policy for your small business, you can begin coverage in less than 24 hours.