Professional Liability Insurance
Save money by comparing insurance quotes from multiple carriers.

We partner with trusted A-rated insurance companies
How much does professional liability insurance cost?
Professional liability insurance protects your small business from the financial risks of professional mistakes. Your industry and the scope of your services affect the cost of this policy.
Average professional liability insurance costs for Insureon customers
Regardless of policy limits, the median cost of professional liability insurance is $59 per month ($713 annually). The median cost offers a more accurate estimate of what your business is likely to pay than the average cost of business insurance because it excludes outlier high and low premiums.
Most small business owners (51%) pay between $500 and $1,000 per year for their policies, and 18% pay less than $500. These figures were derived from an analysis of thousands of insurance policies purchased by Insureon small business customers.
Industry risks impact professional liability insurance costs
The industry you work in has a significant impact on the cost of professional liability insurance, since different professionals are exposed to different liabilities. In general, high-risk industries pay higher premiums, while low-risk industries enjoy lower rates.
A building design business, for example, usually pays higher premiums than an accounting business because a construction mistake is typically more expensive and more dangerous than an accounting error. Those working in media and advertising also pay high premiums, since advertising injury can have an impact on a client's bottom line.
To see insurance costs for businesses in your industry, visit our industry-specific cost analyses:
How coverage limits affect insurance costs
If you want a professional liability policy that pays out more per incident or per year, you'll need to purchase a more robust policy with a higher premium. The claim limit on common professional liability policies varies significantly, from $250,000 to $2 million. However, most Insureon customers (61%) purchase a $1 million / $1 million professional liability policy. This includes:
$1 million occurrence limit. While the policy is active, the insurer will pay up to $1 million to cover any single claim.
$1 million aggregate limit. During the lifetime of the policy (usually one year), the insurer will pay up to $1 million to cover all claims.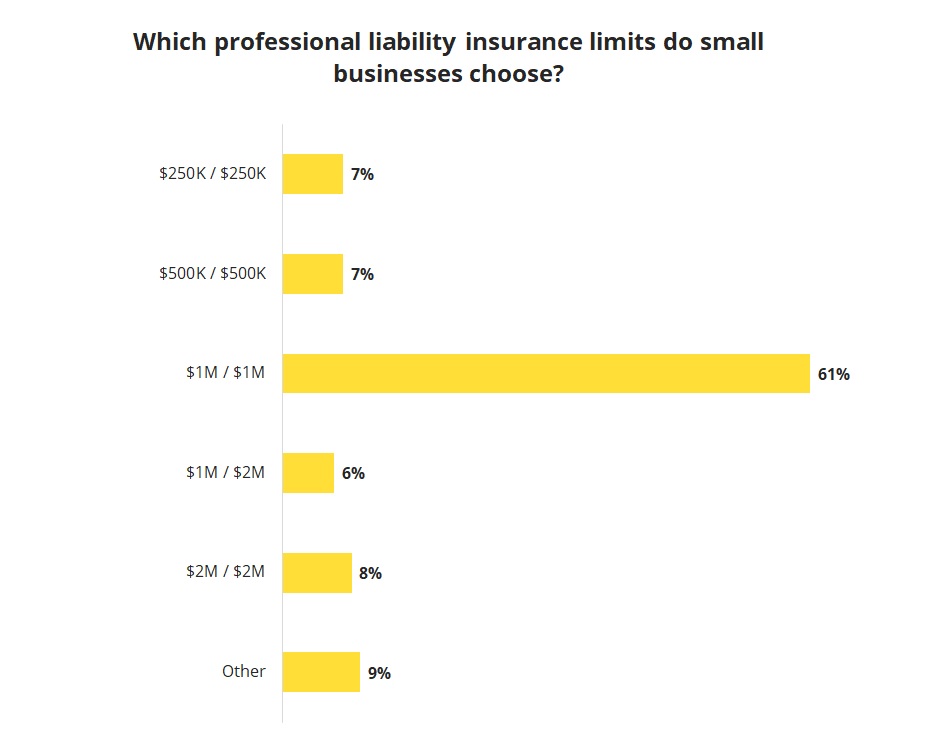 Tips for saving money on professional liability insurance
Pay your entire premium upfront. You can choose to pay your insurance premiums once a month or once a year. While making a smaller payment each month requires less money up front, it may cost more in the long run since insurers often offer discounts to businesses that pay an annual premium.
Keep continuous coverage. While it's possible to purchase professional liability coverage when you start a project and drop coverage when you complete the project, this cost-cutting strategy can backfire. To collect insurance benefits, your "claims-made" professional liability policy must be active:
When an alleged mistake occurs
When the claim is filed
Continuous coverage is key if you don't want to pay out of pocket for professional liability lawsuits. Learn more about claims-made insurance coverage.
Learn more about business insurance costs
Insurance premiums vary based on the policies a business buys. See our small business insurance cost overview or explore costs for a specific policy.
Compare professional liability insurance quotes
Save money by comparing insurance quotes from multiple carriers.