Landscaping businesses pay a median premium of about $45 per month, or $530 per year, for general liability insurance. This policy provides protection for client injuries and property damage, along with advertising injuries.
Insureon's licensed agents typically recommend a business owner's policy over a standalone general liability policy. A BOP combines general liability insurance with commercial property insurance to protect your landscaping business property, and costs less than purchasing each policy separately.
Your industry risks affect general liability costs
Among landscaping businesses that purchase general liability with Insureon, 68% pay between $400 and $800 per year. High-risk businesses tend to pay more for this policy.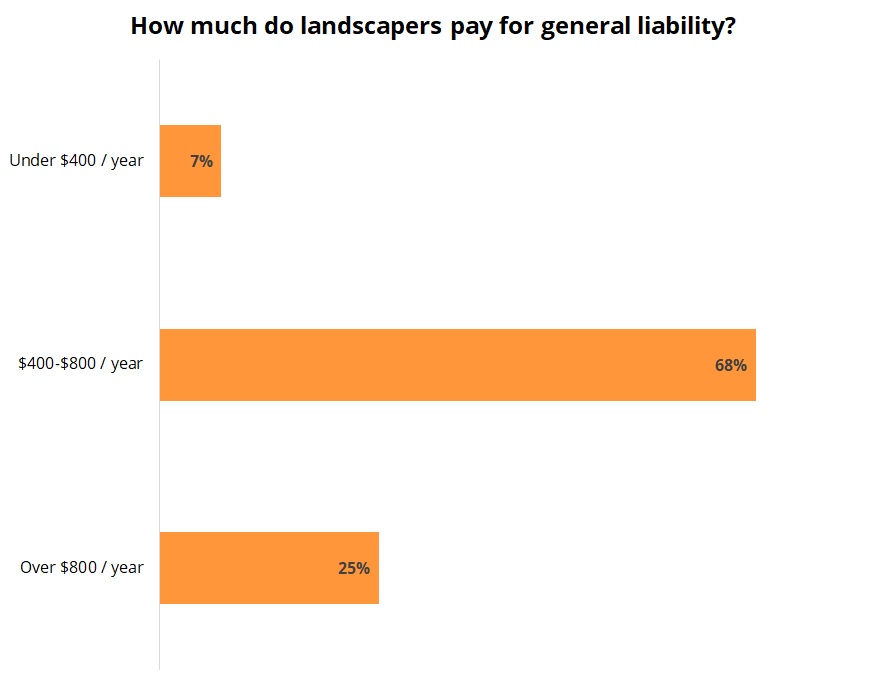 Common general liability policy limits for landscapers
Policy limits determine how much your insurer will pay on covered claims. A per-occurrence limit is the maximum your insurer will pay for a single incident, while an aggregate limit is the maximum your insurer will pay on any claims during your policy period, typically one year. Higher limits cost more – and provide better coverage.
Most landscaping businesses (98%) choose general liability policies with a $1 million per-occurrence limit and a $2 million aggregate limit. As your small business grows, you may need to expand your policy limits.
General liability costs depend on your landscaping profession
Businesses with large premises, such as a commercial tree service company, typically pay more for general liability insurance than smaller businesses like a landscape designer. Your industry risk, building maintenance, years in operation, and your location will also affect your premium.
The annual median cost for a tree service company is $1,650, while the median for a landscape designer is $507 – or less than $45 a month. As you can see, the cost can vary significantly across professions.