Retail businesses pay a median premium of about $65 per month, or $790 per year, for a business owner's policy. This policy combines general liability insurance with commercial property insurance, typically at a lower rate than if the policies were purchased separately.
A BOP protects against third-party injuries and property damage, along with damage to your own business property. Because of its increased coverage and affordability, it's the policy most often recommended by Insureon's licensed agents.
The cost of a BOP depends on the value of your business property
Among retail businesses that purchase a business owner's policy with Insureon, 31% pay less than $600 per year and 39% pay between $600 and $1,200 per year. The cost increases with the value of your business property.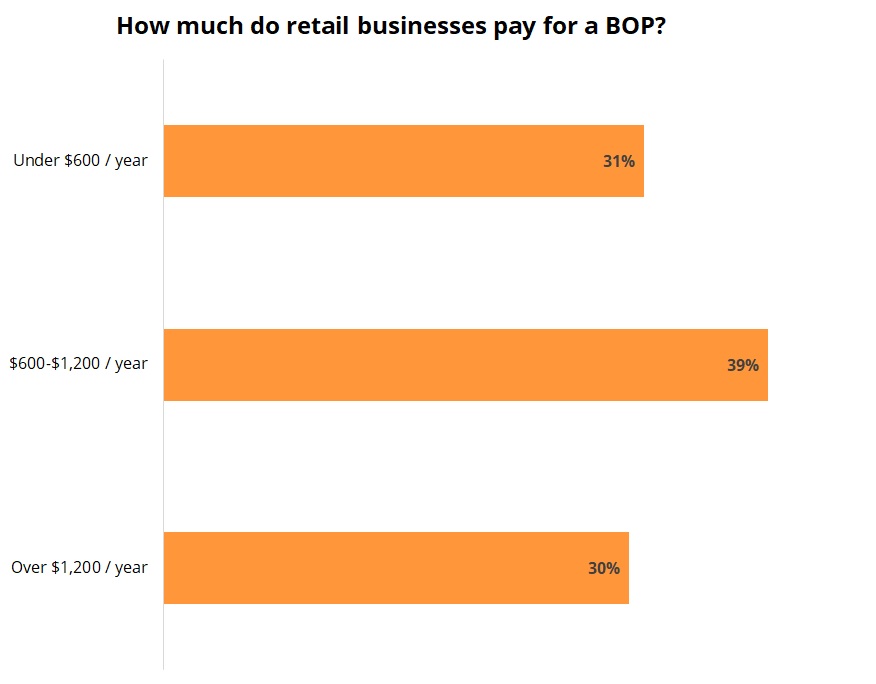 Which business owner's policy limits do retail companies choose?
Most retail businesses (93%) choose a business owner's policy with a $1 million per-occurrence limit and a $2 million aggregate limit.
Your store's size, specialty, and inventory affect the cost of a BOP for retail businesses
Retail businesses with large premises, such as drug store with two floors, typically pay more for a business owner's policy than a small store, like a mom-and-pop pet shop. Your store's specialty and inventory will also affect your premium.
The annual median cost for a convenience store is $1,800, while the median for a pet shop is about $690 – or less than $35 a month. As you can see, the cost varies significantly across professions.