How does commercial umbrella insurance work?
Commercial umbrella insurance can serve as an extra buffer of financial protection if your business exceeds its other forms of coverage. Find out how this policy works.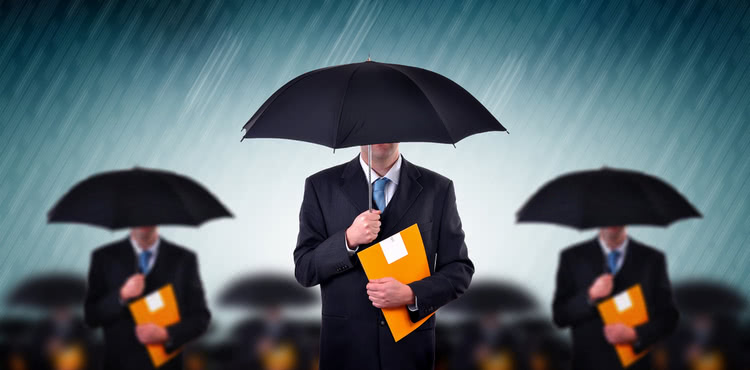 Commercial umbrella insurance provides an extra layer of financial protection beyond the coverage limits of your other insurance policies.
Most business owners who buy this policy do so to fulfill client requirements for liability limits over $2 million. It's also worth buying if you work in an industry where lawsuits are common, or infrequent but expensive.
Unlike most of your other insurance policies, commercial umbrella insurance doesn't provide primary liability coverage. Instead, it only kicks in when you exceed the limits of your underlying policies, including:
You can think of umbrella insurance as an affordable backstop to protect your business from lawsuits and other claims that go beyond your other insurance limits.
Instead of raising your maximum coverage (and costs) for each policy individually, you can get an umbrella policy that can provide coverage on the rare occasion that your current limits don't cut it.
Read on to learn how commercial umbrella insurance works and how you can use it to get increased coverage without paying a lot more in premiums.
How does commercial umbrella insurance compare to other policies?
Commercial umbrella insurance works just like your other insurance policies.
You experience a qualifying financial loss
You file a claim with your insurance company
Your insurer compensates you for the loss up to your policy limit
The biggest difference between an umbrella policy and your other insurance policies is what counts as a qualifying financial loss. For your umbrella policy to kick in, the costs of a claim have to exceed the limits of any other policies that might cover that incident. Umbrella insurance also only covers liability claims, not property damage.
Is commercial umbrella insurance worth it?
Should the unexpected occur, a small accident can potentially prove to be more costly than most policies would normally cover. Umbrella insurance can protect you when these situations arise.
For example, let's say a customer slips and falls in your retail store, hitting their head and suffering a debilitating injury. The customer sues your company for the cost of their medical expenses, lost income, and other expenses caused by the accident.
You, your attorney, and the customer's attorney agree to a settlement of $2.4 million. However, your general liability policy only has a $2 million limit, so it won't cover the full amount.
In this case, your umbrella policy would cover the excess and prevent you from having to pay the $400,000 difference (and all your legal expenses) yourself.
Most umbrella insurance policies will kick in automatically when you reach the cost threshold. However, in some cases, you may need to file an additional claim. You should ask your insurance agent how your umbrella coverage is triggered so you know what to do if you ever need it.
Compare insurance quotes for your business
How commercial umbrella insurance supplements coverage
Your primary insurance policies are your main source of protection from lawsuits and other financial loss. They provide plenty of coverage for most liability claims. However, some losses are so costly that they exceed your primary policy limits.
For these rare occasions, a commercial umbrella policy provides an additional safety net without costing your business a lot of money.
Businesses in many different industries can benefit from the extra protection that a commercial umbrella policy provides. Business owners should consider purchasing this coverage if their business falls into one of these categories:
Do LLCs and sole proprietors need commercial umbrella insurance?
You may think that if your business is small enough, you don't need to worry about carrying umbrella insurance. However, that's not the case.
Small businesses might have fewer assets, which makes paying for legal costs much more difficult. Umbrella insurance can be even more important when your business doesn't have the ability to survive an expensive lawsuit.
Also, small businesses that work with big clients need to carry enough liability insurance to fulfill their requirements. That's why small limited liability companies (LLC) or even sole proprietors might buy this policy.
Which policies does commercial umbrella insurance supplement?
One of the biggest benefits of umbrella coverage is that it supplements multiple policies at the same time. One commercial umbrella insurance policy provides extra insurance coverage for:
You can pay one small premium to effectively increase your liability limits on all of these policies instead of paying for higher limits on each one.
Note that you may see the terms umbrella insurance and excess liability insurance used interchangeably. However, excess liability insurance boosts coverage on only one policy, usually errors and omissions insurance (also called E&O or professional liability) or general liability insurance.
Which policies does umbrella insurance NOT supplement?
Your umbrella policy won't add extra coverage for every policy. For example, it won't cover excess claims for your commercial property insurance or employment practices liability insurance (EPLI).
If you want more financial protection for risks covered by these policies, you should consider raising your policy limits instead.
What does commercial umbrella insurance cover?
Commercial umbrella insurance can help pay for liability claims covered by one of your supplemented policies. This could include:
However, it's important to remember that umbrella insurance will only supplement policies that you already have. If you don't have hired and non-owned auto insurance for your business but are facing a lawsuit that would typically be covered by that policy, your umbrella insurance won't cover any of the costs.
How much does commercial umbrella liability insurance cost?
Commercial umbrella insurance is usually sold in $1 million increments. Each increment costs about $40 per month. However, this will vary based on your business and industry.
Insureon customers pay an average of $75 per month — or $900 annually — for umbrella coverage. That means that most small businesses choose $2 million of additional coverage.
Learn more about commercial umbrella insurance costs.
Compare umbrella insurance quotes from trusted companies with Insureon
Complete Insureon's easy online application today to compare small business insurance quotes from top-rated U.S. companies. Once you find the right policy for your small business, you can begin coverage in less than 24 hours.