How does commercial umbrella insurance work?
Commercial umbrella insurance can serve as an extra buffer of financial protection if your business exceeds its other forms of coverage. Find out how this policy works.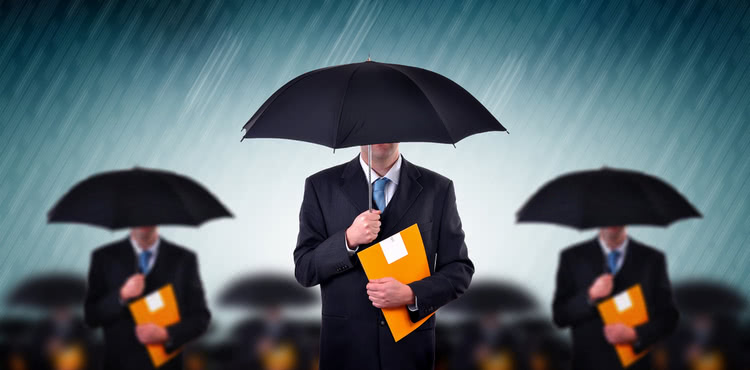 Most insurance policies work the same way: You experience a financial loss, you file a claim, and if the claim is covered by your policy, you receive compensation.
Commercial umbrella insurance doesn't really deviate from this model. But because it isn't a "primary" policy, its coverage can only be applied in certain situations. Knowing when you can use your commercial umbrella policy is the part that's sometimes challenging.
Once you know the "rules" of umbrella insurance, you'll have a better idea of when you can draw on this policy. Let's take a look at how it works.
How commercial umbrella insurance supplements coverage
Think of umbrella insurance as a backup for business liability policies that you already have. When a claim exceeds your primary policy's limit, you can apply your coverage to the amount still owed on the claim.
Usually, umbrella coverage can be applied to claims made on these liability insurance policies:
This is what sets umbrella insurance apart from most policies: It's only useful when your liability policies have reached their limits. It's like a reserve policy, that fills in any gaps if a claim exceeds your other policy limits.
Be sure to discuss with your agent whether you have to make a separate claim on your umbrella policy or whether its coverage kicks in automatically. If it isn't automatic, you may have to file two claims – one on the initial underlying policy and one on the umbrella policy.
You should also ask about which policies your umbrella coverage can and can't supplement. For instance, umbrella insurance cannot cover a professional liability claim. Talk with an Insureon agent beforehand so you know what to expect from your policy.
Many different types of businesses can benefit from the additional coverage and protection that umbrella insurance provides. Businesses that should consider purchasing this coverage include:
An example of using your umbrella insurance
Let's consider a scenario in which you might benefit from having umbrella insurance. Say you run a high-end retail shop where clients come in frequently to look at your merchandise. During a storm, a pool of water accumulates on the tile in front of the door, and before an employee can mop it up and lay down mats and a wet floor sign, a woman comes in, slips, and falls onto the tile.
You call an ambulance, and she goes to the hospital. A few days later, you receive a notice that the woman is suing your business. It turns out that her fall resulted in high medical bills and she cannot return to work because of her injury. You, your attorney, and her attorney decide on a settlement to avoid going to court. But the settlement is $2.4 million, and your general liability insurance covers up to $2 million per claim.
Without an umbrella policy, you would have to pay the $400,000 out of pocket or from your business's assets. But if you have umbrella insurance, you can file a claim and pay the additional $400,000, plus legal expenses, without touching your business's assets.
How much does commercial umbrella insurance cost?
Umbrella insurance typically costs about $40 per month per $1 million of additional protection. The median cost is $80 per month, which means most people choose $2 million of additional coverage. Prices vary depending on the location, size, and risks of your business. Learn more about commercial umbrella insurance costs.
Compare umbrella insurance quotes from trusted companies with Insureon
Complete Insureon's easy online application today to compare small business insurance quotes from top-rated U.S. companies. Once you find the right policy for your small business, you can begin coverage in less than 24 hours.