10 tips to consider before you buy small business insurance
The number of options for business insurance can be overwhelming. Learn how to choose the coverage you need for your small business.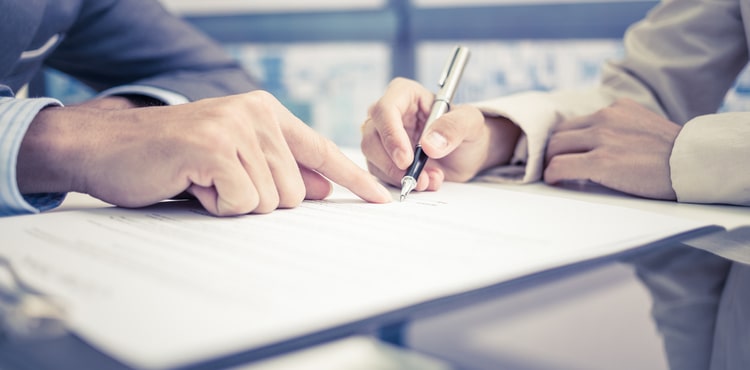 Every small business owner needs to manage risk, and selecting insurance is among the easiest, and best, ways to do that. The right insurance protection helps your venture get off the ground and grow into a successful business.
Finding the right small business insurance is a vital part of any business plan, but the process can be overwhelming – especially for those who've never purchased coverage before.
These 10 tips can help you understand your coverage options and find the commercial insurance protection you need at a price that fits your budget. They'll help you meet legal requirements, minimize your business risks, and save you headaches and money.
1. Know the types of business insurance
Your insurance needs will vary based on a number of factors, including your industry, your specialty, and your business assets. Here are the most common business insurance policies you'll want to consider, and what they cover:
2. Consider what insurance may be legally required
Buying business insurance may not just be a good investment for your small business – it may be a necessity. Depending on your industry, your state, your clients, and your lenders, you may be required to carry certain coverage.
For example, if you're renting a commercial space, your landlord may require you to buy a general liability policy to cover potential third-party lawsuits over claims of bodily injury or property damage. Mortgage lenders often have similar requirements for business property owners.
With few exceptions, businesses with employees must carry workers' compensation insurance. Regulations vary by state, but most require you to get coverage when you hire your first employee.
Clients may also require that you carry certain coverage before they'll hire you. The types of insurance policies can vary based on the industry and risks. Examples include:
Client contracts may also require you to carry a certain level of coverage, to give clients peace of mind that you'll cover any financial losses if the worst happens. If the requirements of a client contract exceed the limits of your policy, you may want to consider commercial umbrella insurance. An umbrella policy provides additional coverage for liability claims made on general liability, commercial auto, or employer's liability insurance.
Research the legal obligations for your area and industry to ensure you have proper coverage. An experienced insurance agent can help advise you on the coverage you're likely to need.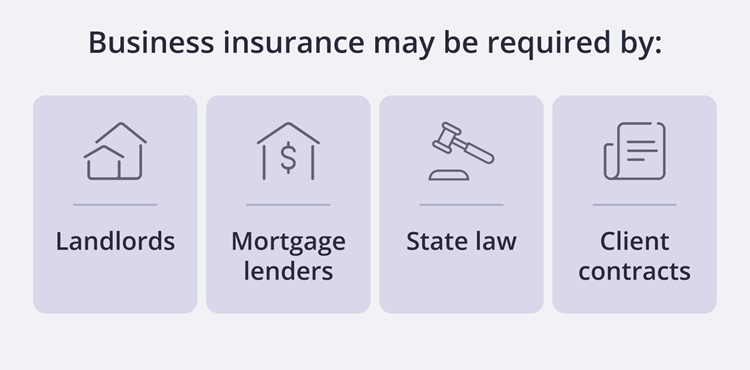 3. Understand your industry's risks
Every industry is different, and so are the risks to your business. For example, an accountant needs to worry about being sued if a mistake is made filing a customer's tax return. A restaurant owner, on the other hand, should be more concerned about a customer becoming sick after eating a meal at their restaurant.
Professional liability insurance can protect experts like accountants from lawsuits related to errors they make in their professional capacity, while product liability insurance can pay a restaurant's legal bills if customers become ill or suffer an allergic reaction because of the food they were served.
By carefully evaluating the risks you're likely to face in your industry, you can buy business insurance to guard against them.
4. Prioritize coverage over business insurance cost
Once business owners know which policies they need, their next question is usually how much business insurance will cost. After all, when your budget is tight, every penny counts. However, it's important to realize that while business insurance is an added expense, it plays a crucial role in protecting your business from serious financial damage.
It can be tempting to pick the cheapest policies you can find to save a few dollars on your premiums, but that could actually cost you more in the long run. Cheaper policies are priced that way for a reason. They may offer very limited coverage that leaves you vulnerable to common risks. Or they may be offered by an insurance carrier with questionable business practices, like slow claim processing times or abrupt premium hikes.
You're better off using reputable insurance providers, and buying the most insurance coverage your budget will allow. Otherwise, you may find that your cheap insurance won't cover your losses to keep your business running.
To get an idea of how much coverage might cost for your business, check out our business insurance cost analysis.
5. Learn what might affect your insurance rates
Beyond your industry's risks, you need to know what can affect your business insurance quote. The size of your company, your location, and the assets you wish to insure may all impact the premium you pay for coverage, among other factors. For example, your claims history and years of experience could impact how general liability insurance premiums are calculated.
While many of these factors are beyond your control, there are some steps you can take to keep your premiums down, such as:
Ensure you don't allow your insurance to lapse. Breaks in coverage can cause your premiums to increase.
Install fire suppression systems and security alarms. These may reduce your commercial property insurance costs.
Create a safe work environment. This can reduce the chances of an on-the-job injury, and fewer claims means lower workers' compensation premiums.
Avoid having employees with poor driving records operate your business vehicles. Drivers with a good driving history will help keep rates lower.
Of course, the price you pay will also be affected by your policy limits, which are the maximum amount your insurance policy will pay on a claim. Your premium will also be affected by the deductibles you choose.
By carefully evaluating the risks you're likely to face in your industry, you can buy business insurance to guard against them.
6. Consider your deductibles
Most business insurance policies include a deductible, which is the amount you'll be responsible for paying before your insurance policy kicks in to help cover a loss. After your deductible is paid, your insurance carrier will then cover the rest of the claim amount, up to the policy limit.
The higher your deductible, the lower your premiums – so you might be tempted to choose a high deductible. However, you need to be sure your business can afford to pay the deductible should you ever need to file a claim. Consider this when you're choosing your deductibles.
7. Overestimate your insurance needs
A lawsuit could be financially devastating to your business. Even if a suit is dismissed, it can still cost your business thousands of dollars in legal fees. That's why it's better to buy more than the minimum insurance coverage if you can – you never know when you might need that extra protection.
If a customer is injured at your business, or an employee gets into a car accident while running work-related errands, expenses can add up quickly. If a settlement is awarded, any amount beyond your policy limits would have to come out of your pocket.
You may also consider a commercial umbrella insurance policy to supplement your existing policies. It will cover business liability lawsuits costs that exceed your existing policy limits.
Protect your business with small business insurance
8. Work with top-rated insurance providers
The best way to ensure you have insurance coverage you can depend on is to buy business insurance from an insurance carrier you can trust.
When evaluating insurance companies, look at their ratings to find the most reputable ones. Insurance providers with an "A" rating are financially stable and have a reputation for offering quality, reliable coverage, prompt payouts, and consistent terms.
Insureon works with many of the nation's top-rated insurers. You can complete one quick online application and receive quotes from multiple carriers to compare prices and coverage.
Of course, our friendly, licensed agents are available to answer your questions and help you evaluate your options.
9. Read your business insurance policies thoroughly
Policies vary widely from carrier to carrier, and each one has its own limits, premiums, deductible, and exclusions. You should make sure you understand what is covered under a policy – and what is excluded – before you buy it.
As a busy business owner, you may feel that you don't have the time to spend on digging through the details of a policy. However, taking the time to read and understand a policy before you buy can help assure you don't have any gaps in coverage, or get a nasty surprise if you ever need to file a claim. If you ever have questions about what a policy does and doesn't cover, our agents are here to help.
10. Don't hesitate to ask for help
Buying business insurance can be a confusing process for anyone. If you need guidance on the best insurance products for your business, or simply need a better understanding of insurance terms and coverage, be sure to reach out to an insurance agent.
Insureon's expert agents specialize by industry. We'll connect you with an agent who has helped business owners just like you find the right coverage at the right price.
Our experienced agents can also help you save money by bundling policies. For example, you may be eligible for a business owner's policy, which combines general liability and commercial property insurance together.
Complete Insureon's easy online application today to compare quotes for business insurance from top-rated U.S. carriers. Once you find the right policy for your small business, you can begin coverage in less than 24 hours.