Most states require businesses with employees to purchase workers' compensation insurance. Sometimes other policies are required, as well.
State laws can mandate insurance requirements
Most types of commercial insurance are optional. However, depending on the state laws where your business operates, you might be required to purchase:
Workers' compensation insurance
Every state except Texas requires businesses with employees to purchase workers' compensation insurance. However, some states make exceptions for businesses with few employees. For example, it's required in Georgia only when a business regularly employs three or more people. In most other states, every business with employees is required to carry workers' comp, even for part-time employees.
Commercial auto insurance
You're likely familiar with the law and insurance requirements for your personal vehicle. Similarly, every business-owned vehicle must be covered by commercial auto insurance. This policy provides protection if an employee gets into an auto accident. It can cover injuries, property damage, and legal fees. A hired non-owned policy can provide additional coverages if you or your employees use personal vehicles for business purposes.
Professional liability insurance
Certain professionals, such as real estate agents, may be required by state law to purchase professional liability insurance. This policy provides protection if a client or customer sues over late business mistakes or late and incomplete that causes financial loses.
Liquor liability insurance
To obtain a liquor license, businesses such as bars and restaurants are often required to purchase liquor liability insurance. This policy provides protection if your business is held responsible for injuries or property damage caused by an overserved patron.
Find business insurance requirements in your state
Select your state to learn about insurance requirements for your small business.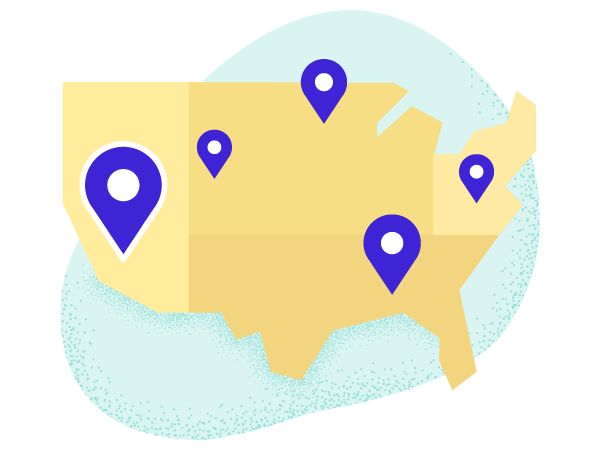 Other situations that require business insurance
Even when it's not required by law, business owners might need to purchase commercial insurance to sign a lease, attract clients, or get a license for their profession. Acquiring insurance for your small business allows you to:
Apply for licenses. Many licensing bodies consider an active insurance policy a requirement of becoming licensed.
Sign a lease. Your landlord may require you to have general liability insurance and commercial property insurance.
Attract big client contracts. Clients may require you to have professional liability insurance (also called errors and omissions insurance).
Buy commercial real estate or expensive equipment. Damaged property or equipment can be easily covered with adequate property insurance.
Businesses with unique risks may benefit from other types of insurance. A licensed Insureon agent can help you find the appropriate insurance for your type of business.
Compare quotes from trusted carriers with Insureon
Complete Insureon's easy online application today to compare small business insurance quotes from top-rated U.S. carriers. Once you find the right policy for your small business, you can begin coverage in less than 24 hours.
Compare small business insurance quotes
Save money by comparing insurance quotes from multiple carriers.