8 workers' comp insurance coverage tips for multi-state businesses
Businesses that work across state lines have unique workers' compensation obligations. Find out how to purchase workers' comp for your business when you have employees in multiple states.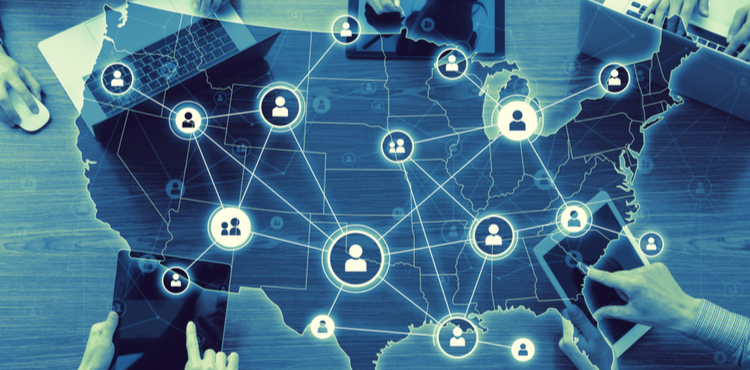 Introduction
As a small business owner with employees, you understand the importance of having workers' compensation insurance. If one of your workers gets sick or injured on the job, your workers' comp policy pays for their medical expenses and partial lost wages. Whether you have one employee or a team of 10, workers' comp is a legal requirement in most states.
However, if you operate your business in multiple states, or have employees that travel across state lines, the state laws for workers' comp can be different. Your policy may not automatically cover employees who are working outside of your primary state of operation. In addition, there can be other requirements you need to meet in order to comply with workers' compensation laws in each state where your workers are located.
In this article, we're explaining everything you need to know about multi-state workers' compensation insurance.
8 tips for getting workers' compensation across state lines
Workers' compensation is relatively straightforward, but if you need to cover employees in more than one state, it can be more complicated. If you're running an interstate business, it's important to understand how it will impact your workers' comp needs. Here are eight things to think about before getting workers' compensation across state lines.
1. See if you are exempt
Although workers' comp coverage is a legal requirement for most small businesses, there are exceptions. For example, sole proprietors and LLC owners with no employees are usually not required to carry workers' compensation, no matter what state they operate in. Certain professions are also exempt. For instance, real estate agents are often exempt from workers' comp.
2. Think about where your employees are located
Before you purchase workers' compensation insurance, ask yourself whether any of your employees will be working in another state and for how long. State workers' comp laws may require you to provide workers' compensation benefits if employees work in another location for five, 10, 15, or 30 days. Your insurance agent should know if you'll trigger any of these interstate requirements.
If you run a business that has employees in multiple states permanently, you will need to get a workers' comp policy that provides coverage in each state. Make sure to choose an insurance carrier that is licensed to sell coverage in all the states your business operates in. Otherwise, you will need to buy separate policies from different carriers.
Compare workers' compensation insurance quotes from top U.S. carriers
3. Get workers' comp class codes correct
The cost of workers' compensation for employees working in multiple states is priced according to the codes assigned to workers based on the type of work they do. Most states use standard NCCI codes, but they can change depending on which state you work in. To make matters more complicated, California, New Jersey, New York, Delaware, and Pennsylvania don't use the NCCI codes.
Getting the workers' comp class codes correct is extremely important to avoid misclassification, which can result in fines and other penalties. Misclassifications are often uncovered in your annual workers' comp audit, but even if you made an honest mistake, you might have to pay the difference between your old premium and the new premium based on the correct class codes.
4. Understand interstate ratings
If you've had an interstate payroll for a while, the NCCI may use an interstate rating for your business to determine the cost of your workers' comp policy. The interstate rating is based on your claims history, so if you have claims in more than one state, you could pay a higher rate for coverage. Having a clean workers' comp history can result in lower interstate premiums.
While most states participate in the NCCI interstate rating system, not all do. Thirty-five states use the standard NCCI system, and ten states have modified NCCI's class codes for their ratings. Five have opted out entirely, creating their own homegrown systems for evaluating workers' compensation risks. For more information about the rating system in your state, check out the NCCI State Map.
If your business operates in one of the states not using a standard NCCI rating system, your rating can be affected by more factors. Not only is your premium impacted by NCCI interstate ratings, but it's also determined in part by the non-participating state's rating factors.
5. Recognize monopolistic states
Four states (Wyoming, North Dakota, Washington, and Ohio) require you to buy workers' compensation insurance from a state-run workers' comp fund, rather than a private commercial insurance company.
For example, say that your business is located in Portland, Oregon, but you also do work in Vancouver, Washington, just miles away. If you work in both states, you may have to acquire workers' comp insurance through the state-run exchange in Washington or opt to self-insure in order to fulfill both Washington's requirements as well as Oregon's.
6. Require subcontractors to carry their own coverage
If you regularly work with contractors and subcontractors, it's important to understand the rules of workers' compensation across state lines. Technically, if you pay your subcontractors like you pay other employees on payroll, your subcontractors need to be covered under your own workers' comp policy. The exception is if your subcontractors carry their own workers' comp insurance.
Generally speaking, it's a good idea to require your subcontractors to have their own workers' compensation coverage. It will cost you less money and can also reduce your liabilities. Before you hire a new subcontractor, check to see if they have business insurance, and ask any staffing agencies about the coverage of the workers they send to you.
7. If you're a subcontractor, don't expect your client to cover you
Building on the point above, the reverse is also true. If you work as a freelancer or independent contractor, don't assume that your clients' workers' compensation insurance policies will cover you. Always read your contracts to see what types of insurance the client provides (if any), and what types of insurance you are required to carry.
For multi-state independent contractors, knowing the workers' comp requirements is especially important. For example, if you have your own workers' comp policy and you take a gig in another state where your insurance carrier is not licensed, you may need to get a separate policy to ensure you are adequately protected.
8. Make sure your remote workers are covered
Since the beginning of the COVID-19 pandemic, many small businesses have remote workers living in different states. No matter where your remote workers are located, they need to be covered by your multi-state workers' compensation insurance. Working from home presents unique risks, and it can impact what type of small business insurance you should have.
Fortunately, most standard workers' compensation insurance policies cover telecommuters. As long as your insurance carrier is licensed to sell insurance in all the states where your employees are located, your policy should extend coverage to everyone on payroll. In addition to workers' comp, it's also a good idea to look into other types of coverage for your remote team, such as cyber liability insurance.
How much does workers' comp cost?
Workers' compensation insurance policies cost an average of $47 per month. This is based on the median cost of workers' comp insurance. 30% of Insureon's small business customers pay less than $35 per month for this policy.
Your workers' comp cost is calculated based on a few factors, including:
Payroll
Location
Number of employees
Industry and risk factors
Coverage limits
Claims history
Other state-specific insurance coverages to consider
Having workers' compensation for employees working in multiple states is a legal requirement. But as you learn more about the workers' compensation requirements for multi-state businesses, it's also a good idea to look into other state insurance laws you need to comply with.
For example, if you drive business-owned vehicles, commercial auto insurance is legally required in every state except Virginia and New Hampshire. In addition, if you own the real estate where your business operates, you may need to purchase commercial property insurance with coverage for state-specific risks and perils, like earthquakes or floods.
As always, it can be helpful to talk with your insurance agent. Small business insurance isn't overly complicated, but factors like NCCI classification codes and state requirement variables can make things confusing. An agent can ensure your business is doing everything right – and taking advantage of any potential cost savings.
How to get workers' comp insurance with Insureon
Complete Insureon's easy online application today to compare workers' comp insurance quotes from top-rated U.S. carriers. Once you find the right policy for your small business, you can begin coverage in less than 24 hours.