Contractor vs. subcontractor: What's the difference?
Learn about the difference between contractors and subcontractors and the types of liabilities that they face.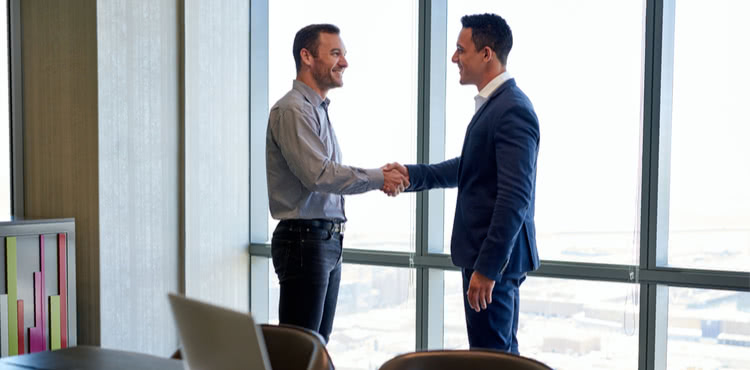 Every contractor and subcontractor should know their legal liability, contract requirements, and small business insurance needs for every project. Liability differs depending on the role.
Being prepared will protect you and your business if something goes wrong. But it will also build trust with potential clients, helping you win bigger contracts and grow your business – whether you're working directly with clients or for another contractor.
We'll explore some of the key differences between contractor vs. subcontractor liabilities and show you some of the most important insurance policies for your company.
Contractor vs. subcontractor: Who is liable?
When something goes wrong on a big project, it can be difficult to determine who's liable for the mishap. Contractors and subcontractors have different liabilities that can affect the insurance policies you should consider before your next project.
Independent contractors work directly with a client on a project
You're considered a contractor when a client hires you for a specific project, or on a freelance basis. Instead of working as a full-time employee for the client, you work on a contractual basis.
You provide the specialized skillset – labor, services, and sometimes equipment – needed to finish the project.
As a contractor, you're responsible for fulfilling the contract. That means you're liable to the client for the entire project – even if you hire someone else to do some of the work for you.
Subcontractors help contractors complete a project
Subcontractors, on the other hand, are companies or people hired by the contractor to do specific tasks or services in their area of expertise.
Subcontractors report to the contractor, who is ultimately responsible to the client for their work. Therefore, the subcontractor is liable to the contractor, but not directly to the client.
If there's a problem with the project, the client could sue the contractor, who could then in turn sue the subcontractor if the problem was with something they did.
Whether you're working directly with clients or subcontracting services, you need to have the right insurance policies in place to protect yourself and your business should something go wrong.
Contractor vs. subcontractor insurance: What policies do you need?
Self-employed contractors and small businesses who take contract work both need the right business insurance policies to protect themselves and their companies.
There are a few policies you should consider, especially if you hire subcontractors to help you with your projects.
General liability insurance for contractors vs. subcontractors
General liability insurance should be the first insurance policy any small business owner purchases. It protects you from lawsuits over:
Third-party property damage
Third-party bodily injuries
Advertising injuries, such as slander and libel
While not legally required in most states, your landlord will likely require general liability insurance coverage if you rent an office space. Plus, some of your clients will want to see proof of liability insurance before they'll sign a contract to work with you.
But even if you don't need to have it, you should still have liability coverage so an accident doesn't empty your business bank account. Your general liability policy will pay for:
Lawyer and court fees
Medical bills
Property repair and replacement costs
If you don't get your own policy, you may be able to ask your client to add you as an additional insured to their policy. This would cover you until your contract ends, but it will likely increase your client's insurance premium during that time.
Compare general liability insurance quotes
E&O insurance for contractors vs. subcontractors
Errors and omissions insurance – also called professional liability insurance – protects your business from the cost of lawsuits claiming your work was inaccurate, late, or incomplete.
Many clients will require you to have E&O coverage before they agree to sign a contract with you, especially for a bigger project.
But even if it's not required, it's still a great idea for contractors. After all, one work mistake or disgruntled client could lead to you being overwhelmed by legal fees – even if you did nothing wrong.
Your E&O policy will cover the cost of the lawsuit and, if necessary, any damages or settlements you must pay because of it.
Also, if you subcontract some of the work, you should consider adding the subcontractors to your professional liability policy. You're ultimately responsible for all their work as well, so it's best to make sure they're properly insured either by their own policy or yours.
Cyber liability insurance for contractors vs. subcontractors
If you're a data scientist, software developer, or another contractor who handles sensitive information, you should have cyber liability insurance.
A cyber liability policy protects you from the costs of a data breach or cyberattack. It will pay for notification of affected customers, credit monitoring, legal fees, regulatory fines, and cyber extortion demands, up to your policy limit.
You can choose from two different options, depending on the services you offer:
First-party cyber liability protects you should you suffer a data breach on your own systems. If you store your client's data or personal information on your servers, you'll want first-party coverage.
Third-party cyber liability protects you if a client sues you for either causing or failing to prevent a data breach on their own servers.
Surety bonds for contractors vs. subcontractors
Surety bonds are a guarantee that you'll either complete the project, or your insurer will reimburse your client if you fail to fulfill the contract. Unlike a typical insurance policy, the insurance company won't pay you (the policyholder) when a claim is filed. Instead, they'll pay your client directly.
Many clients – especially for high-value contracts – will require you to provide a surety bond before hiring you as their contractor.
Typically, only contractors need surety bonds – not subcontractors. Any subcontractor work required is covered by the bond. Most contractors will pay between $100 and $200 each year for a surety bond, although they could cost more for higher-risk work like in the construction industry.
Workers' compensation insurance for contractors vs. subcontractors
Some businesses may require anyone working for them to carry workers' compensation insurance – including contractors and subcontractors. Though state laws don't usually require this coverage for contractors, you might find you need this policy to fulfill the terms of a client contract.
In rare cases, such as roofers or others in dangerous occupations, state laws may require workers' comp for any licensed worker, even a contractor or subcontractor.
Contractors and subcontractors may also decide to purchase this policy to protect against the cost of work-related injuries, as most personal health insurance policies exclude coverage for work injuries.
How to add subcontractors to your insurance policy
If your subcontractor does not have their own insurance policies, you can typically add them to yours.
In most cases, you'll need to call your insurance company and ask to add the subcontractor as an additional insured. The insurer will ask for the person's name and business name, if they have one. If you purchase a policy with one of Insureon's carrier partners, you can sometimes add a subcontractor online through our Customer Portal.
Once you've added a subcontractor to the policy, you'll be able to print out a certificate of insurance to share with your client.
Additionally, if you regularly hire subcontractors, a blanket additional insured endorsement could work best for you. A blanket additional insured endorsement enables you to extend coverage to all subcontractors you hire without naming them specifically.
Compare contractor insurance quotes with Insureon
Having the right type of contractor insurance can make all the difference when you're competing for a project. Complete Insureon's easy online application today to compare insurance quotes from top-rated U.S. carriers. Once you find the right policy for your small business, you can begin coverage in less than 24 hours.