2023 General contractor license requirements
The licensing, insurance, and bonding requirements for general contractors vary by state. Having the right insurance and bonding can help keep you financially protected, and may be required for some jobs within the construction industry.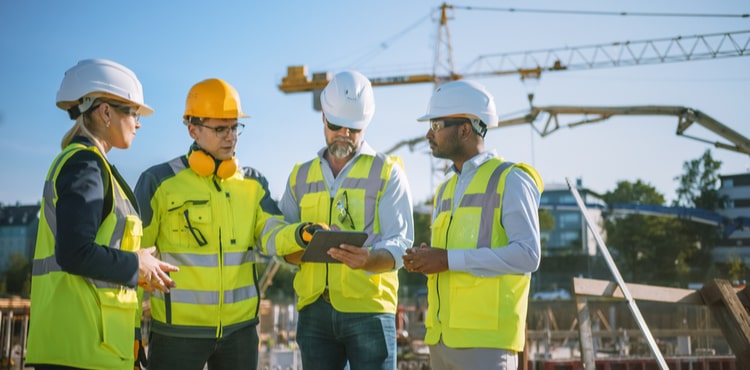 General contractors oversee construction projects from start to finish. They're responsible for obtaining building permits, hiring subcontractors, and making sure the job follows all building codes and regulations. As part of that, they need to know their state's requirements for licenses, insurance, and bonds.
Not every state requires construction contractors to be licensed to engage in construction management, although they may require them to be registered. Local governments may also have their own licensing or registration requirements for general contractors as well, depending on the type of construction work they do.
Obtaining a general contractor's license, even when not required, lets prospective customers know you've met the competency requirements in your state and it can help attract business. Having the right levels of insurance and bonding provides important financial protection for your business, and may be required for some jobs within the construction industry.
When do you need a general contractor business license?
Depending on where you are located, you may need to obtain a general contractor license from the state licensing board or secretary of state before you accept your first job. Even if it's not required in your state, it's important to check local jurisdictions as professional licensing could be required by local governments.
Those involved in small home improvement projects for different homeowners might not need a general contracting license, though it can depend on the type of work and the size of each project.
You may need to obtain a license when the cost of labor and materials exceeds a certain amount, or to perform specific work such as plumbing, roofing, electrical, or HVAC work.
What is the difference between a general contractor and an unlicensed handyperson?
The main differences between a handyperson and a general contractor mainly lies in the trade-specific knowledge and licensure to tackle larger projects.
A handyperson will typically be equipped with their own tools, but may lack the know-how or the license needed for a particular projects. A handyperson is usually a great solution for fixing a door or a leaky roof, but you would consider a general contractor for a full house expansion.
How do you get a general contractor license?
The contractor license application requirements vary by location. Contractors typically must be 18 or older, show that they have education or experience in the field, and also pass an exam.
General contractors usually must pay an application fee, along with a license fee that may need renewal. You might be asked to carry general contractor insurance, such as general liability insurance and workers' compensation.
Let's examine how four different states approach licensing and registration.
General contractor license requirements by state
Here's how four states handle general contractor license requirements for the construction industry. The licensure requirements typically include certain levels of education, experience, and bonding or proof of financial resources.
California requires both licensing and registration to work on projects worth more than $500.
There are four types of licenses available:
Class A General Engineering Contractor for projects requiring special engineering knowledge and skill
Class B General Building Contractor for projects involving two or more unrelated trades (not including framing and carpentry)
Class B2 Residential Remodeling Contractor for projects involving existing residential wood frame structures, with nonstructural projects requiring at least three unrelated building trades
Class C Specialty Contractor for different types of construction involving specialized building trades, among 41 separate classifications
Applicants must meet these licensing requirements in California:
Have at least four years of experience within the past 10 years, within your licensing classification
Pass a trade exam, business exam, and law exam
Complete a background check
Have proof of general liability insurance (via a certificate of insurance, or COI), plus a surety bond or cash deposit of $25,000
If you are unlicensed in California, you may incur several penalties ranging anywhere from a civil fine between $200 to $5,000, all the way down to a misdemeanor charge that could result in jail time of up to six months, as well as a fine up to $5,000 for your first offense.
Compare general contractor insurance quotes
Florida requires licensing and registration for general contractors.
There are two general types of licenses available:
A certified license allows a contractor to work anywhere in the state.
A registered license allows a contractor to work in certain areas.
There are also three different licensing classifications in Florida:
Residential contractor: Work on residences no more than two stories in height.
Building contractor: Construction, remodeling, or repair of residential and commercial buildings no more than three stories in height.
General contractor: No restrictions. At least one year of experience in construction is required, building structures four stories or higher.
Applicants must meet these licensing requirements in Florida:
At least four years of relevant work experience, or up to three years of education and a year of work experience
Pass a trade exam, business exam, and law exam
Provide a financial statement showing financial stability
Proof of general liability and workers' compensation insurance
If you are unlicensed in Florida, you may incur several penalties that begins with a first-degree misdemeanor publishable with up to a year of jail time for your first offense, as well as a forfeiture of your Florida mechanics liens rights.
Georgia requires both licensing and registration for projects worth $2,500 or more.
There are four different licenses available for general contractors in Georgia:
General contractor: Work on private, commercial, public, and other projects.
General contractor-limited tier: Same as the basic contractor license, but limited to contracts worth $500,000 or less.
Residential-basic contractor: Limited to one- and two-family detached residential buildings and related structures no more than three stories tall.
Residential-light commercial contractor: Same as residential-basic, plus multifamily and multi-use light commercial buildings, and related structures.
Applicants must meet these licensing requirements in Georgia:
A four-year degree in engineering, architecture, project management, or building construction, or a similar field, plus one year of relevant experience, under the supervision of a licensed contractor
OR
Four years of construction experience, with at least two of them working for a general contractor
Pass a trade exam, business exam, and law exam
Financial statements such as a $25,000 surety bond, or a statement from a certified accountant
Proof of insurance
If you are unlicensed in Georgia, you may forfeit your rights under Georgia mechanics lien laws, leaving terms of any contract in excess of $2,500 as invalid.
A general contractor's license and registration are not required by the state, but they are required by some city and county governments. However, every business in Texas must have a business license from the state. If you're a contractor in plumbing, electrical, or HVAC work, you will need a state license.
The requirements are:
Electrician: On-the-job training, pass an exam, and register with the Texas Department of Licensing and Regulations.
Plumber: On the job training, plus certification courses and an exam, and register with the Texas State Board of Plumbing Examiners.
HVAC technician: At least 48 months of work or educational experience and pass the Air Conditioning and Refrigeration Exam.
If you are unlicensed in Texas, you could see penalty of a Class B misdemeanor punishable by a fine between $1,000 and $3,500, as well as jail time up to one year.
You may also like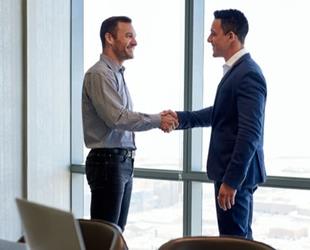 Contractor vs. subcontractor: What's the difference?
Learn about the difference between contractors and subcontractors and the types of liabilities that they face.
Go to article
What insurance and bonds should a general contractor consider?
Many U.S. locations require certain levels of insurance and surety bonds. For example, California requires general contractors to have a bond or cash deposit of $15,000. Georgia requires a surety bond or proof of net worth of $25,000.
Most states also require workers' compensation insurance for those in the construction and building trades, even if they don't have any employees.
While it's important to make sure you have the coverage that's required in your state, you have many options in small business insurance for general contractors that are worth considering.
Many contractors buy these policies for the financial protection they provide, and because they may be required by clients:
Surety bonds
Even if not required in your state, surety bonds are often required for certain jobs, especially those dealing with government contracts.
For instance, license and permit bonds are required by a municipality or other public body as a condition to granting a license or permit to engage in a specified activity. This type of bond guarantees that the party seeking the license or permit will comply with applicable laws or regulations of that area.
Other bonds, such as bid bond, will act like a written guarantee from you to your customers that you will enter into a contract to perform work at your agreed-upon price. A performance bond will then guarantee that you as the contractor will fulfill the terms of the contract you have signed.
General liability insurance
Every construction project comes with the risk of someone being injured while visiting the site, or someone from your company damaging a client's property. General liability insurance offers financial protection for these kinds of mishaps.
Professional liability insurance
Also known as errors and omissions insurance (E&O), professional liability insurance can help pay for the cost of litigation in case a client sues you over a construction defect or delay.
Builder's risk insurance
Builder's risk insurance (also known as course of construction insurance) protects you in case fire, vandalism, or a weather event damages a structure under construction.
Workers' compensation insurance
Most states require this policy for contractors and those in the construction business, even those without employees. Workers' compensation insurance covers the costs of employees' medical bills and reimburse them for lost wages, for work-related injuries and illnesses.
Contractor's tools and equipment insurance
Replacing your tools and equipment could be expensive if they're lost, stolen, or damaged. That's why many general contractors buy contractor's tools and equipment insurance.
Commercial auto insurance
If your business owns any vehicles, most states require that you carry commercial auto insurance. If your business rents vehicles, or if your employees drive their own cars for business purposes, hired and non-owned auto insurance offers protection.
How much does insurance cost for general contractors?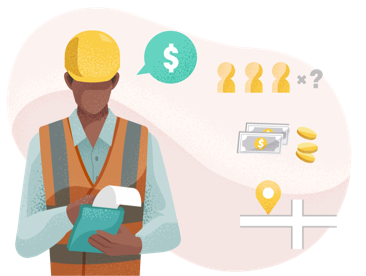 Several factors will have an impact on insurance costs, including:
General contracting services offered
Business equipment and property
Revenue
Location
Number of employees
View Costs
Compare contractor insurance quotes with Insureon
Having the right type of contractor insurance can make all the difference when you're competing for a project. Complete Insureon's easy online application today to compare quotes for business insurance from top-rated U.S. carriers. Once you find the right policy for your small business, you can begin coverage in less than 24 hours.