What is a construction defect and are you liable for it?
If a crack forms in the wall of one of your buildings or another issue becomes evident, clients will often look to your construction company for compensation. Even if you aren't at fault, these lawsuits can be time-consuming and expensive.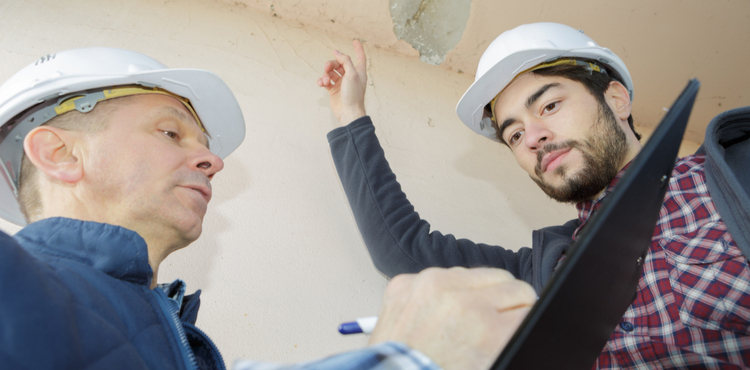 We actually get this question a lot at Insureon. Lawsuits related to defects are common in the construction industry. Let's take a look at the different types of defects, who can be held liable, and how contractors can protect themselves from liability.
What you need to know about construction defects
Construction defects are flaws in a building that are the result of mistakes made in either design or workmanship. For instance, defects often show up in the construction documents, like a miscalculation in the architect's drawings. But they can also be the result of a contractor failing to follow the construction documents or making mistakes in building the structure or its components.
Additionally, construction defects fall into one of two buckets: patent and latent. Patent defects are obvious problems, like a crack in the foundation. Latent defects, on the other hand, are hidden. Many times they aren't discovered until years after a project is completed.
Some of the most common types of construction defects include:
Mold
Faulty drainage
Cracks in the foundation, roof, floor, or walls
Heating and electrical issues
Structural failure
These may be caused by poor workmanship or design flaws, but they can also be the result of normal wear and tear or even poor maintenance. That's why it's a good idea for contractors to implement quality control checks. Staying on top of quality control reduces the potential for defects and gives you a chance to repair them when they pop up. This is typically less expensive than returning for repairs down the road, plus it can help prevent lawsuits from disgruntled clients.
Who can be held liable for construction defects?
Anyone who works on a project can be found liable for damages if a customer sues. Unfortunately, as a recent lawsuit shows, the target is often general contractors and subcontractors.
FOX 13 in Salt Lake City reports hundreds of homeowners are suing builders Holmes Homes and Hamlet Homes. The lawsuit claims the builders cut corners on nearly 400 homes in one development. The result? Millions of dollars in repair bills.
Both builders dispute the homeowners' claims and state that the issues are a result of improper maintenance, not construction defects. A statement from Hamlet Homes even points out that the company only built 29% of the homes named in the lawsuit.
The location of your job site can also impact your liability. Statuary definitions for construction defect vary from state to state. In addition, each state determines the statute of limitations.
What should I do if I'm sued over a construction defect?
Construction defect insurance can help you in a lawsuit. The products-completed operations coverage included in general liability insurance typically addresses claims related to products you've produced or services you've completed.
This means if a customer sues you over a leaky roof, your general liability insurance can help cover the costs of the lawsuit, including:
Attorney's bills
Expert witness fees
Judgments against you
While you may not need to purchase liability insurance for your subcontractors, you probably want to make sure that everyone working on a project is covered by a liability policy. Either require it in your contracts or add subcontractors as additional insureds on your general liability policy.
Compare quotes from trusted carriers with Insureon
Complete Insureon's easy online application today to compare quotes for general liability and other kinds of business insurance from top-rated U.S. carriers. Once you find the right policy, you can get coverage in less than 24 hours.