How a builder's risk insurance policy can protect your business
Builder's risk insurance protects construction companies, contractors, and subcontractors from losses caused by damages to buildings in progress. See if this short-term property insurance policy can help reduce risks for your construction project.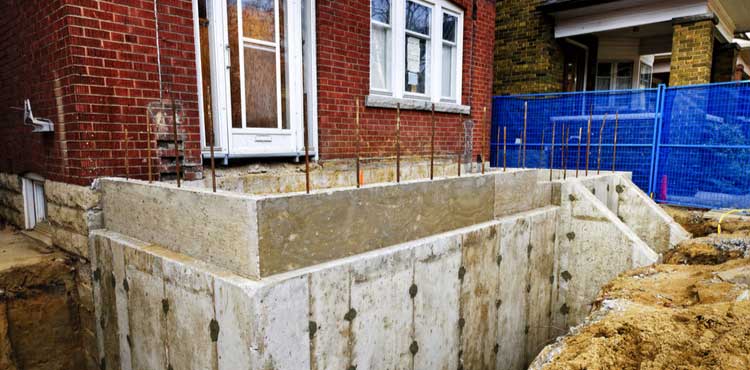 Introduction
Imagine your contracting business is ready to break ground on a new building. You've completed preconstruction planning, secured work permits, hired subcontractors, and ensured your general liability insurance is active.
You may think your commercial property insurance policy fully covers property damage that could occur during your project, but that's not always the case. A commercial property policy only covers buildings you own and the contents of that building, but it likely would not cover structures that are under construction.
For instance, if you arrive at the job site to find most of the framework burned to the ground and building materials damaged, you may not be covered by commercial property insurance. You might consider a builder's risk insurance policy to protect you from this kind of loss.
What is builder's risk insurance?
Sometimes referred to as course of construction insurance, builder's risk insurance is a temporary policy that offers financial protection that those in the construction industry can buy for each project.
How does builder's risk insurance work?
Unlike commercial property insurance, which covers finished buildings and their contents, a builder's risk insurance policy protects buildings and structures while they're under construction.
Builder's risk insurance is a temporary policy issued for a specific project that covers the course of construction. Most insurance companies recommend that you have a policy start before materials arrive at the construction site, and then have it end when the property is sold or is ready to be occupied.
Because new construction jobs and rehabs are high-risk, your client contract might require you to carry builder's risk insurance. The developer or property owner might also have insurance coverage that would protect your business.
Generally speaking, your building risk insurance coverage amount should reflect the total estimated value of the completed structure. To gauge an estimate for your coverage needs, add the cost of all construction materials, labor, and land value together.
The cost of builder's risk insurance depends primarily on this value, among several other factors. Insureon customers pay an average premium of $105 per month for builder's risk coverage.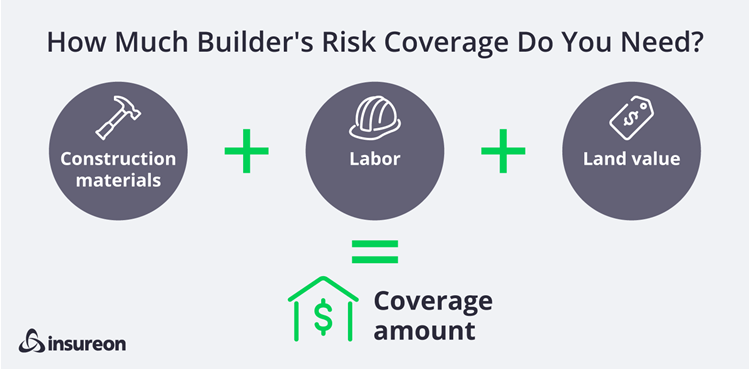 What does builder's risk insurance cover and exclude?
Builder's risk coverage can vary based on the insurance provider and construction project. Most policies cover only events beyond your control, but some policies cover construction defects and losses or damages, except for those that are explicitly excluded.
Events builder's risk insurance covers
Builder's risk insurance typically protects against loss or damage caused by:
Fire
Vandalism
Weather events
Explosions
Theft
Some builder's risk policies may cover:
Costs related to lost sales, rental income, interest on loans, and real estate taxes when construction is delayed
Damage to temporary structures such as scaffolding
Cleaning, debris removal, and disposal of pollutants
Construction site changes needed to meet environmental standards
Events builder's risk insurance does NOT cover
Builder's risk policies typically exclude:
Damages from earthquakes, floods, and hurricane winds in beach zones (though this coverage may be included in certain areas, and riders may be purchased in other areas)
Normal wear and tear, rust, and corrosion
Acts of terrorism
Employee theft
Incidents involving faulty work and materials
Coverage also varies between buildings vs. structures
When reviewing your builder's risk insurance options, pay attention to when structures and buildings are mentioned – and when only one structure is covered.
In insurance lingo, a building is a structure that will be occupied, such as houses and apartment buildings. Not all structures are considered buildings. A temporary structure, like scaffolding, will not be occupied and is not considered a building.
If your contract requires coverage for structures beside the building, you may not be covered if you need to file a claim. Talk to your insurance agent to understand the details of your builder's risk policy and when coverage ends.
Find the right builder's risk insurance policy online today.
Builder's risk vs. contractor's general liability insurance coverage
Builder's risk insurance is a temporary policy that covers your materials and the structure in progress during a construction project. It's specifically tailored for those in the construction and building trades.
A general liability insurance policy offers long-term coverage for common business risks such as a customer injury, customer property damage, and advertising injury. If you are a general contractor working on a project, holding this policy could help pay for your legal defense and settlement costs in case of a lawsuit from any potential accidents, and it's often required to obtain contracts and leases.
If a jobsite is damaged by fire theft, vandalism, or weather, the losses would be covered by a builder's risk policy. If someone suffers a bodily injury while visiting your business, or if you or an employee damage someone else's property or sustain an injury on that property, it would be covered under a general liability policy.
Should I file a claim with my builder's risk coverage and general liability insurance?
It depends.
Both general liability and builder's risk insurance can cover property damage caused by a subcontractor. While you may consider filing a general liability claim for a construction mishap, this may not be your best option.
In cases where coverage overlaps, filing a claim on a builder's risk policy to pay for property damages can help keep your general liability claims history clean with your insurer. A clean claims history helps keep the policyholder's insurance premiums low.
General liability coverage is an ongoing expense. Clients will likely require you to carry general liability insurance to pay for damages if a client is injured at a job site or you damage a third party's property. After all, a construction site is a risky place.
If you're sued over property damage that happened at a covered location (usually the job site), your general liability policy would cover attorney fees, court costs, and any settlements.
What additional insurance policies should construction businesses and general contractors consider?
Builder's risk and general liability insurance aren't the only coverage contractors need. Construction businesses and contractors typically carry some combination of:
Builder's risk insurance can be complicated, but it's essential risk management for construction company business owners and general contractors. Before you buy coverage, talk to an insurance agent to discuss what policy works best for you.
Insureon's licensed agents have helped builders and contractors just like you find the right insurance coverage at the best price. We can answer any of your questions and provide expert guidance to help protect your business.
Complete Insureon's easy online application today to compare quotes for business insurance from top-rated U.S. carriers. Once you find the right policy for your small business, you can begin coverage in less than 24 hours.