The top construction risk management threats
Employee injuries, stolen equipment, and structural flaws can disrupt a construction company's business, but you can mitigate risks by following industry best practices and choosing the right insurance coverage.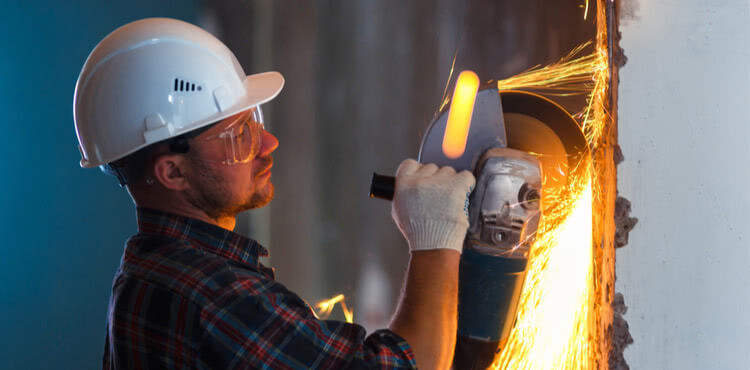 Construction business owners face serious risks on a daily basis. Managing threats that can disrupt your livelihood involves planning for unexpected events, properly training employees, and ensuring that you have the right types of construction and contracting business insurance.
Here are some of the major risks that construction companies and general contractors face and advice for managing them:
Worker and third-party injuries
No matter how hard you strive to create safe working conditions, construction sites are full of potential hazards.
Having clients visit work areas creates a particularly large risk since they may not be familiar with safety protocols, but even the most seasoned construction workers are susceptible to on-the-job injuries and accidents.
You should stringently enforce safety regulations and train your crew on work site best practices to minimize the risk of injury. A construction risk management plan also involves regularly testing machinery and equipment, replacing damaged tools with new ones, and ensuring that employees wear proper safety gear, such as hard hats and non-slip boots.
Most states require construction firms – even those without employees – to carry workers' compensation insurance to pay for medical bills and allow injured employees to recoup lost wages. Employer's liability coverage is often included with workers' comp policies and will help your construction company cover lawsuit costs if a hurt employee sues you for negligence.
All construction businesses should carry general liability insurance, which protects against injuries to clients and other visitors. General liability policies also cover property damage if you or your employees damage someone's property. Many clients and commercial landlords require it before they will hire your construction company.
You should also consider adding contractors pollution liability insurance as an endorsement to your general liability policy. A type of environmental insurance, contractors pollution liability coverage protects against pollution events that cause third-party bodily injury or property damage.
Faulty work and missed deadlines
Construction companies can be held liable for projects that are structurally unsound, not up to code, or have other defects – including cracks, problems with climate control systems, and mold. If your business's work doesn't comply with federal, state, and local building regulations, your client could lose money and sue you for damages.
Complying with building regulations and codes should be a cornerstone of your construction risk management strategy. Governments often require construction companies and contractors to carry surety bonds, which act as a guarantee that builders will follow these standards.
Missed deadlines can create headaches and legal problems for construction companies and contractors. For instance, if building materials are delayed in transit and cause your business to miss an important project milestone, you could be held liable for damages.
Professional liability insurance – also known as errors and omissions insurance – helps pay your legal fees if a client sues you for negligence over a construction delay, an incomplete project, or unsatisfactory work.
Equipment damage and theft
Construction businesses depend on heavy machinery, tools, and building materials. Equipment theft or failure can easily derail a project.
Training workers to properly use, maintain, and store construction equipment is crucial to preventing damage. Installing security cameras at job sites can help deter equipment thieves. Construction companies should also invest in GPS tracking and anti-theft systems to protect heavy machinery.
A construction risk management plan should include contractor's tools and equipment insurance, which will reimburse your business for lost or stolen business items that are less than five years old. These policies typically cover equipment that is frequently in transit, such as a toolbox that a carpenter moves between work sites.
You might also consider builder's risk insurance, which protects against equipment theft and damage to structures under construction due to fires, weather events, and vandalism. If you have business vehicles, you'll probably need either commercial auto or hired and non-owned auto insurance depending on whether the company or employees own them.
Seasonal slowdowns
Construction businesses in America's most temperate regions may not experience a seasonal dip in business, but snow, freezing temperatures, and heavy rain routinely affect outdoor building activity in many areas of the country.
Plan in advance by saving enough money to cover your business expenses during slow times of the year. You might also ask clients for deposits on upcoming projects to keep your finances healthy.
Focus on seeking out indoor construction jobs to keep you and your employees occupied and money coming in until the weather improves. Winter is also a good time to network at trade shows, update your annual business plan, and market your company to prospective clients to keep projects in the pipeline.
Get construction business insurance quotes from trusted carriers with Insureon
Complete Insureon's easy online application today to compare construction insurance quotes from top-rated U.S. carriers. Once you find the right policies for your small business, you can begin coverage in less than 24 hours.