Construction insurance vs. surety bond: What's the difference?
Construction insurance and surety bonds will provide coverage if a dispute arises between your construction business and another party, but the two types of construction insurance function differently.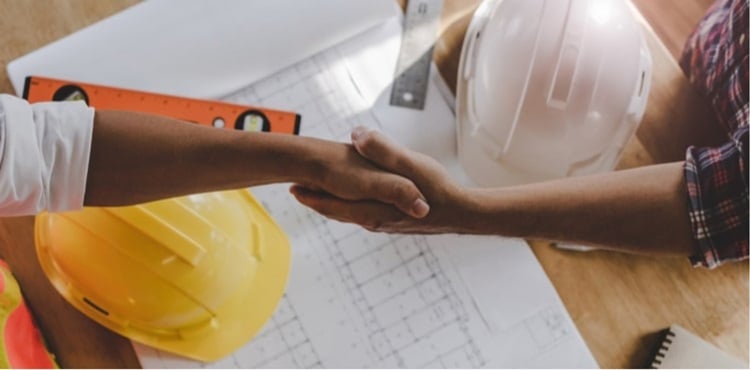 Customers take a leap of faith when they hire someone to provide professional services, including construction work. They can look at your portfolio and your client testimonials, but at the end of the day, there's no way to completely guarantee or predict how a project will go.
But when your construction business has a surety bond, it does help establish trust and give the customer peace of mind. The bond ensures contractors will live up to their end of an agreement and that their work will comply with federal, state, and municipal regulations. In fact, most governments require licensed contractors to have these bonds for that reason.
Many people mistakenly think that a surety bond is another type of insurance, but it's not. Let's take a closer look at construction insurance and surety bonds, what coverage each provides, and how they differ.
What is construction insurance?
Construction insurance protects you, the business owner. In exchange for the premium you pay for coverage, your insurance provider will pay for certain lawsuits or events that would otherwise leave your business in a financial bind.
Some common construction insurance policies include:
General liability insurance. This policy covers third-party property damage and bodily injuries. For contractors, it also includes liability protection in case the services you provide or products you produce harm someone.
Commercial property insurance. This policy pays to replace damaged or stolen business property, such as your tools and equipment.
Builder's risk insurance. This policy protects your tools and equipment if they are stolen from a job site. It can also help pay for damages when a fire or windstorm destroys a building in progress.
Inland marine insurance. This policy is a type of commercial property coverage that covers your tools and equipment when it's in transit. It also protects mobile equipment, like forklifts or bulldozers.
Workers' compensation insurance. This policy cover costs related to work illnesses or injuries. Most states require businesses with employees to purchase workers' comp, especially in high-risk industries like construction.
You can learn more about other types of construction insurance on our construction and contractors insurance main page.
What is a surety bond?
A surety bond is required in industries like construction to ensure that you abide by any rules, regulations, or laws governing your industry. Surety bonds also act as a safeguard against poor performance or dishonest behavior.
For example, if you walked off the job halfway through building a home, the surety bond you purchased would reimburse the homeowner with the funds they need to pay someone else to finish it.
If you are bonded (i.e., have purchased a surety bond), it sends a message to customers and any relevant governing authorities that you are safe to do business with because of the financial security the bond provides.
How construction insurance works
Construction insurance is a contract between two parties – you and the insurance company. As the business owner, you purchase policies from an insurer to provide financial protection for issues such as:
Employee injuries
Lost or stolen equipment
Work that causes bodily harm
In exchange for coverage, you pay your insurance company a monthly premium. If you experience an insurable incident – like stolen equipment – you file a claim with your insurance company. The insurance company's financial obligation is to you, the policyholder, for covered claims.
How a surety bond works
Unlike construction insurance, a surety bond is actually a contract between three parties:
The principal. That's you or your business.
The obligee. This is typically the local, state, or federal authority that requires the surety bond in the first place.
The surety provider. This is who underwrites the bond and ensures that you will do your best to meet the contractual conditions required by the obligee.
You don't need to pay the full amount of a surety bond in order to purchase it. To be bonded, you only need to pay a small fraction of the full cost. This is known as the bond premium. The amount varies, but is typically 1% to 5% of the full value of the surety bond. If you have bad credit, though, bond premiums can run as high as 5% to 20% of the bond value.
How a surety bond is different from construction insurance
As we explained earlier, construction insurance is a contract between your business and the insurance company. When you make a claim on your policy and it's covered, you aren't expected to reimburse the insurer. It's fully on the insurer to pay.
That's not the case with a surety bond. The bond essentially functions like a line of credit. If a claim is made, it's the borrower (you) that needs to pay, not the lender (the surety provider).
Here's how it works:
The impacted party files a claim.
The surety provider conducts an investigation.
If the claim is valid, the surety provider will cover the initial claim costs.
The surety provider then goes after the principal (again, that's you) to pay back those claim costs.
So if you are a contractor and file an insurance claim, your insurer picks up the tab. If a surety bond claim is filed, you have to pay the insurer back.
This is why consumers place a lot of faith in companies that can say they are "bonded and insured." It means that you aren't likely to flake out on them because if you do, it will cost you – big time.
Compare quotes from trusted carriers with Insureon
Complete Insureon's easy online application today to compare quotes for surety bonds and other kinds of business insurance from top-rated U.S. carriers. Once you find the right policy, you can get coverage in less than 24 hours.