How do construction and contractor licenses and permits work?
The types of licenses that construction companies and contractors need vary by location, but most projects will at least require a building permit.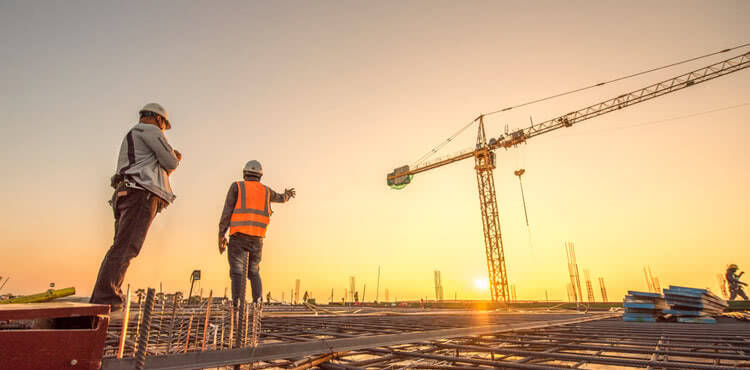 Construction and contractor licenses and permits show prospective clients that your company is qualified to handle the job and in compliance with local building regulations, and they can keep you from getting fines that impact your bottom line.
Construction companies and building contractors are usually required to obtain building permits from local authorities before beginning new projects, and in some instances, they may also need to be licensed.
When are construction licenses necessary?
If you're just starting a construction or contracting company, you'll need to apply for a general business license. Whether you need additional specialized contractor or construction licenses depends on state and local laws and the type of projects you work on.
For instance, California requires all contractors who build or modify buildings to be licensed with the state if the job cost exceeds $500. New York mandates that home-improvement businesses carry a license only if they operate in certain cities.
While some states have general requirements, your business might need other licenses depending on its specialty. Electricians, drywallers, roofers, and other construction companies may need to obtain licenses from industry associations, and many licensing bodies will require you to pay fees and pass exams to earn certification.
Not all states and industries require construction professionals to be licensed, but even if it isn't mandatory, it still offers benefits. Getting a professional license or certification could give you an advantage over competition, and some large clients may only work with construction companies and contractors who are licensed.
In some states, construction licenses can help you collect damages if a client fails to pay you for your work.
You may also like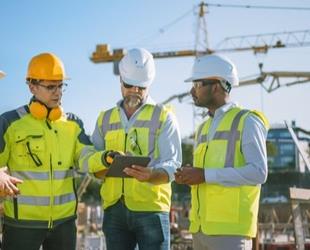 2023 General contractor license requirements
The licensing, insurance, and bonding requirements for general contractors vary by state. Having the right insurance and bonding helps keep you financially protected, and it's required for some jobs within the construction industry.
Go to article
How do permits for construction work?
Most construction projects and many home improvement jobs will require your business to obtain a building permit. The process varies by location, but generally, getting a building permit entails:
Completing an application
Creating and submitting a construction site plan and building blueprint, often with the help of an architect
Scheduling an appointment with the city or county for building plan approval, which could take weeks or months if revisions are needed
Scheduling regular inspections during construction
Getting final approval from local building authorities
While major residential or commercial construction jobs likely require building permits, trade workers such as house painters and carpet installers are unlikely to need them. Be sure to check your local laws before planning any construction project, as building regulations can change.
Insurance and bonds for construction businesses and contractors
Having the proper licenses and permits shows that you run a legitimate and reputable business, and buying insurance and bonds reassures clients that they won't be held liable for damages if something goes wrong during a costly project. Construction companies and contractors often purchase the following policies, and some clients will require that you have them before they will hire you:
General liability insurance
In an inherently risky industry like construction, general liability insurance is essential. General liability insurance covers your business if a visitor suffers an injury at a construction site or you damage a client's property.
Professional liability insurance
Also known as errors and omissions insurance, professional liability insurance will help pay for the costs of a lawsuit if a client sues you over a construction defect. You might also consider builder's risk insurance (or course of construction insurance), which protects your business if fires, vandals, or weather events damage a structure in progress.
Workers' compensation insurance
A construction site is full of potential hazards, and worker injuries can happen at any time. Most states require construction businesses and contractors – even those without employees – to carry workers' compensation insurance to pay for the costs of injured employees' medical bills and reimburse them for lost wages.
Contractor's tools and equipment insurance
Most construction businesses depend on expensive equipment, and contractor's tools and equipment insurance reimburses you for tools or machinery that are lost, stolen, or damaged.
Commercial auto insurance
Construction companies that own vehicles will want to purchase a commercial auto policy to cover any damage from accidents. Commercial auto insurance is required in almost every state for vehicles owned by a business.
If your business rents vehicles or employees drive their own cars for business purposes, hired and non-owned auto insurance offers protection.
Surety bonds
Surety bonds protect government agencies that issue building permits and are frequently required for construction projects. Surety bonds guarantee that your company will pay financial damages to government agencies if a third party sues them over your work.
You may also like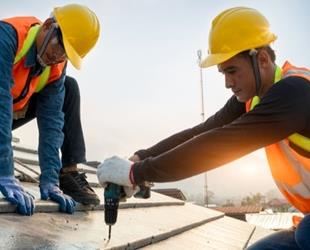 What types of construction insurance do you need?
The construction industry is full of risks. However, there are several types of construction insurance that can keep your small business protected from the most common hazards.
Go to article
Compare construction industry insurance quotes from trusted carriers with Insureon
Complete Insureon's easy online application today to compare construction industry insurance quotes from top-rated U.S. carriers and protect your business. Once you find the right policies for your business needs, you can begin coverage in less than 24 hours.