The small business owner's guide to contractor liability insurance
Hiring an independent contractor comes with its own set of insurance considerations and requirements.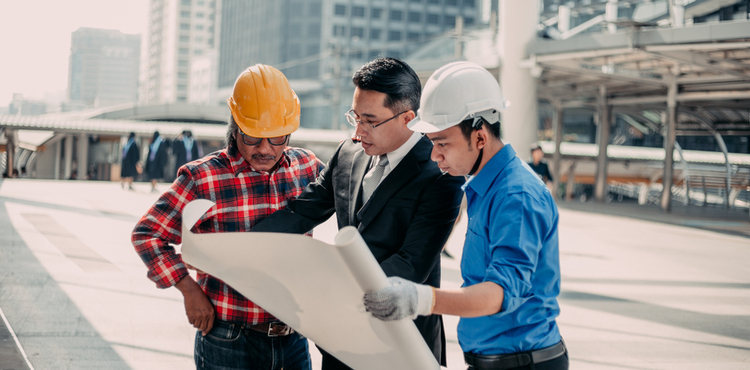 Sometimes you have to hire independent contractors, vendors, and other third parties to work for you or provide services to your small business. But having this help can come with its own set of problems and questions, such as:
Does my small business insurance cover contractors and vendors I hire?
What insurance should I require my contractors to have?
Let's troubleshoot these insurance issues.
What insurance should I require independent contractors to have?
When you hire someone to work for you, they could make a mistake that costs you serious money. Say you hire an IT contractor who installs a slow, non-secure network. If your client suffers a data breach, your business can be sued for their mistake.
That's why it's important to hire insured contractors. If they make a mistake or fail to deliver the goods they promised, you are able to recoup some of the expenses by filing a lawsuit against them. Contractor insurance typically covers these damages and makes sure you don't end up paying for someone else's mistakes.
Coverages you may require your contractors to carry
Professional liability insurance. Also called errors and omissions insurance, this policy covers mistakes and oversights your contractors make when carrying out professional services (e.g., IT security work, consulting, etc.).
General liability insurance. This covers a number of accidents, including property damage or physical injuries the contractor might cause to you and your employees. Some general liability policies include product liability coverage, which covers lawsuits if the contractor makes a physical product that causes bodily harm.
To ensure your contractors are adequately covered, be sure to:
Check to see if the contractor has coverage by reviewing their certificate of liability insurance.
Include language in your contracts that requires any vendor, contractor, or their subcontractors to have insurance for their liabilities.
Compare contractor insurance quotes from top U.S. carriers
How to check a contractor's insurance
Small business insurance is common, so don't be shy about asking to see a contractor's insurance. If you want to avoid sounding like you're nitpicking, you can always say something like, "My insurance provider requires me to check your liability coverage."
If they have coverage, a contractor should have no problem sending you a certificate of liability insurance. Insurance companies make it easy to download and print these certificates.
If you want to be extra cautious, you can call the insurance company's number listed on the certificate to make sure the contractor's policy is still active. Though insurance certificates list the policy expiration date, there's no harm in double-checking.
Can I cover contractors with my small business insurance?
Generally speaking, your contractors should have their own insurance, but in some cases, you might need to.
A general contractor might do this if they hire a few extra helpers for a job. Say you're installing a new deck for a client. They also want some custom woodwork, so you hire a subcontractor to build a bench and trellis. You could cover the subcontractor by calling your insurance provider and adding them to your policy.
The extra parties you add to your policy are called additional insureds. By paying a little more, you're able to offer temporary coverage for these contractors.
Do I need to have workers' compensation insurance for my contractors?
Usually, small businesses won't need to offer worker's comp coverage for independent contractors and temporary workers. However, there are a few things to keep in mind:
Each state determines its own workers' comp laws. Check our guide to state worker's comp laws to find out who you need to cover.
There isn't a strict definition for "independent contractor." If you hire a contractor for a long time and work with them with the same oversight you would give to an employee, a judge might rule that this person is, for all intents and purposes, an employee. In this case, you might have to offer them workers' comp and other benefits. (Read more in the blog post "Employee vs. contractor: How to make the right choice.")
Temporary help can be a gray area, too. If you hire temporary workers from a staffing firm or employment agency, check with the agency to see if it already covers them.
Compare quotes from trusted carriers with Insureon
Complete Insureon's easy online application today to compare quotes from top-rated U.S. carriers for workers' comp and other types of insurance. Once you find the right policy for your small business, you can begin coverage in less than 24 hours.