So you want to know about earthquake insurance
Many small business owners are surprised to discover their commercial property insurance doesn't include earthquake coverage. If your building is at risk of damage from earthquakes, you may need an earthquake insurance rider.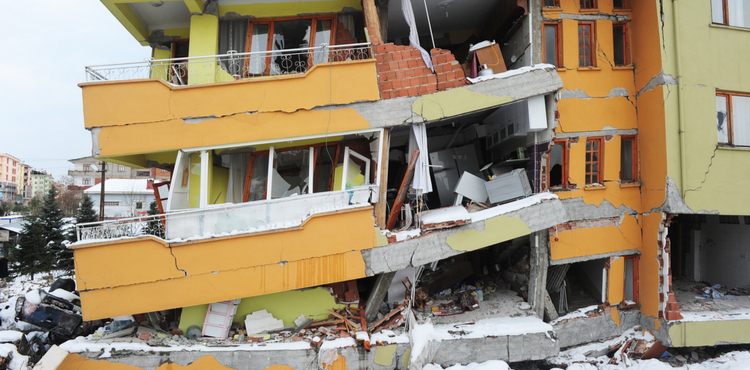 When you hear chatter about earthquakes, chances are you automatically think of the West Coast. So maybe you'd be surprised to learn that all 50 states (and five US territories) experience some level of seismic activity, according to FEMA. In fact, FEMA notes that Missouri was the site of the largest earthquake in the United States – its ground shaking spread over 2 million square miles and shook Tennessee, Kentucky, Indiana, Illinois, Ohio, Alabama, Arkansas, and Mississippi along the way.
In other words, even if your business is in the Midwest, it may benefit from earthquake insurance.
So what is earthquake insurance anyway?
Earthquakes can happen at any time at any place, and they cause a world of damage. Ground shaking can make buildings and bridges collapse, gas lines rupture, and walls crumble. They trigger landslides, flash floods, and fires. In short, wherever earthquakes strike, a trail of property damage and loss follows.
It's for that reason that insurers exclude earthquake coverage from standard commercial property insurance policies. The damage is simply too much to be rolled into a regular policy.
But you have options. You can typically add an earthquake insurance rider to your property policy to get coverage for business property that is lost or damaged because of:
Earthquakes
Mudslides
Sink holes
Worth noting: Earthquake Insurance deductibles are a percentage of the policy's limit. So if, for example, your policy has a $100,000 limit and the deductible is 20%, you must pay $20,000 out of pocket before your benefits kick in.
What does earthquake insurance pay for?
In short, when earthquakes break your office windows, smash your equipment and computers, and crack your building's foundation, your policy may offer coverage for the cost to replace or repair your assets. Your policy might even help pay for debris removal and cleanup costs.
Usually, earthquake insurance can't cover:
Fires. This is a job for your property insurance, even if the earthquake triggered the fire.
Vehicles. Only your commercial auto insurance can cover physical damage to your vehicles. Ask your agent if your policy can cover damage caused by earthquakes.
Water damage. Like your property insurance policy, earthquake insurance doesn't cover flood damage.
Man-made quakes. These are usually caused by fracking and excluded from coverage.
Who should buy earthquake insurance?
Interesting tidbit: if you had to guess which state topped the charts for purchasing earthquake insurance, which would you guess? If you answered, "Oklahoma," you probably read Insurance Business America's report, didn't you?
According to the report, 50% more of Oklahoma residents have earthquake insurance than residents in California. Those purchasing decisions are influenced by the fact that Oklahoma has seen a huge upswing in seismic activity and now holds the undesirable title for the most earthquake-prone state.
So, if you live in Oklahoma, maybe a commercial earthquake policy isn't such a bad idea. But you don't have to live in an earthquake-prone area to buy the coverage. As we established, there are fault lines all over the country, and you never know when disaster may strike.
To cover your bases, you may want to talk to your agent to see if earthquake coverage makes sense for your business. Keep in mind that your location and the type of building you own may affect your rates.
Compare quotes from trusted carriers with Insureon
Complete Insureon's easy online application today to compare insurance quotes from top-rated U.S. carriers. Once you find the right policy for your small business, you can begin coverage in less than 24 hours.