How to prevent workplace injuries
Taking measures to ensure that your workplace is safe is cost effective and will improve employee morale.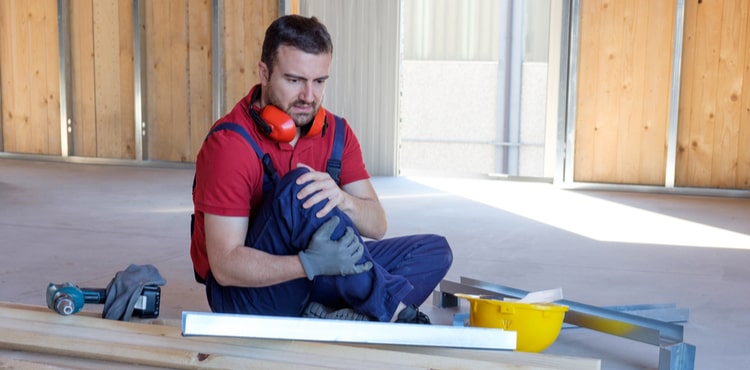 As an employer, it's your responsibility to prevent workplace injuries and ensure that your workers are safe and healthy. A safe work environment improves employee morale, while also boosting productivity and having a positive impact on your bottom line.
Unfortunately, workplace injuries are all too common. Approximately 2.7 million nonfatal injuries and illnesses occurred at businesses in 2020, according to the U.S. Bureau of Labor Statistics. That translates into nearly three cases out of 100 full-time employees.
While some occupational injuries will inevitably fall outside your realm of control, you can take certain steps to prevent unexpected incidents at your business. Use these workplace injury prevention tips to improve employee safety at your business.
1. Implement a workplace injury prevention program
The best way to avoid workplace injuries is to be aware of hazards at your business so that you can prevent them from happening in the first place. Implementing a formal workplace injury prevention program is key to identifying such risks. The Occupational Safety & Health Administration says a workplace injury prevention program should include:
Management leadership
Worker participation
Hazard identification and assessment
Hazard prevention and control
Education and training
Program evaluation and improvement
A workplace injury prevention program will encourage employees to report any hazardous situations, and also provide them with the knowledge to respond to an incident if one occurs. Having such a program in place will boost employee safety and reduce workers' compensation claims.
2. Properly screen new hires
This may seem like a no-brainer, but verifying that your potential employees have the professional experience and physical acumen to safely perform all of the duties required for the job can go a long way toward keeping workers safe.
If the position you are trying to fill requires a certain amount of physical labor, you could include a functional capacity physical evaluation, which can be performed at an occupational therapy clinic.
Make sure the candidate has enough experience to do the job safely and effectively, especially if the open position requires:
Handling dangerous equipment, including heavy trucks
Exposure to hazardous materials, including pesticides, chemical solvents, etc.
Performing specialized tasks, whether that's rewiring a house or drawing blood
Repetitive or strenuous physical activity, whether that's eight hours a day of typing or rolling sod
Note: There is a difference between "hiring smart" and actions that could lead to discrimination claims. For example, if your employees must be physically able to perform certain tasks, limit your testing to new hires and employees who return after an extended leave of absence. Testing current employees, especially older ones, could be a form of discrimination.
3. Communicate frequently and effectively
Don't underestimate the power of effective communication. Many occupational injuries and illnesses can be prevented through an established communication system. Create a protocol for sharing safety and company procedures, and revisit them periodically with existing employees.
Safety policies should outline what to do when something goes wrong. Every employee should receive a copy of the procedures.
Try to create a work culture that promotes active communication. In this type of culture, a computer programmer's occasional wrist pain could be treated before it turned into full-blown carpal tunnel syndrome that necessitates workers' compensation coverage, medical treatment, and several days off work.
4. Invest in proper health and safety training
Most small business owners probably include some kind of safety training for their new hires, but safety awareness is something to be cultivated over the course of a career. In other words, you should meet with employees regularly to discuss safety – even if you only employ three or four workers. You can also encourage or require that employees attend industry safety workshops and classes, which are often held by professional organizations in your field.
Be sure that your current employees can:
Identify the top three occupational hazards in their line of work.
Detail the ways in which they actively prevent these accidents from happening.
Explain the proper procedure for handling workplace accidents.
You can also provide your workers with information about a healthy lifestyle – and then practice what you preach:
Encourage your clerical staff to take a short walk after lunch.
Stock the break room with healthy snacks.
Invite a healthcare professional to speak with your staff about ways to reduce stress or balance their work-life routines.
A healthy workforce is less likely to sustain injuries and more likely to recover quickly when an injury does occur. Encouraging a safe and healthy workplace is also good for the longevity of your business, and eventually leads to reduced workers' compensation claims and other costs.
Be prepared with workers' compensation
Unfortunately, no matter how much you invest in health, safety, and training, accidents still happen, and a worker can still get injured on the job. When an accident does occur, be sure that you're prepared by having adequate workers' compensation coverage.
If one of your employees becomes injured or sick while on the job, workers' compensation insurance can pay for his or her medical expenses and rehabilitation costs.
Compare quotes from trusted carriers with Insureon
Complete Insureon's easy online application today to compare quotes for workers' compensation and other types of insurance from top-rated U.S. carriers. Once you find the right policy for your small business, you can begin coverage in less than 24 hours.