UL 300 and NFPA 96: kitchen safety standards for restaurant owners
Restaurants owners should familiarize themselves with UL 300 and NFPA 96, two kitchen safety standards that may impact your property insurance.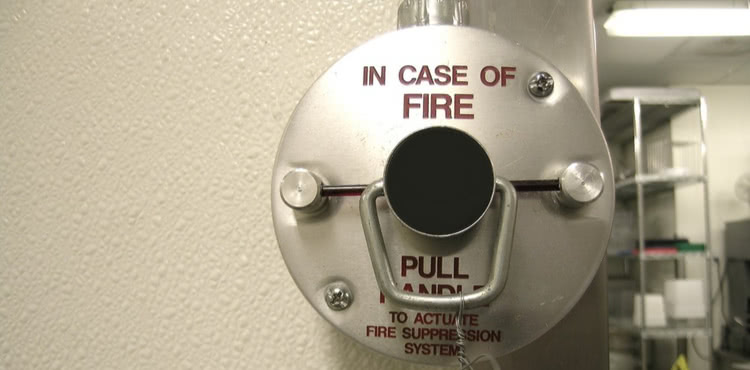 When restaurant owners and owners of other food services businesses start researching property insurance, they often come across a lot of jargon that leaves them scratching their heads and wondering why buying insurance is so complicated.
As part of Insureon's ongoing efforts to make business insurance easier to understand, we're devoting today's post to two fire safety terms that appear in a lot of property insurance policies for restaurant owners (generally, as part of a business owner's policy): UL 300 and NFPA 96.
Read on to find out what these are, how they keep your restaurant safe, and why you may need them to secure a business owner's policy.
What is UL 300?
UL 300 is a fire-safety standard for commercial kitchens created by Underwriters Laboratories. In order for a piece of equipment to earn UL 300 certification, Underwriters Laboratories must test and certify it independently.
In essence, UL 300 helps restaurants reduce their risk of kitchen fires by ensuring that their cooking equipment and kitchen setup minimize the collection of grease in ductwork and in the air. It also requires that restaurant owners' fire-extinguishing equipment is adequate for handling the extremely hot temperatures found in most commercial equipment.
What does UL 300 certification require?
In order to earn UL 300 certification, a kitchen's cooking equipment must have:
Fire-extinguishing nozzles in the hood, ducts, and above each cooking appliance
An automatic fuel shut-off capabilities for both gas and electric power sources
A manual fuel shut-off pull for all power sources
A wet-chemical fire-extinguishing system that meets UL 300 criteria (one of which is undergoing semiannual checkups by a certified professional)
In addition, UL recommends weekly cleanings of grease filters.
Do I need UL 300 certification to get property insurance?
That depends on the insurance carrier you choose. Your insureon agent can help you sort through whether you need UL 300 certification to get insured and how you can ensure that your kitchen is UL 300 compliant.
What is NFPA 96?
NFPA 96 is a publication of the National Fire Prevention Association, a group that works to prevent fires in restaurants and other places that have commercial kitchens. NFPA 96 outlines safety guidelines that restaurant owners can implement to reduce their risk of fires.
Among the guidelines included in NFPA 96 are specifications for how much distance should be kept between exhaust hoods and cooking surfaces, what angles hoods should be installed at, and what kind of exhaust filters cooking gear should have installed.
NFPA 96 also outlines how ducts should be constructed, how large they should be, what material they should made of, and the angle at which they should leave the building. While the specificity of the guidelines may seem daunting, it actually makes life easier for restaurant owners by eliminating the guesswork from setting up a safe kitchen.
How are NFPA 96 guidelines established?
The NFPA publishes its guidelines based on statistics gathered from restaurants around the country. By identifying the most common causes of fires, the group finds ways that restaurant owners can minimize their risks – and potentially cut down on their restaurant insurance costs.
Will UL 300 and NFPA 96 affect my property insurance?
Your insurance provider may require you to meet certain safety standards in order to grant you a property insurance policy. Your agent can answer any questions you have and point you in the right direction as you try to meet safety standards in your restaurant.
Compare quotes from trusted carriers with Insureon
Complete Insureon's easy online application today to compare insurance quotes from top-rated U.S. carriers. Once you find the right policy for your small business, you can begin coverage in less than 24 hours.