10 tips to build customer loyalty at your restaurant
Having repeat customers is necessary to running a successful restaurant. Below, we explore 10 ways you can have happy diners returning again and again.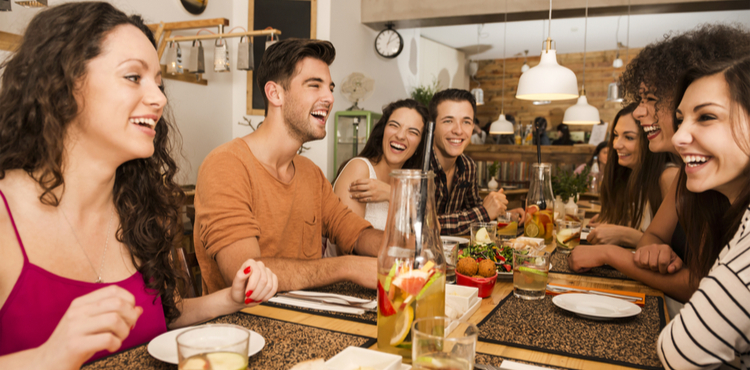 As a restaurant owner, you know that delicious food is only one ingredient for a successful business. In addition to creating culinary magic in the kitchen, you also need to whip up a positive customer experience that will lead to repeat business.
Along with building a loyal customer base, it's also important to make sure your business is shielded from customer-related mishaps with restaurant insurance. General liability insurance is one of the first policies most restaurant owners buy. It can protect your restaurant against lawsuits related to customer and advertising injuries.
By taking a targeted approach to building customer loyalty you should be able to win over plenty of new fans – and keep them coming back for seconds.
Beyond the kitchen: How to grow restaurant customer loyalty
Make service your top priority
Customers may overlook an occasional food mishap, such as an appetizer that arrives cold. What they are less likely to forgive is poor service. Even the best prepared meals and mouth-watering cocktails can't make up for rude or inattentive staff. Make sure employees understand that their top priority is treating patrons as welcomed guests. This type of treatment should lead to plenty of repeat customers as well as word-of-mouth referrals.
Educate staff on the food you sell
In the food service business, it's essential that people know what they're eating, especially if they suffer from food allergies. Servers should be familiar with the ingredients and preparation methods for all dishes. That way they will be able to ensure guests with food allergies don't end up ordering a dish that could land them in the hospital, and your restaurant in court. If your restaurant is sued over a meal that sickens a customer, the product liability coverage in your general liability policy should be able to pay for your legal expenses.
Court the local crowd
If your restaurant is located in a high-traffic area, considering running hyper-local advertising and targeted promotions to entice locals to give your food a try. For example, try contacting nearby (non-competitive) businesses and offering them a one-time lunch discount. This gives them an extra incentive to drop by, which could lead to future visits.
Keep up appearances
While you may not be able to keep your restaurant looking as spotless as it did on the day it opened, it's still important to prioritize cleaning. From plates and utensils to furniture and the restroom, cleanliness (or the lack thereof) helps shape a customer's first impression of your business. The last thing you want is a dirty dining area that gives guests the impression their food is being prepared in a setting straight out of "Kitchen Nightmares."
Be consistent
Building a recognizable brand requires repetition and consistency. Customers want to feel confident that they will enjoy the same food quality and service with every visit. How this might play out at your restaurant depends on your brand. For example, if you serve a dedicated lunch-time crowd, you should consider creating standard practices for preparing your signature sandwiches. On the other hand, if you're known for building a seasonal menu, that could mean frequently introducing new menu items or specials.
Pay attention to prices
How you price your menu items influences your establishment's overall image and can dictate how well your business resonates with your target market. For example, if you own an upscale restaurant, your clientele expects to spend a little extra for their meal and might be put off by lower prices that don't align with their expectations. If you cater to the college crowd, it's important to remember most college kids are on a budget, and are expecting food prices that won't break the bank.
Listen to your customers
Customers like to feel that their opinion is valued. One of the easiest ways to gather feedback is through social media. Just be careful how you engage your customers online. While it's likely plenty of loyal fans will post about their positive experiences, you will also probably see an occasional criticism. Should someone leave a negative comment about your business, don't ignore it or try to argue with the commenter. Instead, strive to understand the problem and offer a solution. If your temper gets the better of you and you lash out online at a customer, you not only make your restaurant look bad, you also risk a libel lawsuit. Fortunately, advertising injury coverage can pay for libel lawsuits; it's included in your general liability coverage.
Create a customer loyalty program
If this fits with your restaurant's image, why not offer perks for returning customers? It gives them an incentive to drop by regularly. It could be as simple as a punch card that rewards them with a freebie after a certain number of purchases, or a discount if they use your app to place lunchtime orders in advance. Another approach is a system that lets customers accumulate points with every purchase that they can use for a discount or free offer once they reach a certain amount. You might also want to hold an occasional members-only event to reward their loyalty.
Create a referral program
This is especially handy if you specialize in services such as catering or hosting events, since these businesses often thrive on word-of-mouth recommendations. While providing exemplary service will naturally lead to referrals, it doesn't hurt to also offer past customers a discount on a future event to encourage them to recommend your business to other potential customers.
Don't underestimate the importance of advertising
Customer loyalty can keep patrons returning to your restaurant, but you still need to find ways to draw in new faces, too. Advertising is a good way to reach potential new customers, and also keep your business top-of-mind with past diners who may not have visited your establishment lately. One thing to keep in mind before running any ads is to make sure you own the rights to any copy or imagery used in the ads. Otherwise, you may get hit with a trademark infringement lawsuit. Should that happen, your general liability insurance can help pay for court costs.
By focusing your efforts on crafting memorable meals and providing top-notch service, your restaurant should be able to create a loyal base of repeat customers. And with the protection offered by general liability insurance, you'll be able to help ensure your business is able to serve them today, and well into the future.
Compare quotes from trusted carriers with Insureon
Complete Insureon's easy online application today to compare insurance quotes from top-rated U.S. carriers. Once you find the right policy for your small business, you can begin coverage in less than 24 hours.