A guide to the best vendor insurance
Vendors like artisans, bakers, and restaurants face unique risks, and often need insurance to appear at a venue. Learn how vendor liability insurance can protect your business and provide you with peace of mind.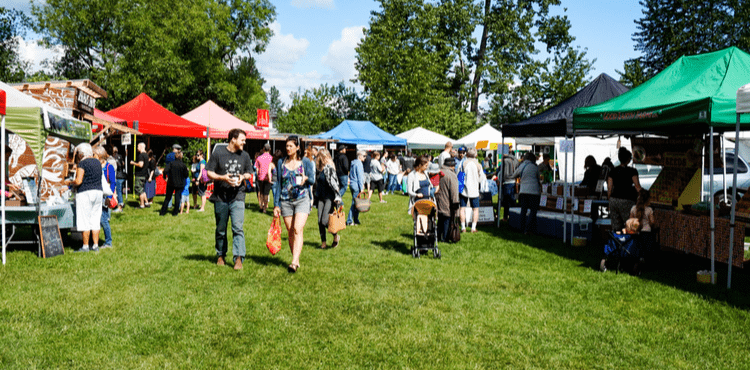 Liability insurance like general liability can protect vendors, exhibitors, and concessionaires from lawsuits; while property insurance will provide coverage against theft and storm damage. Additionally, workers' compensation will cover employees from on-the-job injuries or illnesses. Because lawsuits can be so expensive, you may need insurance to participate in an event or set up shop in a certain location.
Do vendors need to carry insurance?
Many venues will require vendors to carry liability insurance in order for them to cater, sell, or display their goods. And most trade shows, farmers' markets, art fairs, ballparks, and universities require vendors to carry specific amounts and types of liability coverage. In addition to liability insurance, state laws might require vendors to carry workers' comp and commercial auto insurance.
When does a vendor need a certificate of insurance?
Often, an event organizer will ask you to provide a certificate of insurance (COI) from your insurance carrier as proof of insurance. A COI can be useful in fulfilling contractual obligations, as well as meeting venue-specific requirements.
What types of vendors need a liability insurance policy?
Anyone who deals with the public is at risk of a liability lawsuit. Someone could sue over a bodily injury, damaged personal property, or any number of reasons.
Those serving food face a great deal of liability risk. This includes food trucks and other food vendors, along with bakeries, ice cream shops, and caterers.
A customer could trip over your display. Your cooking equipment could catch fire. Produce sold at a farmers' market or a roadside stand could be contaminated and cause an illness.
Artisans and other vendors who sell homemade crafts, candles, jewelry, or any other goods could also face a lawsuit. A table or booth could collapse, injuring a customer. Someone might sue, claiming they were harmed by one of your products. A competitor might claim that you stole one of their designs.
Even exhibitors at a conference, tradeshow, or other special events face risks of third-party injuries or property damage. Fortunately, there are a variety of vendor insurance options available to help protect your business from lawsuits.
Many venues will specify the type and amount of liability insurance coverage they require.
What kind of insurance do you need as a vendor?
Even if a venue doesn't require vendor insurance, it can be a smart investment for your vending business. Let's consider the types of protection you might need for your business, and what they cover.
General liability insurance
General liability insurance is one of the most common types of small business insurance, and it's often required by venues. It provides liability coverage and financial protection from common business risks.
If a shopper suffers a personal injury while visiting your booth, it would be covered by this policy. It also covers you if a customer falls ill after eating food you served at an event.
In addition, this policy will pay for legal costs and judgments if a competitor sues you for an advertising injury, defamation, or copyright infringement.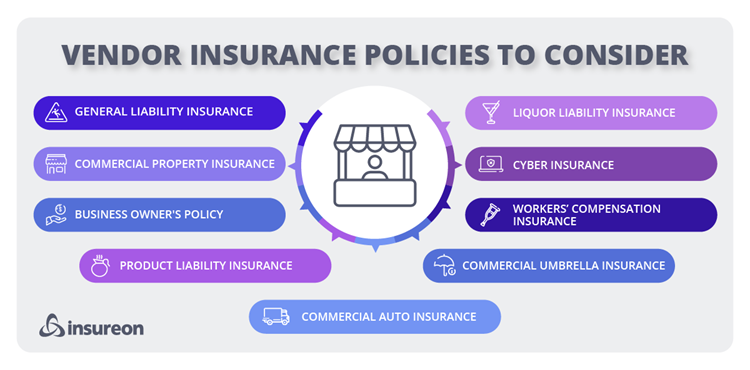 Commercial property insurance
A commercial property insurance policy covers the repair or replacement of damaged or stolen business property. This could include any commercial spaces you own, as well as supplies, equipment, and inventory that you take to special events.
This coverage is particularly important for restaurants that must bring expensive equipment to events or artisans with high-priced inventory.
Business owner's policy
A business owner's policy (BOP) combines general liability and commercial property insurance under one policy, usually at a savings. It covers third-party lawsuits from customer accidents and damage to your property, such as fire and burglaries.
Product liability insurance
Product liability insurance protects you from any lawsuits over claims that a product you sold or made caused sickness, injury, or property damage.
If you're an artisan or other retail vendor, you might consider this policy.
Commercial auto insurance
Commercial auto insurance covers accidents involving vehicles used for your business, including food trucks or delivery vehicles. It may also cover the cost of theft and vandalism.
Commercial auto insurance is typically required by state law, but if your business depends on your vehicles, you should consider a comprehensive insurance policy.
In addition, if you use your personal vehicle for business purposes, your regular auto insurance policy usually won't cover any mishaps that occur during business use.
Protect your business with vendor liability insurance
Liquor liability insurance
Liquor liability insurance is often required for vendors selling alcohol. It covers legal fees, property damage, and medical costs if alcohol is sold to a visibly intoxicated person who damages property or injures people.
If your microbrewery or bar provides liquor for special events, you'll want to confirm that your liquor liability policy still provides coverage at any venue.
Cyber insurance
It might seem unusual for a vendor to consider cyber insurance, although anything can happen in today's interconnected world. This coverage protects you from the cost of a data breach, cyber hacking, or malicious software attack. It covers expenses such as customer notification, credit monitoring, legal fees, and fines.
Workers' compensation insurance
Workers' compensation insurance is required in almost every state for businesses with employees. It helps cover medical bills and lost wages for work-related injuries and illnesses.
Commercial umbrella insurance
Commercial umbrella insurance raises the policy limit on your general liability, commercial auto, or employer's liability insurance when the underlying policy reaches its limit on a claim.
While unusual for smaller venues, this coverage is not unheard of when doing business with a university, a hospital, or other large venue. Vendors of all sizes may need it to meet requirements for higher liability limits at a specific event.
No matter your business, there's a wide range of affordable vendor insurance options available to protect your venture and help it thrive.
What amount of vendor insurance coverage will a venue require?
Many venues will specify the type and amount of insurance coverage they require. It's a good idea to check with any places you'll be setting up shop, to make sure you have enough protection.
Typically, you'll need to sign a vendor contract to sell goods or services at a venue. The contract will specify rules and requirements, including the types of insurance they require and any minimum amounts.
If insurance is required, the venue will likely provide a minimum per-occurrence limit (coverage for a single claim) and aggregate limit (coverage for all claims combined).
What is an additional insured?
Many venues require to be named as an "additional insured" on your general liability policy and other coverages. Even if the facility carries their own event insurance, this additional insured endorsement on your policy offers added protection for the venue against liability claims over any harm caused by your business. This typically comes with an additional cost.
How much does vendor insurance cost?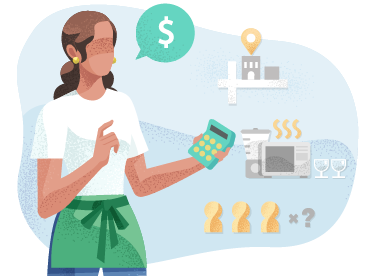 Insurance can be affordable for small businesses. For example, food vendors pay an average of:
BOP: $60 per month
Workers' comp: $101 per month
General liability: $31 per month
Factors that affect your premium include:
Size of your business
Level of business risk
Value of your equipment
What if I want one day vendor insurance?
Year-round coverage is almost always the better choice—especially when it comes to cost—however, there are situations when a one-day insurance policy may make more sense. You might not want to invest in a year long policy if you're testing out events for the first time, selling at events temporarily, or only working seasonally each year.
If that's the case, you might want to explore the one-day policy special event insurance.
How do I get vendor insurance?
Fill out our free online application with basic information about your business. Then compare insurance quotes, choose your policies, and purchase coverage. You can also consult with a licensed insurance agent to make sure you have the right coverage.