Why personal car insurance may not cover business use
Insurance companies view business drivers as bigger risks than personal drivers. That's why you may need auto insurance that specifically covers driving for work purposes.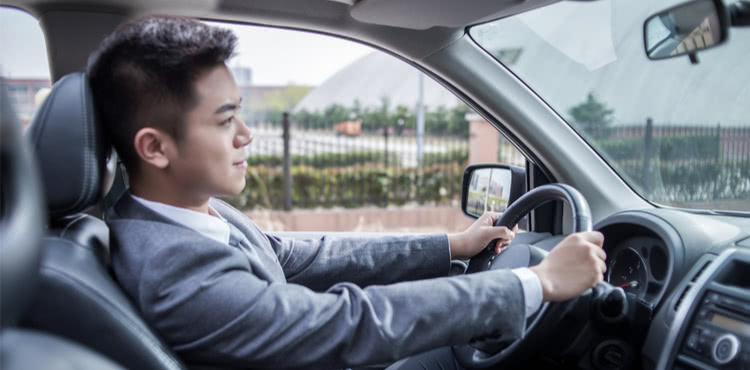 Personal auto insurance is required in almost every state, but your policy may not cover damages from accidents that happen while you or your employees use your personal vehicles for work. That's why most states require small business owners with company-owned vehicles to insure them with a commercial auto insurance policy.
Why are business drivers a higher risk than personal drivers?
Insurers view business drivers as greater risks because they are on the road more often than other motorists. A consultant who drives to several client offices every week is more likely to have an accident than one who drives to and from work once a day.
If you or your employees drive company-owned vehicles, your business likely needs commercial auto insurance coverage. If you use your personal vehicles for work purposes like business errands, deliveries, or client meetings, you may need hired and non-owned auto insurance (HNOA).
Insurance companies consider several factors when assessing driver risk:
Mileage
Who owns the vehicle
Driving record
Geographic location
Age
Vehicle size
Profession
These factors determine if the insurance company will cover you and how much your premiums will cost.
Compare quotes for business auto insurance
Commercial auto insurance vs. hired and non-owned auto insurance
If you drive your personal vehicle for work purposes occasionally, your personal insurance carrier might be able to tailor your policy to accommodate your needs. If you drive for work on a regular basis, consider adding commercial auto insurance or hired and non-owned auto insurance.
The difference between personal auto, commercial auto, and hired and non-owned auto insurance
The type of insurance your business needs depends on who owns the vehicle and what it's used for.
Personal liability auto insurance is required in nearly every state. It pays for the costs of repairs to other drivers' cars or other property if you cause an accident in your personal vehicle. It also covers medical bills for third-party injuries.
Your policy may also include collision or comprehensive coverage, which can pay for repairing your vehicle and medical bills after an accident. It may also cover things like theft, vandalism, or storm damage.
A personal auto policy would not cover you for accidents and lawsuits related to any business use of your vehicle, such as making deliveries or hauling equipment to a job site.
Just one accident while driving on business in a personal or hired vehicle can wind up costing your business thousands of dollars.
Commercial auto insurance protects your business from the costs of accidents in your company-owned vehicles. Like personal auto insurance, it is typically required by state law and can be purchased as auto liability coverage only, or with collision or comprehensive coverage. It covers any of your employees who have your permission to use the company vehicle.
Almost every state requires commercial auto insurance for businesses that have vehicles titled to the company and employees that drive to job sites. Businesses that transport work equipment or employees and clients via company-owned vehicles may also need to purchase commercial auto insurance coverage.
Hired and non-owned auto insurance covers the costs of a lawsuit over an accident you or your employee caused while driving a personal, rented, or leased vehicle on business. This includes employees who use their own cars to run work-related errands or rent cars for business trips.
Just one accident while driving on business in a personal or hired vehicle can wind up costing your business thousands of dollars – far more than the expense of putting additional coverage on your company car.
Food service companies, cleaning services, and construction trades are just a few of the businesses that may need HNOA coverage, but any business that regularly – or even occasionally – uses personal vehicles for work should consider HNOA coverage.
How does hired and non-owned auto coverage work?
If you or your employees drive your personal vehicles for any of the following purposes, you should consider an HNOA policy:
Running business errands
Visiting client locations
Making deliveries
Picking up supplies
Transporting people or goods for a fee
Transporting work tools and equipment
HNOA covers the following costs if you or an employee cause an accident driving a personal, rented, or leased vehicle for business use:
Damage to another vehicle
Other third-party property damage, like a fence
Bodily injury to other parties involved in the accident
Typically, HNOA will supplement any coverage from a personal auto policy. For example, if you're visiting a client and are responsible for an accident, your personal auto insurance may cover the costs to repair your own vehicle.
HNOA won't cover damage to your own property – only third-party liability costs. If you're sued for causing damage to vehicles, property, or injury to others, your HNOA policy would pay the costs of legal fees, judgments, or settlements.
How can you get HNOA insurance?
Many businesses add hired and non-owned auto coverage to their general liability insurance policy. You can also purchase HNOA separately through your insurance agent, but sometimes buying the policies together can lower your insurance rates.
How can you reduce the risk of an accident while driving on business?
Even with the right coverage, it's best to avoid needing a claim in the first place. As a business owner, it's up to you to create a culture of safety for your team. Taking the time to build a safer workplace can keep you, your employees, and your bottom line in the best shape possible.
Here are some best practices for vehicle safety:
Develop a company policy that outlines what "safe driving" means. Include rewards and potential disciplinary actions.
Remember: car accidents are costly but often preventable.
Adopt a "no contact" rule where employees avoid phone calls and texts while driving. Even hands-free phone calls can divert a driver's attention.
Check employee driving records before letting them drive for work.
Offer safety information such as training programs, workshops, and seminars on road safety.
If you're buying or leasing a company vehicle, research its safety record beforehand.
Complete Insureon's easy online application today to compare commercial auto insurance quotes from top-rated U.S. carriers. Once you find the right policies for your small business, you can begin coverage in less than 24 hours.