Business Insurance for Food Vendors
Compare multiple quotes from top carriers with one application.

WE ARE PARTNERED WITH THE WORLD'S TOP A-RATED INSURANCE COMPANIES
Save money by comparing insurance quotes for food vendors
Your setup may be small, but food vendors face many of the same liabilities as a full-scale restaurant. Without appropriate protection, even a minor mishap could devastate your concession stand.
One application, multiple quotes
Insureon helps food vendors compare insurance quotes from top U.S. carriers online. Get several quotes with one application.
What types of business insurance does a food vendor need?
These policies provide coverage for the most common risks food vendors face.
How much does insurance cost for food vendors?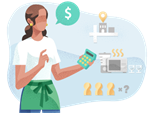 Several factors will have an impact on insurance costs, including:
Food vendor equipment and property
Food and beverage services offered
Revenue
Location
Number of employees
View Costs
What our customers are saying
Why do food vendors need insurance?
You might occupy a small space, but you still need workers' compensation to protect your employees and general liability insurance in case a customer gets injured. The high cost of medical and legal bills makes insurance a worthwhile investment.
Compare insurance quotes for food vendors
Save money by comparing insurance quotes from multiple carriers.