How to create a risk management plan for your restaurant business
Preparing for the worst is essential to running a successful food business. Before you open your doors on your new business, reduce the likelihood of a serious accident or a liability lawsuit by conducting a restaurant risk analysis.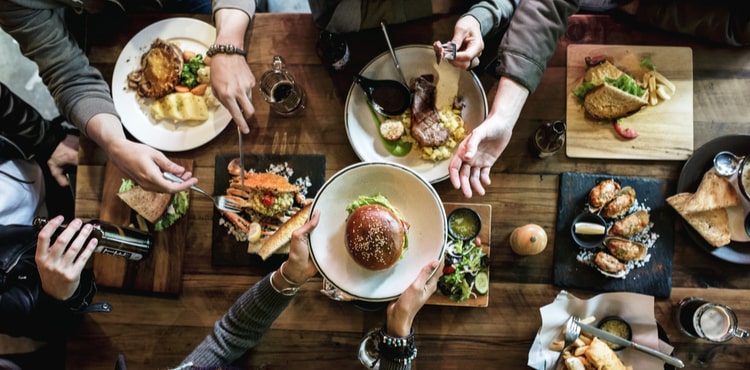 Creating a profitable food business is a juggling act. You need to purchase fresh ingredients, create appetizing menu options, and know how to effectively market the business. But even if you have all the raw ingredients for success, it's still possible for a single accident to force your business to close its doors for good.
A key component of running a successful food business is preparing for the worst – from kitchen fires and food spoilage to allergic reactions and liquor liability lawsuits. That's why it's important for food business owners to conduct a restaurant risk analysis before even opening for business. A comprehensive risk management plan can reduce the likelihood that your food business experiences a serious accident or a liability lawsuit.
In this restaurant risk management checklist, we offer seven strategies for reducing the chances of an incident occurring, including effective food risk management and providing training to keep employees safe. We'll also cover some common small business insurance policies that can help mitigate your food business's risk.
1. Train your restaurant's employees
Your employees are the heart of your business, so protecting them from harm in the workplace should be your top priority. And since your employees handle your day-to-day operations, they can often help avert potentially disastrous situations – if they have the proper training. To develop an effective risk avoidance plan, consider the following for employee education:
Work safety. Protect your employees by conducting regular training sessions on proper lifting and carrying techniques for heavy items. Your chef and line cooks will need appropriate equipment to store sharp knives and tools, as well as heat-protection gear, such as potholders. Also, you may consider mandating footwear and attire that minimizes risks of injuries. If an employee is injured, workers' compensation insurance can help pay for medical expenses, as well as partial wages if time off work is needed to recover.
Safety procedures. Walk your employees through your food business's safety protocol, such as how to properly handle, store, and prepare food, and what to do in case of a fire, robbery, or other catastrophe.
Customer service. Employees who interact with customers should understand how to resolve problems. For example, if a customer is dissatisfied with a meal, your employee should know what to offer the customer to make up for the inconvenience, and when to get the manager involved.
Alcohol service. If your business serves, sells, or furnishes alcohol, you could be liable for incidents involving an intoxicated guest. That's why it's essential for establishments that sell alcohol to make sure their employees are trained in proper alcohol service. Some states even mandate this training. Proper training can help your employees detect the signs of intoxication, know the steps for refusing service, and understand how to handle intoxicated patrons. For more information about alcohol service training, visit the Training for Intervention Procedures (TIPS) website.
If your business sells alcohol or allows patrons to bring their own beverages, you are at risk for a liquor liability lawsuit if someone who drinks at your establishment later causes harm due to being intoxicated. Liquor liability insurance can pay for legal expenses arising from alcohol-related claims.
Compare quotes for restaurant business insurance from top carriers
2. Tap into technology
Running a business in the digital age presents its own set of risks. For instance, if you store customer information, such as credit card numbers, on a computer or point-of-sales device, you are at risk of cyber theft. But you can also use technology to help safeguard your business. Consider using:
Anti-virus software. Keep malware, phishing, and viruses at bay with the appropriate firewalls and software.
Password protection for your Wi-Fi network. Offering internet access is a good way to get customers through your door, but you want to keep your network safe, too. Be sure to use secure networks and only provide the Wi-Fi password to paying customers.
Security cameras. Although security cameras aren't exactly cutting-edge technology, they can still help deter criminal activity and theft.
Another way to manage digital threats is with cyber insurance. If your system is hacked and sensitive information like customer credit card numbers is stolen, cyber liability insurance can help with the costs of customer notification, credit monitoring, and litigation.
3. Maintain your restaurant's facilities
To reduce the odds of property damage or someone getting hurt on your property, be sure to:
Keep a clean kitchen. A tidy kitchen isn't just important for meeting health codes. It can also reduce the risk of grease fires and employee injuries. Ovens and stoves should be clean inside and out, spills should be mopped up immediately, and knives should be properly stored when not in use.
Clear the clutter. Walkways inside your establishment should be clear of obstacles to reduce trip-and-fall hazards. Also, always keep exits and entrances clear in case of an emergency.
Shore up indoor and outdoor railings. If you have railings, make sure they're secure. You want them to hold up when customers steady their balance on their way into or out of your establishment.
Take extra precautions in winter. If your food business is located somewhere with harsh winters, keep your walkways and parking lots shoveled and salted. This way, you can minimize the chance of someone slipping and falling on your premises and suing your business for medical expenses.
If a customer is injured at your food business, general liability insurance can pay for medical expenses, as well as legal costs if your business is sued. You can get free online quotes for liability and other types of insurance in a matter of minutes at Insureon.
4. Maintain your restaurant's equipment
You rely on your equipment to store and prepare food. Without proper maintenance, your equipment could break down, potentially putting both your business and your customers at risk. Be sure you regularly check:
Refrigeration units. A malfunctioning refrigeration unit can lead to food spoilage, which can cost your business big time in terms of ruined inventory and ingredients. Not only that, it could lead to foodborne illnesses. Keep your food – and customers – safe by regularly inspecting your refrigerators and freezers.
Heating equipment. A malfunctioning heating unit can be a fire hazard. At the first sign of trouble, have a professional check out your range, stove, or heat lamps.
Food trucks. If you are a food truck owner, make sure your truck is well-maintained and up-to-date on its inspections so it can keep running smoothly and safely.
Commercial property insurance can pay to repair or replace your property following theft or a kitchen fire. If you add equipment breakdown coverage as an endorsement, you'll gain coverage against equipment malfunctions and failures as well.
5. Adhere to health and safety codes
Familiarize yourself with local health and safety codes so that your establishment isn't caught off-guard by a routine inspection. Regulations vary by county and state, so check with your health department for local rules.
Generally, regulated areas of the commercial kitchen include:
Employee hygiene. Most health codes demand that employees wash hands and wear disposable gloves before handling food. Some also require food service workers to wear hairnets or hats when around food.
Health inspections. Before you can open your food business to the public, you'll have to pass a health inspection conducted by your local health department. Restaurants are usually inspected twice a year. If your business is charged with a certain number of violations, it can be shut down.
Facilities and surfaces. Health codes may outline which cleaners are acceptable to use on equipment that comes in contact with food. The codes may also specify how frequently equipment and food contact surfaces should be cleaned.
Food storage. Once food supplies are in your possession, your business is responsible for their freshness and safety. Your local health codes will likely stipulate how you must store different kinds of food.
Equipment and supplies. Your county health department may regulate the equipment used for cleaning dishes, including sinks, drainboards, and more. Check with your local department to learn its requirements.
Safety equipment. You may be required to keep certain safety equipment on hand to comply with Occupational Safety and Health Administration (OSHA) regulations. For example, restaurants are required to keep fire extinguishers near all cooking equipment.
Not only will adhering to safety codes help prevent your restaurant from being charged with violations, it will also create safer conditions for employees and customers and reduce your chances of getting sued.
6. Obtain appropriate licensing
Some licenses you may be required to acquire before opening your restaurant, catering business, or bar include:
Business license. In most counties, your business must have a commercial license in order to legally operate. To learn more about business licenses and permits, read "How to open a restaurant in 6 steps."
Food service license. If your restaurant or bar passes health inspections, your local health department will issue you a food service license.
Liquor license. You will need a liquor license in order to sell or serve alcoholic beverages at your place of business. Some states may even require your servers to carry permits before they can legally serve the public. You can apply for a liquor license from your state's Alcohol Beverage Control Board.
Driver's license. If you shuttle food and equipment to off-premises events, or have your employees run business errands in their own vehicles, your drivers will need to have the appropriate license. For example, if you own a food truck, you or any other employees who drive the truck will probably need to obtain a commercial driver's license.
Employees who regularly use their own vehicles to conduct company business may not be covered by their personal auto policy if they get into an accident while doing so. You can make sure your employees are protected by purchasing hired and non-owned auto insurance to cover them while they are driving personal vehicles on behalf of the business.
7. Disclose allergens and dietary information
According to Food Allergy Research & Education (FARE), up to 32 million Americans have food allergies. If your business serves a dish with undisclosed food allergens that harm a customer, you could face a lawsuit. Keep your customers informed (and safe) by offering:
Allergen disclosures. List potential allergens on your printed and online menus. Common allergens include nuts, shellfish, dairy, wheat, eggs, and meat products.
Dietary disclosures. If you offer gluten-, dairy-, or meat-free dishes, highlight these offerings on your menus to assist customers with dietary restrictions.
Nutrition information. If possible, list nutritional details about your food items on the menu, in a separate handout, or on your website. This is especially helpful if you have low-calorie options you want to feature for health-conscious customers.
Providing detailed information about ingredients, allergens, and calories allows customers to make informed decisions, and reduces the chance you might be sued by a customer who experiences an allergic reaction at your business. But, if that does happen, the product liability insurance typically included in general liability insurance policies should be able to pay for the resulting medical and legal expenses.
8. Prepare for forced closures
Operating a restaurant involves a constant balancing of income and expenses. When a fire, vandalism, or a burst pipe causes an unplanned closure, the loss of income can be devastating.
Business interruption insurance provides protection against forced closures related to a property insurance claim, such as a fire. This coverage is included in commercial property insurance or your business owner's policy.
While it might be tempting to cancel your business insurance during a closure to save a little money, it could cause more damage in the long run. Canceling your policy leaves you open to risk at a time when your business could be even more vulnerable to theft, vandalism, and other losses.
Without insurance, you'll likely face additional headaches. You might find it difficult to get your restaurant's permits reinstated, or you could default on a business loan due to lack of commercial insurance. Plus, your premium might increase if you cancel and then start a new policy.
Plan to keep your insurance active and set aside money for unexpected incidents.
Compare quotes from trusted carriers with Insureon
Even with appropriate risk management measures in place, disasters can still happen. Federal support can help businesses survive non-covered calamities, such as earthquakes and pandemics like the coronavirus. But small business insurance remains an important component of any restaurant's risk management plan.
You can compare food and beverage business insurance quotes online with Insureon. Once you find the right policy for your business, you can begin coverage in less than 24 hours.