How to open a restaurant in 6 steps
Opening a successful restaurant requires more than a love of food and a knack for business. Explore six crucial steps for opening your business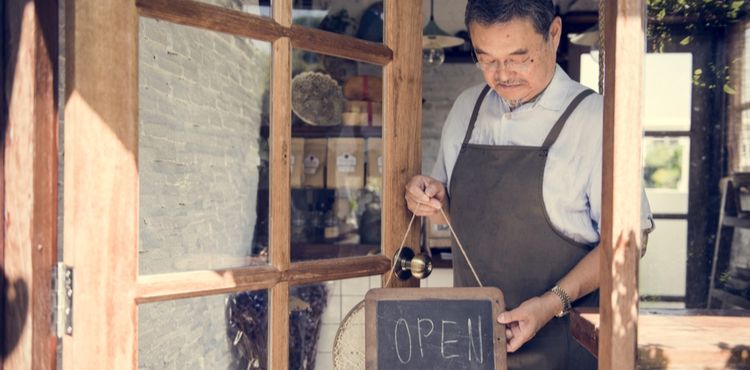 Most entrepreneurs decide to open a restaurant because food is their passion. Owning any small business can be considered a labor of love, but passion will only get would-be restaurateurs so far without adequate planning.
If life as a successful restaurant owner is your goal, then this checklist is for you. It covers several key aspects of getting a restaurant up and running, from applying for necessary licenses to mitigating risks with restaurant insurance.
By following these six steps to opening a restaurant, you can avoid potential legal pitfalls, obtain financing, and better set your business up for success.
Step 1: Register the business name
The name of a restaurant is important for many reasons. Not only does it create an identity for the business, it's also how it will be legally recognized. The first step in opening a restaurant is registering the business by applying for a "Doing Business As" (DBA) name. This isn't the same as trademark protection or incorporation. Rather, "Doing Business As":
Lets the state government know that you are doing business as a name other than your personal name or the name of your limited liability corporation (LLC)
Spares your business from defaulting to your personal name or the name of the entity that owns the business (if you decide to incorporate)
Is required on all government forms, such as your application for an employer tax ID, licenses, and permits
When deciding on a name for your business, make sure you pick one that isn't already trademarked. Otherwise, you could potentially face a costly copyright infringement lawsuit.
Whether you should register your DBA with your local town or county clerk's office depends on where your business is located. Some states also require business owners to file with a state agency instead of, or in addition to, the county.
In many cases, the way your business is organized will determine whether you need to register with your state government. To learn more about the various business structures, check out the Small Business Administration's (SBA) guide, "Choose a business structure."
The following types of establishments require state registration:
Corporations
Nonprofit organizations
Limited liability companies or partnerships
If you operate your establishment as a sole proprietor, you don't need to register at the state level. However, many states require that sole proprietors use their own name as their business name unless they formally file a DBA name.
Step 2: Obtain business licenses
Most business owners, regardless of their industry, are required to obtain a license or permit to legally operate in a commercial capacity. Restaurant owners need to carry general business licenses as well as specific food service licenses, but regulations vary depending on the location, the size of the business, and the industry.
Restaurant owners who plan to sell or serve alcohol will also need to obtain both federal and local licenses. To legally sell alcohol, you first need to register your business with the U.S. Treasury's Alcohol and Tobacco Tax and Trade Bureau (TTB). You will also need to obtain federal permits from the TTB for tax purposes. For local alcohol permit and licensing information, contact the alcohol beverage control board for your area.
Step 3: Apply for restaurant insurance
Opening a restaurant is risky for a number of reasons. The location may not be as convenient as you first thought, or there could be a lot more competition than you anticipated. While risks like this can be somewhat mitigated with solid research in advance, there are other risks you can't always plan for or prevent, such as a kitchen fire that destroys half the restaurant, a customer who becomes severely ill after consuming undercooked meat, or a cook who slips and falls in the kitchen, breaking an arm.
Restaurant insurance can help minimize the impact these types of incidents have on the business.
Some of the policies that can most benefit restaurant owners include:
Insureon agents specialize by industry, and are able to guide restaurant owners in selecting appropriate policies to best minimize risk. Ready to get started? Apply for coverage today.
Step 4: Learn about food service regulations
Food service business owners have to comply with both federal and state laws that govern food preparation, food safety, and product labeling. It's important to familiarize yourself with the regulations governing food service before opening a restaurant.
Your county's public health department is responsible for overseeing commercial food production activities at the local level. This may include regular inspections to ensure your food retail business is clean and employs sound food preparation and handling practices.
Regulations vary from state to state. To find information about your local health department and its rules, visit FoodSafety.gov's "State agencies" section.
Step 5: Get a loan
The cost of opening a restaurant varies, but it typically requires a significant amount of startup capital. That's why many would-be restaurant owners turn to loans to help cover the costs. There are multiple federal, state, and local financing programs designed specifically with small business owners in mind.
Applying for a small business loan involves a thorough assessment of your financial history. In many cases, potential lenders will require documentation to help them better evaluate your application.
Having the following items on hand before applying for loans can help streamline the process:
Personal background information. This may include previous addresses, names used, criminal record, and educational background.
Resume. If you are applying for a loan to start a new restaurant, your lender may require that you have management or restaurant experience.
Business plan. Business plans are always part of the loan application process. Make sure yours includes projections of profit, loss, and cash flow, as well as a balance sheet.
Personal credit report. Your lender will obtain your personal credit report, but it's important you request your own copy and review it in advance. That way if there are any issues in your credit history, you can address them early on with your lender.
Income tax returns. Lenders typically want to see personal and business income tax returns from the past three years.
Financial statements. If you own more than a 20% stake in your business, be ready to submit signed personal financial statements.
Bank statements. Be prepared to hand over a year's worth of personal and business bank statements as part of your application package.
Collateral. While some loan programs don't require collateral, others do. In either situation, you may want to go ahead and prepare a collateral document. This document should describe the value of your personal or business assets that will help you secure your loan if you default.
Legal documents. Your lender may also require you to submit any or all of the following:
Business licenses
Business registrations
Certificate of incorporation (if applicable)
Contracts with third parties
Franchise agreements
Commercial lease
The more of these documents you have ready in advance, the smoother your loan application process is likely to be.
Step 6: Create shareholders' and partnership agreements
If your business operates as a corporation, you'll need to create a shareholders' agreement (also known as a buy-sell agreement). This contract should outline when and how shares in a corporation can be bought and sold; how the control and management of the company functions; how to resolve disputes between shareholders; and how to protect the competitive interests of the company.
A shareholders' agreement ensures shareholders are treated fairly, especially when company shares are sold. If your business operates as a partnership, you'll need to draw up a partnership agreement. Partnership agreements explicitly detail the relationship between the business partners, as well as their obligations to the partnership. This agreement will give you and your partners the opportunity to define your expectations of each other, the amount of capital each will invest in the business, the role you will both play in the business, and salaries and distributions.
These types of contracts can be long and complex. It's a good idea to hire an experienced attorney to ensure any contracts you draw up outline action steps for handling business expectations, stakeholder representation, funding, and dispute resolution.
Compare quotes for restaurant insurance from trusted carriers with Insureon
Complete Insureon's easy online application today to compare insurance quotes for your restaurant business from top-rated U.S. carriers. Once you find the right policy for your restaurant, you can begin coverage in less than 24 hours.