6 ways to prevent burglary and theft at your business
You can't eliminate the risk of theft occurring at your business, but you can take steps to protect your assets and minimize the damage if an incident occurs.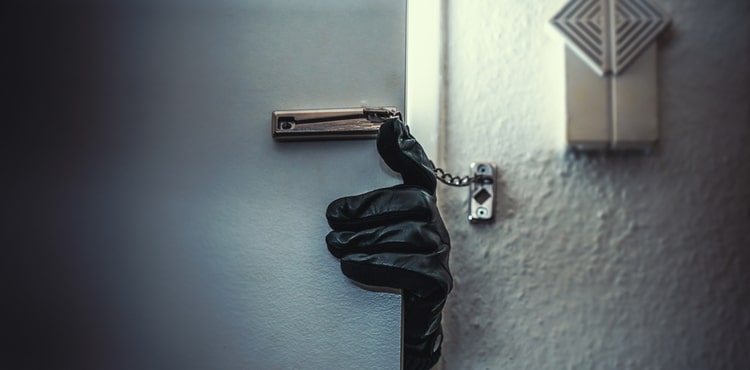 If you're a small business owner, you're likely aware that burglary and theft – possibly by your own employees – can take a serious toll on your bottom line.
According to Business.Org, up to 89% of small business owners experienced shoplifting in 2021. Organized retail crime cost stores an average of over $700,000 per $1 billion in sales in 2020, up more than 50% in the last five years, as stated by the U.S. Chamber of Commerce.
While you can't completely safeguard your company from every potential theft and break-in, you can take steps to protect your assets and minimize the damage if an incident does occur. Here are six ways to lower your risk of burglary and theft.
1. Install an alarm system
One of the best ways to protect your business from theft, property damage, and burglary is to install an alarm system. The presence of an alarm system is often enough to deter any would-be burglars, and it can help you keep an eye on both external and internal threats.
Most small businesses don't need to invest in the most expensive alarm systems. Many setups can be customized, and security companies offer numerous low-cost options. Just make sure that the system can be controlled and monitored remotely on your smartphone, tablet, or PC, and use a UL-certified central monitoring station to monitor your alarm system 24/7.
2. Check every entry point when leaving your building or work vehicle
Most burglaries are simply a crime of opportunity – an unlocked door, keys left in vehicles, etc. Burglars will often look for open windows or unlocked doors, and if there aren't any, they'll move on to the next easiest opportunity. To avoid becoming a victim, lock and double-check every entry point (doors and windows) when leaving your building and ensure that your work vehicle is securely locked and that the keys are with you or the respective employee.
Compare small business insurance quotes
3. Keep track of keys
Track every key issued to employees, and ensure keys are returned when employees leave your company. Limit the number of people who have keys and access to expensive equipment. The more people who have keys, the more susceptible your business is to risks. You may also want to consider installing an access control system with personalized key fobs that can determine which areas of the building certain employees can enter.
4. Perform background checks
While it may seem counterintuitive, sometimes employees who commit fraud in the workplace are those who are most trusted by others. That's why it's essential to perform background checks on newly hired employees and contractors, particularly if they'll be handling payments or sensitive financial information about customers and your business. A background check not only can help you make smarter hiring decisions, but it will also serve as a preventive measure against employee theft.
75% of employees have stolen from their employer at least once.
5. Install CCTV cameras
Closed-circuit television (CCTV) cameras provide businesses with video surveillance and capture images or recordings of what goes on when you're not there. The presence of surveillance cameras can discourage would-be thieves, protect your business during operating and non-operating hours, and increase employee productivity. You should place cameras in strategic locations to identify faces of customers and employees, and store footage off-site.
If you do install CCTV cameras at your business, make sure you understand the legal and privacy ramifications. Employees should be made aware of the cameras and understand why they've been installed in the workplace. Cameras shouldn't be installed in break rooms, restrooms, employee lounges, or other areas where there's a reasonable expectation of privacy.
6. Evaluate landscaping and outdoor features
In addition to indoor protection, you should pay close attention to the exterior of your building. If possible, remove obstructive features where a person could hide. Tall hedges or large bushes can obscure your building from law enforcement and provide cover for criminals. Make sure that the outside of your building is well-lit, particularly around entryways and windows, and install motion-detection lights in any particularly dark areas.
How small business insurance protects your business from burglary and theft
Theft and burglary don't have to cut into your bottom line. In the event of an incident, the following types of small business insurance policies can help your business recover:
Commercial property insurance, sometimes referred to as business hazard insurance, can compensate your business for supplies, equipment, inventory, and furnishings stolen from your premises. This policy protects your assets and your business space, regardless of whether it's leased or owned.
A business owner's policy, also known as a BOP, bundles property insurance coverage with general liability insurance – typically at a more affordable rate than if the policies were purchased separately. It offers businesses a way to save money while covering losses, such as damage or theft.
Inland marine insurance provides coverage for certain high-value items, as well as property you own that leaves your business, such as tools you take to and from worksites. Equipment that moves from location to location, such as cameras, tools, and catering gear, typically have a higher opportunity for loss. Inland marine insurance can cover a range of items that standard property insurance policies cannot.
Employee theft: Employee dishonesty coverage & commercial crime insurance
Employee theft is more common than you think. In fact, according to JW Surety Bonds, 75% of employees have stolen from their employer at least once. Small businesses are especially susceptible, with 80% of thefts occurring at companies that have fewer than 150 employees and half (50%) occurring at companies with 25 or fewer employees.
One way to prevent employee theft is by limiting the number of employees who have access to sensitive information, such as passcodes or PIN numbers. This will help minimize the likelihood of dishonest acts and employee fraud, including computer fraud.
You should also consider insurance coverage. Many insurance companies offer employee dishonesty coverage, which insures business owners or their clients against employee theft. This includes commercial crime insurance.
Commercial crime insurance provides coverage from employee theft or fraud that impacts a client. More specifically, if one of your employees (or anyone else working on your behalf) steals from a customer or client, commercial crime coverage will offer reimbursement for the amount that was stolen. This will not only help you maintain trust with your customer or client, but also minimize financial losses.
Compare quotes from trusted carriers with Insureon
Complete Insureon's easy online application today to compare insurance quotes from top-rated U.S. carriers. Once you find the right policy for your small business, you can begin coverage in less than 24 hours.