Retail risk management: The top 6 threats
Whether you own a brick-and-mortar store or sell products online, take steps to protect your business from these common retail risks.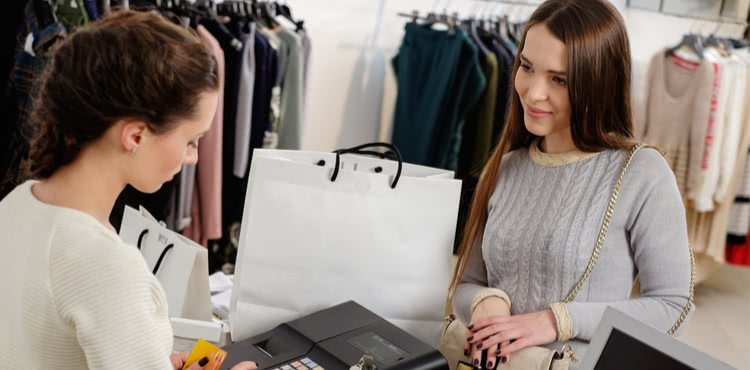 Owning any type of business comes with inherent risks, and operating a retail store or an e-commerce website is no different. Whether it's a store visitor spraining an ankle from slipping on a wet floor, or digital thieves launching a phishing attack that targets your employees, retail risks can have a significant impact on your business.
Fortunately, with a retail risk management strategy in place, you can avoid the risk of many threats before they happen. Retailers should keep a close eye on the six major risks detailed below.
1. Theft of physical items
Shoplifters and other criminals remain a major headache for traditional retail store operators. According to data from the National Retail Federation, the average shoplifting incident cost U.S. retailers about $460 in 2020. The average robbery cost retailers more than $7,500, a tremendous increase over the previous years.
One way retailers can thwart thieves is to install physical security systems, which can include video-monitoring equipment, sensor-based product tags and labels, locked display cases for items that can be easily stolen, and alerts that sound when customers enter or leave the store. Even seemingly outdated anti-theft methods – such as posting signs warning that shoplifters will be prosecuted – can deter some would-be thieves.
Training employees to detect shoplifters can also be an effective retail risk management strategy. Telltale signs of thieves include moving in large groups, attempting to distract employees, and switching price tags and product packaging to purchase more expensive items at a cheaper price, according to retail security systems provider TrustTag.
Since theft will affect many merchants at some point, a good retail risk management strategy starts with purchasing industry-specific property and inventory insurance, which covers theft, fires, and other losses.
2. Data breaches and digital theft
As more people shop online, e-commerce crimes are on the rise. In a 2022 report, the Federal Trade Commission found that social media scams caused losses of $770 million in 2021 – more than 18 times the losses reported in 2017. Website and app scams cost U.S. residents about $554 million that same year.
Digital criminals can target online retailers in several ways. A sophisticated phishing scam might convince unsuspecting employees or customers to hand over their credit card information. A distributed denial of service (DDoS) attack can cripple your business's servers, preventing customers from purchasing items. Cybercriminals can also target brick-and-mortar retailers by hacking into physical point-of-sale (PoS) systems.
E-commerce businesses and traditional stores can manage retail risks and prevent data breaches by replacing outdated PoS equipment and hiring a cybersecurity specialist to audit their systems and software. Cyber insurance protects your retail business and covers damages in the event of a data breach.
3. Inventory damage
Natural disasters and weather events can affect both physical stores and e-commerce businesses that store goods in warehouses. Not only do natural disasters damage physical structures, but they frequently cause power outages, resulting in product losses for grocery stores or other retail outlets that sell perishables.
Part of any retail risk management strategy should involve purchasing commercial property insurance and customizing it to your business's specific needs. General retail insurance policies may also cover inventory damages.
4. Customer injuries
While shoppers cannot sustain physical injuries while browsing your e-commerce website, customers who are visiting a brick-and-mortar store can become injured in a variety of ways, no matter how many signs you hang warning of wet floors or construction work.
General liability insurance protects your retail businesses if a customer sues you for injuries they sustained on your premises. Workers' comp insurance is required by law for businesses with employees in almost every state and protects both owners and workers who sustain injuries on the job.
5. Failing to monitor competitors
While ignoring your competitors' activities might not be an obvious retail risk, it could definitely cause you to lose customers and put your business's long-term health in jeopardy.
For instance, if you own an independent community grocery store with no digital presence, check online to see whether competing businesses in your neighborhood have websites or are active on social media platforms. If most of your competitors are online, you might consider hiring web designers and marketing consultants to help you shape your brand's digital presence. You also might research their prices and make sure that what you're charging for similar items is competitive.
If a competitor ever sued your business for advertising injury – which includes libel, slander, copyright infringement, and intellectual property theft – your general liability insurance will help cover any legal expenses or damages.
6. Forced closure
Your shop's overhead likely means you depend on a steady source of income. When a fire, burst pipe, or vandalism causes an unplanned closure, the loss of income can be devastating.
Business interruption insurance (included in commercial property insurance or your business owner's policy) provides protection against forced closures related to fires and other property insurance claims.
While it may be tempting to cancel other policies during a closure, it could cause more damage in the long run. Canceling your policy leaves you open to risk at a time when your shop could be even more vulnerable to theft, vandalism, and other potential losses.
Without insurance, you could face additional headaches such as getting permits reinstated or defaulting on business loans on equipment or your storefront. Plus, stopping and then restarting insurance can cause your premiums to increase.
Compare retail business insurance quotes from trusted carriers with Insureon
To protect your retail business, complete Insureon's easy online application today to compare insurance quotes from top-rated U.S. carriers. Once you find the right policy for your retail business, you can begin coverage in less than 24 hours.