4 things to check before canceling a small business insurance policy
Sometimes cancelling a business insurance policy is the right call and sometimes it isn't. Learn how to pinpoint the policies that no longer serve your business's aims, cancel them responsibly, and replace them with appropriate coverage.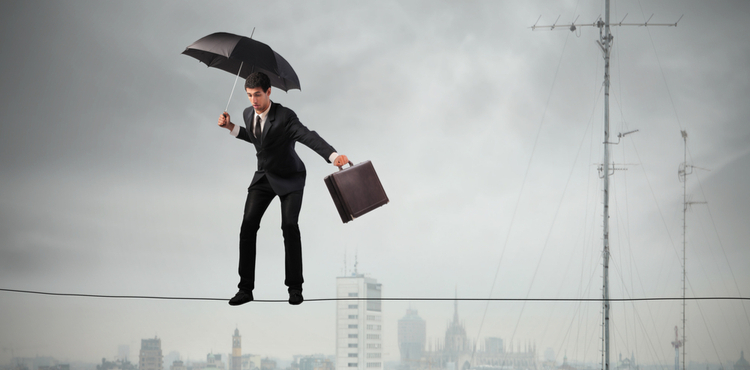 These days, you're hard-pressed to find an insurance advertisement that doesn't promise the coveted Holy Grail of Lower Rates. It's enough to make any small business owner wonder: Am I really getting enough bang for my buck?
And once you head down that line of questioning, the allure of canceling your existing policies may become more appealing. While it's never a bad idea to compare new insurance offers (especially before you renew your existing policies), it's an ill-conceived plan to throw caution to the wind and cancel your coverage outright.
Make sure you observe the following four steps before you cancel any of your small business insurance policies.
1. Weigh the risks of canceling your coverage
There's a reason we recommend that you look before you leap: when you cancel your insurance coverage before you purchase a replacement policy, you leave your business utterly exposed. Some policies give you a bit of a grace period (i.e., a coverage extension) if you're late on renewing your policy, but this may not apply when you cancel coverage. You're just out in the cold – shivering, uninsured, and vulnerable to any losses or lawsuits that come your way. This is what we mean when we talk about "gaps" in your coverage.
It's also worth keeping in mind that just because you haven't been sued up until this point doesn't mean you won't be sued over work you've done in the past. Every state has its own statute of limitations, so there's always the chance that a mishap on a past project can come back to bite you. While it may seem that the stars would have to align for that to happen right when you cancel your policy, be warned that bad luck never discriminates.
Lastly, if you're worried about keeping your insurance premiums low, know that stopping and starting coverage is usually a red flag for insurance providers. Do it enough times, and they may hike up your future rates.
The bottom line: you should almost always purchase another insurance policy before you cancel your current coverage.
2. Think twice before canceling a claims-made policy
This step could be lumped in with the first, but it's worth discussing on its own. Think of your claims-made policies as the fickle orchids of the insurance world. Everything has to be just so in order to collect your benefits on these policies.
Typically, errors and omissions Insurance (i.e., professional liability or malpractice insurance) is claims-made coverage. That means in order to receive your benefits…
Your policy must have been in force at the time of the alleged incident.
Your policy must be in force when you file the claim.
Say these things are true: you're a CPA and you made a mistake on a client's taxes last year. You also had claims-made E&O insurance at that point, but this year, you decided to retire and you cancel all your business insurance policies.
But that client isn't done with you. They decide to sue you for their financial losses that your work caused. For this hypothetical scenario, we'll say you live in a place where the statute of limitations isn't yet up. You think because you had insurance at the time, you'll have coverage for the lawsuit. You'd be wrong.
You should always consult with your insurance agent before you cancel your policy – especially if it's a claims-made policy.
Another consideration: if you want to shop around for a new e&o policy, remember that you can usually purchase "tail" or "prior acts" coverage. Tail coverage ensures you can report claims after your policy has been canceled. Prior acts coverage is usually purchased through your new provider and offers retroactive protection for past mistakes or work that hasn't been reported.
3. Understand that cheaper coverage isn't always better
If you want to ditch your current policy because the rates are too high, you might want to first read this post: "5 business insurance mistakes costing you money." Your agent may be able to help you tweak your coverage so that it better aligns with your budget and doesn't skimp on protection.
And that's the real consideration here: it's a fool's errand to cancel an insurance plan only to choose a different policy that's easier on the wallet but offers a fraction of the coverage. To pick up some pointers on how to compare coverage offerings, read, "8 top tips: how to compare small business insurance quotes."
4. Know when it's time to cancel vs. adjust
Sometimes, you don't need to cancel your policy to get the results you're after. As a general and brief guide, these are the instances when you should cancel a policy and when you should adjust your coverage:
Cancel: You sell your commercial vehicle and don't plan to do any more business driving. If you no longer own the car, you aren't going to buy a replacement, and you aren't going to use a different vehicle for business errands, you may want to ask about canceling your Commercial Auto policy.
Adjust: You replace your car or buy new equipment. Talk to your agent, and they will ensure your commercial auto and property insurance policies are updated to protect your new assets.
Adjust: You move to a new business location. Just because you moved doesn't mean you no longer need coverage, even if your move was made in order to downsize (e.g., you're going to run your business out of your home). Call up your agent to adjust your commercial policies to fit the needs of your new digs.
For more pointers on adjusting your insurance policies, check out this commercial insurance checklist.
Compare quotes from trusted carriers with Insureon
Complete Insureon's easy online application today to compare insurance quotes from top-rated U.S. carriers. Once you find the right policy for your small business, you can begin coverage in less than 24 hours.