How to become a freelance computer technician
Do you have what it takes to be a freelance computer technician? Find out what knowledge and technical skills you'll need to be successful in this profession.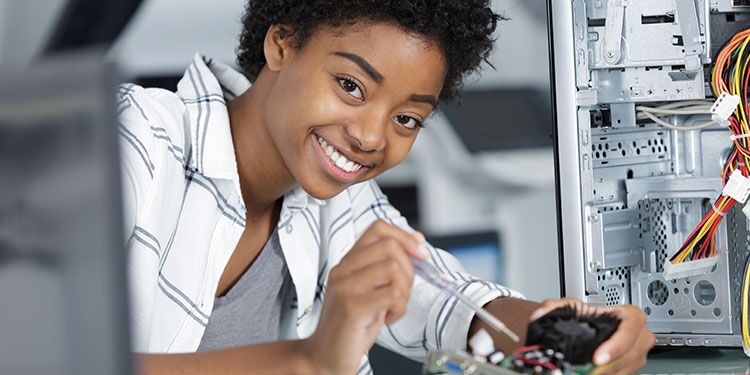 If you love working with computers, and you have extensive technical knowledge and strong communication and problem-solving skills, then you might want to consider a career as a freelance computer technician.
What do computer technicians do?
Sometimes called computer support specialists, freelance computer technicians install, maintain, and repair computer hardware and software for their clients. Simply put, computer technicians troubleshoot and analyze user problems and implement solutions. The work can be done in the technician's business location, a home office, or at a customer's location.
The outlook for job growth in the field is good. Employment of computer support specialists is projected to grow 9% from 2020 to 2030, slightly ahead of the average growth rate for all occupations (8%), according to the U.S. Bureau of Labor Statistics. Companies that can't afford to hire in-house computer technicians will most likely turn to freelancers to fill the skills gap.
Computer technician education and certifications
To become a computer technician, you'll need a high school diploma or equivalent. However, you'll likely stand out from your competitors by earning an associate's degree in information technology or a bachelor's degree in computer science, engineering, or a related field.
You might also consider earning a certificate by completing a computer technician training course from a community college, vocational school, or industry organization. Some of these institutions offer training programs that prepare you for the certification exams. In these courses, you'll learn the basics of computer software and hardware and gain the skills you'll need to succeed as a freelance computer technician.
Certification exams test your knowledge of hardware, software, operating systems, peripheral hardware components, and networking protocols. These exams also test how well you execute installations, troubleshoot problems, and perform maintenance tasks.
Since technology is continually evolving, obtaining professional certifications could show potential clients that you possess the up-to-date skills and knowledge that meet industry standards.
Compare computer technician insurance quotes from top U.S. carriers
Technical skills for computer technicians
As a computer technician, you'll need the technical skills that enable you to perform the following functions:
Installations
Part of your responsibilities may include installing new computer hardware, servers, networking components, and integrating other peripheral equipment. You'll also have to uninstall old applications and configure your clients' computer networks as well as install anti-virus solutions and other tools your customers use.
Troubleshooting
You should be able to use diagnostic tools to discover and resolve any hardware or software problems. You'll also have to know how to respond to malware and virus issues in personal workstations and your clients' networks. You'll have to repair and maintain servers, personal computers, and other equipment and work with your customers to resolve complex and routine computer issues.
Updating
When new software upgrades are released, it will likely be your job to update your clients' systems, ensuring all the computers are working on the same software. You'll probably be responsible for evaluating and providing suggestions for hardware and software standardization as well as maintaining an inventory for upgrades and software licensing. You'll have to address the needs of your customers' employees who are having technical issues during any updates. You may also have to coordinate with your customers' hardware and software vendors to ensure that any new equipment is ready to operate according to schedule.
Important nontechnical skills
In addition to the technical skills, you should possess these nontechnical skills:
Customer service skills
You have to be patient and sympathetic as you'll often be helping people who are frustrated with the software or hardware they're trying to use.
Listening skills
It's important to understand the problems your customers are describing and know the questions to ask to clarify the situation.
Problem-solving skills
A key part of your job is to identify, analyze, and solve simple and complex computer problems.
Speaking skills
You have to be able to describe solutions to computer issues in ways that nontechnical people can understand.
Writing skills
You'll need good writing skills to prepare instructions and email responses to your customers and their employees.
Protect your business with insurance
In addition to the technical and nontechnical skills listed above, it's important to protect your business from unexpected events with small business insurance. Clients might ask you to have technology errors and omissions, cyber liability, general liability, or another active policy before they sign an agreement to utilize your freelance services.
For example, general liability insurance can help pay for any damage you may have caused to a customer's property, and technology errors and omissions insurance can help cover your costs if a client sues you over a perceived work mistake. Cyber liability insurance can protect your company against liability and expenses due to the loss of data and cybersecurity attacks.
You may also like
How to start an IT services business
Researching competitors, finding funding sources, and protecting yourself with contracts and business insurance are just a few of the steps you should take when you start an IT services business.
Go to article
Compare quotes from trusted carriers with Insureon
Complete Insureon's easy online application today to compare insurance quotes from top-rated U.S. carriers. Once you find the right policy for your small business, you can begin coverage in less than 24 hours.