5 risk management tips for IT businesses
Because IT professionals are often privy to sensitive information, they need to take extra measures to manage risks and prepare for the unexpected. These five tips will help protect your IT business.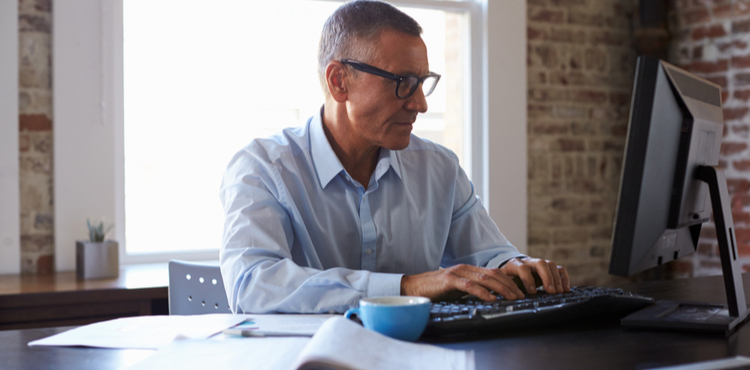 As an IT professional, you're responsible for keeping your clients' technology infrastructure up and running while also protecting them against a range of cyber threats. If you make a mistake that causes a client's server to crash, or one that allows hackers to launch a ransomware attack, a client could sue your business.
Besides dissatisfied clients, there are other risks that your IT business could face. For example, a fire could destroy your office or an employee could get hurt. Fortunately, small business insurance can help protect your business against the costs associated with property damage, liability lawsuits, and other incidents.
There are also some proactive steps you can take to manage your business's risk and minimize the potential for an expensive lawsuit. Try to incorporate these five suggestions into your IT business's risk management plan.
Establish protocols to safeguard client information
From passwords to bank account information, IT professionals work with some of their clients' most sensitive data. To reduce the risk of data you store at your company from being compromised, consider establishing a risk management protocol at your office. This could include creating guidelines for password protection and data encryption, or educating employees about common phishing scams so they don't inadvertently grant system access to a hacker.
It's also important to consider purchasing cyber liability insurance. If you do suffer a data breach, this policy can pay for costs such as notifying impacted customers, credit monitoring, fines, and legal expenses.
Protect your company's finances with E&O insurance
When your job is working on a client's computer systems, the stakes are high if you make a mistake. If a client's firewall isn't properly installed, or you accidentally grant administrator privileges to every employee, your IT business could be sued.
Errors and omissions insurance, also known as E&O insurance or professional liability insurance, can pay to defend your business against a variety of claims from disgruntled clients, including charges that you were professionally negligent, provided incomplete or incorrect work, made mistakes or oversights, or failed to perform professional duties.
If your error resulted in the client experiencing a data breach, the third-party cyber liability insurance typically included in E&O policies could help cover the resulting costs.
Create an emergency response plan
Effective enterprise risk management for your IT business includes ensuring your business can survive a serious disaster such as a fire.
Prepare for potential worst-case scenarios by creating an emergency plan well before you need it. What to include will depend on the details of your business, but factors to consider include:
Where employees should meet if they need to exit the building during an emergency
Contact information for your insurance agent, landlord, utility companies, vendors, clients, and employees
A list detailing where important building systems are located, such as the main water shut-off, electrical equipment, and air and heating systems
Documents and other resources critical to getting the business back up and running
Once finalized, share the plan with employees so everyone on your team can help out should disaster strike.
Another way to protect your business is with commercial property insurance. It can pay to repair or replace business property that has been damaged or stolen, such as computers, servers, and office furniture.
Small IT businesses typically also qualify for a business owner's policy, or BOP, which combines property insurance with general liability coverage at a rate cheaper than if the two policies were purchased separately.
Provide a safety net for employees
Your employees are your business's most important asset. It's important to provide them with a safe work environment so they don't get injured. Keep them safe by conducting a safety audit of your business to make sure there are no hazards that could lead to an injury, such as loose carpeting, exposed electrical wires, or stray cords. You may also want to conduct regular training sessions on how to properly lift and carry heavy boxes and equipment, and provide employees with ergonomic furniture and equipment to help prevent repetitive motion injuries, such as carpal tunnel syndrome.
Another way to protect employees is with workers' compensation insurance. If one of your employees is injured at work or suffers from a work-related illness, this coverage can pay for the employee's medical expenses, as well as partial missed wages. Depending on the laws in your state, you may be legally required to carry workers' compensation insurance.
Know your policies
Each insurance provider offers different policies, premiums, deductibles, and exclusions. That's why it's essential to fully understand all of your insurance policies. You want to know exactly what they cover – and what they don't – so you don't inadvertently expose your business to risk.
One way to reduce the possibility of a major lawsuit devastating your business is by increasing the limits on existing policies. For example, umbrella liability insurance can provide additional funds if a covered lawsuit maxes out your general liability, employer's liability (often included in workers' comp), or commercial auto insurance.
Even an IT business with a carefully planned risk management framework isn't immune from liability lawsuits that could cost hundreds of thousands of dollars in attorney's fees and court costs. To give your business the protection it needs, contact an Insureon agent today. We can help you determine the amount of coverage that is appropriate for your business's needs, answer any questions you have about your existing policies, and suggest additional coverage you may want to consider.
Compare quotes from trusted carriers with Insureon
Complete Insureon's easy online application today to compare insurance quotes from top-rated U.S. carriers. Once you find the right policy for your small business, you can begin coverage in less than 24 hours.