How much D&O insurance should a tech startup have?
If your startup wants to attract top talent, secure funding, or eventually go public, it's a good idea to have directors and officers insurance.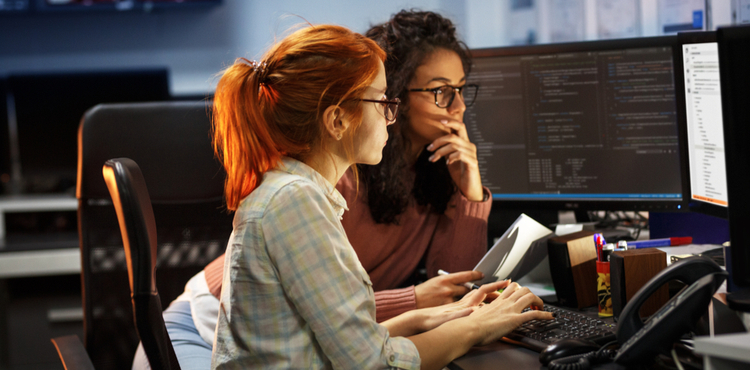 Running a tech startup comes with a lot of challenges: developing new technology, filing patents, hiring staff, and wrestling with the decision of whether to go public. Buying startup insurance is probably on that list, too.
Getting insured doesn't have to be a challenge, but it can seem like one if you're not sure which policies or how much coverage you need.
Take directors and officers insurance (i.e., D&O Insurance), for example. If you've heard of this policy before, you might mistakenly think only major corporations need it. However, a small tech startup might need D&O insurance if it wants to attract top talent, get venture capitalist funding, or go public.
What is directors and officers insurance?
D&O insurance can provide liability protection when the actions or decisions of your directors and officers trigger a lawsuit against your business or its leadership.
You might need D&O insurance to attract top talent. Many candidates wouldn't even consider accepting a leadership or board position at your business without this protection in place. They may believe in your mission, but not enough to take a personal financial hit when a disgruntled former employee, vendor, or anyone else with a legal ax to grind sues them.
"For any seasoned veteran you want to attract to the board, one of their first questions will probably be about D&O insurance," says Kevin LaCroix, an Ohio-based attorney and author of the The D&O Diary. "When a company is ready to start trying to recruit outside board members, [D&O insurance] is definitely a step the company will want to take. In fact, candidates for the board might require it."
My startup doesn't have a board, so I don't need D&O insurance, right?
"You don't necessarily have to have a board to need D&O insurance," says Paul Ferrillo, counsel in the securities litigation corporate governance group at Weil, Gotshal & Manges LLP and nationally recognized leader on D&O insurance issues.
"You could just be organized in a different fashion, have raised a lot of money, and have the same question in terms of risk to your business plans if something unanticipated happens," he says.
For example, D&O Insurance may come in handy if you're sued over:
Breach of contract
Wrongful termination
Breach of fiduciary duty
Security fraud
Failure to comply with laws or regulations
Cyber liability
Many private equity firms and venture capitalists require a business to have D&O insurance before they will consider investing.
"It's always a good idea to have D&O insurance when you're taking money from investors or third parties," Ferrillo says. "The insurance creates this ability to bounce back and ability to pay for unanticipated litigation that you might not have budgeted for."
If I don't have a board or investors, can D&O still benefit my business?
When you picture a D&O lawsuit, you may visualize major corporations getting sued for dirty dealings, but it's not always that dramatic. The simple day-to-day business of a startup could be enough to trigger a lawsuit.
"Any startup does a number of activities – all of which potentially could lead to disputes and possibly even litigation," says LaCroix.
For example, he cites these innocuous activities as ripe for disputes:
Hiring
Raising funds
Entering into contracts with vendors, suppliers, and customers
"In my view, one of the things that ought to be on the checklist fairly early in the life cycle of the organization is purchasing D&O insurance to protect the individuals who are taking those actions on behalf of the company," LaCroix says.
But don't forget: D&O insurance can also protect the business itself.
"It's balance sheet protection because it means that if the company gets involved in a dispute, it doesn't have to divert financial resources to litigation," LaCroix says. "The insurance will take care of that."
How do I know if it's time to buy D&O insurance?
The timing is different for every startup, but LaCroix says these are two key indicators that your business may be ready for D&O insurance:
You're trying to recruit or retain employees who will have extensive knowledge of your startup's intellectual property.
You have plans at any point down the road to go public.
When it comes to hiring talent, a candidate's current employer may be sensitive about losing an employee to a competitor, and your company could get dragged into the dispute.
"The person might hold the keys to particular intellectual property or knowledge," says Ferrillo. "If he left and the company wasn't compensated, or if he left and shouldn't have been leaving, it could be disastrous to the company and its investors."
When it comes to going public, having D&O insurance on hand early can be a major asset for your startup.
According to LaCroix, "You want the retroactivity of the insurance to reach as far back in time as possible. That way when you go public, the retroactive date covers all of the activity that led up to the company going public."
"Usually people come to me having waited too long to purchase D&O insurance," Ferrillo says. "If I were starting up a company, I would want to be protected."
Compare D&O insurance quotes from trusted carriers with Insureon
Complete Insureon's easy online application today to compare quotes for directors and officers insurance and other policies from top-rated U.S. companies. Once you find the right policy, you can get coverage in less than 24 hours.