How does ADA compliance apply to small businesses?
Businesses that don't provide access in line with the Americans with Disabilities Act can face harsh civil penalties. Learn how your business can manage ADA lawsuits with careful compliance and adequate insurance.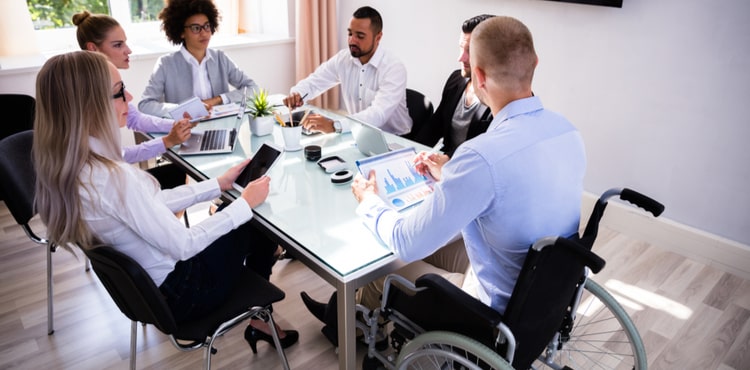 Owning a small business comes with lots of responsibilities, like marketing, budgeting, and hiring. But one of the biggest responsibilities (that often gets overlooked) is ensuring that your small business complies with the Americans with Disabilities Act (ADA), a federal civil rights law.
ADA compliance isn't just a requirement for large businesses. Any business that provides goods and services is required to comply with Title III ADA standards. If your small business gets sued for violating ADA accessibility guidelines, you could find yourself in a costly lawsuit.
In this ADA guide for small businesses, we'll explain what the ADA is, why it's important to comply with ADA requirements, and how you can protect your small business from ADA lawsuits with the right types of insurance.
What is the ADA?
Put simply, the ADA is a law that prohibits discrimination against people with disabilities. As a small business owner, you need to be aware of your responsibilities under the law, one of which is making sure your business is accessible to people with impairments. This may mean altering barriers that restrict public accommodations, such as:
Narrow parking spaces
Stairs to the entrance
Round doorknobs
Narrow aisles and doorways
Drinking fountains with low clearance
High counters
Fixed tables and chairs
Websites that don't support screen reader software
Non-wheelchair accessible restrooms
Keep in mind that this list is only a sampling of the items your small business may have to change to be compliant with ADA guidelines. Different types of facilities have different accommodations to make. For example, a multi-level gym may have different compliance requirements than a ground-floor dental office. Restaurants may have their own specific compliance guidelines, as well.
You might also be surprised to learn that private businesses—those that are not open to the public—must also meet ADA requirements. So, for instance, if you own a PR agency, your office needs to be ADA compliant for your employees and clients that visit.
In addition, the ADA also protects equal opportunity hiring practices and employment practices for small businesses with at least 15 employees according to Title I. Under the ADA, it's illegal for businesses to discriminate against qualified individuals with disabilities during the hiring process. Business owners must also provide the same benefits to all employees, regardless of their disabilities.
The same rules apply to local governments under Title II. The ADA prevents state and local governments from discriminating against individuals with disabilities and limiting their involvement in government-sponsored services, programs, and activities.
If your small business isn't ADA compliant, you're breaking the law.
Will I need to renovate my entire business to meet ADA regulations?
If you need to make alterations to your existing facilities to meet the federal government's ADA guidelines, you won't need to do a complete rebuild.
The ADA does not require small businesses to make significant alterations or renovations to comply with regulations. According to the ADA, small businesses must make changes that are considered "readily achievable," which essentially means that the changes are easy to make without much difficulty or cost.
If you rent your office or retail space, you're not off the hook. ADA compliance applies to businesses that rent a storefront or commercial office space. Just because you don't own the building, doesn't mean you can't get sued. Both landlords and tenants can be responsible for removing barriers if they don't meet ADA requirements.
If you do need to make changes to a rented or owned space, you may be eligible for a tax credit. To take advantage of the tax incentives, your business must meet one of the following criteria:
Have $1 million or less in gross receipts for the previous tax year
Employed no more than 30 full-time employees during the previous tax year
Small businesses that meet the requirements are allowed to deduct 50% of "eligible access expenditures" above $250 and less than $10,250 for the taxable year.
Why is it important for small businesses to be ADA compliant?
There are several reasons why it's important for small businesses to comply with Title I, Title II and Title III of the ADA.
First, adhering to ADA guidelines is a legal requirement. If your business does not follow accessibility rules, you can get sued, and these lawsuits can be very expensive.
For example, one study found that website accessibility lawsuits can cost between $5,000 and $25,000, depending on the severity of the violation and the size of the business. Website accessibility violations can occur if your website doesn't support screen reader technology used by visually impaired individuals.
It's also important for small businesses to be ADA compliant because failure to follow ADA rules can impact your brand. If a disabled individual sues your business for discrimination, the word can get out and harm your reputation. As a small business, brand perception is invaluable, especially if you're looking to grow and scale.
Lastly, adhering to ADA guidelines is important because it doesn't limit any individuals from visiting your business. The CDC found that one in four American adults has a disability that impacts their daily activities. Making your business inclusive to everyone, regardless of age or ability, is the right thing to do, and it reflects positively on the business.
Compare small business insurance quotes
What happens if my business isn't ADA compliant?
If your small business isn't ADA compliant, you're breaking the law. It also opens the door for disabled individuals to sue your business if the space is not accessible for them.
In the event of an ADA violation lawsuit, an inspector will likely visit your business and make recommendations for removing barriers that limit equal accessibility. If you are found to be liable, you will probably be given the opportunity to fix the existing facilities within a certain period of time.
Most ADA compliance lawsuits require small businesses to pay a settlement. However, this depends on your state. If your state awards damages for ADA compliance lawsuits, you might be required to pay for the plaintiff's legal defense.
Even if your state doesn't award damages, it's still important to voluntarily address barriers. If you fix the barrier immediately after receiving the complaint, you may not face any legal action, because the court can't order you to fix something that has already been repaired.
Examples of ADA compliance lawsuits
ADA compliance lawsuits are not uncommon for businesses, both large and small. However, compliance rules are different for every industry. Here are some examples of prominent ADA compliance lawsuits:
Leap
In 2015, the rideshare startup Leap was sued by the Department of Justice for allegedly removing wheelchair ramps, spaces, and securement on its fleet of buses, and replacing those features with bar-style seating and leather armchairs. According to the ADA, companies offering transportation services with fixed routes and vehicles that fit 16 people must use wheelchair-accessible vehicles.
Domino's
In 2016, Guillermo Robles, who is blind, sued Domino's because the pizza chain's website and mobile app were not compatible with Robles' screen reading software for low-vision individuals. Robles claimed that Domino's website was in violation of the ADA because it prevented him from ordering pizza, due to his disability. Domino's was eventually required to pay Robles $4,000 in damages.
Uber
In 2021, rideshare company Uber was accused of charging disabled passengers a "wait time" fee because they needed more time to enter the driver's vehicle. Although Uber denied that its wait time fee was a form of discrimination, the ADA announced that passengers with disabilities or impairments should be entitled to additional time at no charge when entering an Uber vehicle.
How can I protect my business from ADA lawsuits?
The best way to protect your business from ADA lawsuits is to simply comply with ADA regulations.
The ADA most recently updated the code in 2010, so if you have made any reasonable accommodations since that time, your business should still be compliant.
However, if you're just getting familiar with ADA compliance, it's a good idea to look at the code and make sure that your store or office space meets the (very specific) requirements.
For example, before 2010, the crosshatch striping next to accessible parking spaces had to be white. But when the code was changed, the ADA ruled that these lines must also have blue borders. While some improvements can be made yourself, others may require a professional.
To determine whether your business is in compliance, you can review the US Department of Justice's "ADA Update: A Primer for Small Businesses." If you have questions about your business's ADA compliance, you might consider hiring an ADA specialist or law firm to do a confidential site inspection and make recommendations.
In addition, there are certain types of insurance that may be able to protect your small business in the wake of an ADA lawsuit.
General liability insurance covers your legal defense in the event of a third-party bodily injury, property damage, or advertising injury claim. This policy may also cover an ADA lawsuit, but it depends on:
The language of the policy
The facts of the complaint
Typically, general liability insurance would only apply if the ADA lawsuit was brought on by someone who was injured. However, it would not cover the cost of your fine if you were found liable.
Another type of insurance that may cover an ADA lawsuit is third-party employment practices liability insurance (EPLI). This policy covers your business's legal fees if a non-employee (like a customer or client) sues one of your employees for harassment or discrimination. However, third-party EPLI can be expensive and hard to find.
If you receive notice of an ADA complaint, you can talk to an insurance agent to find out if you are covered based on the nature of the incident and the wording of your policy.
You can get a quote for general liability insurance and EPLI on Insureon's website
Compare quotes from trusted carriers with Insureon
Complete Insureon's easy online application today to compare insurance quotes from top-rated U.S. carriers. Once you find the right policy for your small business, you can begin coverage in less than 24 hours.