5 signs it's time to buy business liability insurance
Small business liability insurance could protect your business from costly lawsuits.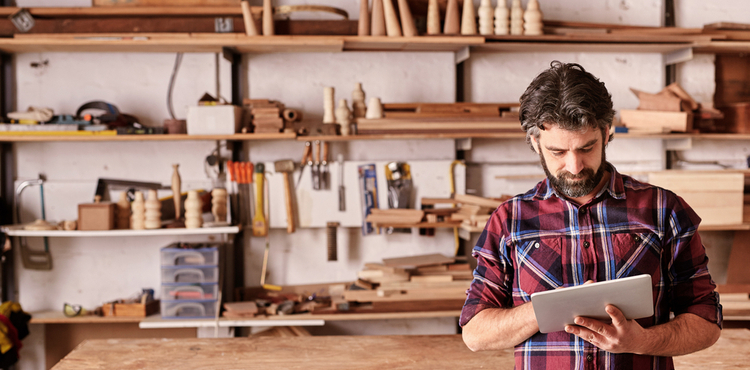 As a small business owner, you know that insurance can protect your business, legitimize your operations in the eyes of the public, and give you peace of mind.
We could extol the virtues of small business liability insurance all day, but the fact remains that financial barriers, lack of time, and life may get in the way of following through on checking boxes and signing the dotted line.
So keep your eyes peeled for these occurrences, events, and milestones – they might signal it's high time to finally get insured.
Business liability insurance sign #1: You lease a commercial space
While you may have considered the specs, square footage, location, and foot traffic of your commercial space, you may not realize that any space open to the public is also an open door for risks.
The policy you need: Whether you rent or own commercial space, you need general liability insurance to address third-party (non-employee) bodily injuries and damage you may cause to their property.
For example, if a customer slips on your freshly mopped floor, they can sue you for their medical expenses. If you handle a customer's smartphone and drop it, you could be on the hook for repair expenses. In both these situations, general liability can help pay for damages so it doesn't come out of your pocket.
Extra credit: Your landlord's insurance may cover physical damage to the building you rent, but it won't cover your stuff inside. You need commercial property insurance to protect your furniture, inventory, and equipment – a worthwhile investment if you've recently purchased big-ticket items. Bundle together general liability and property insurance with a business owner's policy to save on your coverage.
Business liability insurance sign #2: You hire an employee
Here's a catch-22: you need employees to help you run and grow your business. But your business takes on a lot of responsibility when it hires employees. Namely, you are liable for their on-the-job injuries.
The policy you need: Workers' compensation insurance can help pay for medical bills, replacement wages, and disability and death benefits when an employee suffers a work-related injury or illness. Most policies also have employer's liability insurance, which can cover lawsuits when an employee claims your negligence caused their injury. In most states, your business must have this policy once it hires an employee. (Learn more in our workers' compensation laws by state guide.)
Extra credit: You're also liable for mistakes employees make while working for your business. Be sure to carry professional liability insurance to address lawsuits over incomplete services, errors, and breaches of contract.
Business liability insurance sign #3: You land a big client
Oftentimes, bigger clients want to see proof of insurance (i.e., a certificate of liability insurance) before they decide to work with you. It demonstrates that an insurance carrier has already vetted your business and found it worthy of backing, in a sense. It also proves that you can pay for damages or mistakes you make.
The policy you need: Most clients want to see a form of errors and omissions insurance (i.e., professional liability insurance) if you offer professional services. If you work in construction, general liability insurance with products-complete operations coverage is the gatekeeper policy.
Extra credit: The bigger your client, the more they stand to lose. If you don't have E&O in place, their losses may be way more than you could handle out of pocket. Talk to your agent to ensure you have adequate coverage.
Business liability insurance sign #4: You drive for work
Your clients keep you on the move. Whether you're driving for meetings downtown or the next state over, this is activity your personal auto policy likely doesn't cover.
The policy you need: Commercial auto insurance can help pay for accidents in your business-owned vehicle. Considering collisions are deadly and expensive, its protection is no small matter.
Extra credit: If your employees drive their own vehicles to run work errands, your business can be liable for any accidents that happen on these trips. Talk to your agent about adding hired and non-owned auto insurance, which can cover lawsuits over accidents in employee cars and rented vehicles used for business.
Business liability insurance sign #5: You launch a website
Hey, nice website. And that blog is an excellent way to keep your content fresh and on search engine radars. Just one hitch: the things you publish on your site can come back to bite you.
For example, if you post a copyrighted image on your blog, you could be sued over copyright infringement. If a user thinks your website falsely advertised its products, they could sue, too.
The policy you need: general liability insurance can cover lawsuits over advertising injuries (copyright or trademark infringement, libel and slander, or using someone's likeness without permission).
Extra credit: If your website has an ecommerce component and accepts digital payments, you are accountable for keeping customer credit cards, email addresses, and other personal identifiable information safe. If a hacker steals that data, you're responsible for notifying affected parties, offering credit-monitoring services, and repairing your system. Good thing cyber liability insurance can help you cover these costs.
Compare quotes from trusted carriers with Insureon
Complete Insureon's easy online application today to compare insurance quotes from top-rated U.S. carriers. Once you find the right policy for your small business, you can begin coverage in less than 24 hours.