5 things you should know about janitorial liability insurance
If you own a janitorial business, learn more about additional policies you should be carrying to avoid any lawsuits.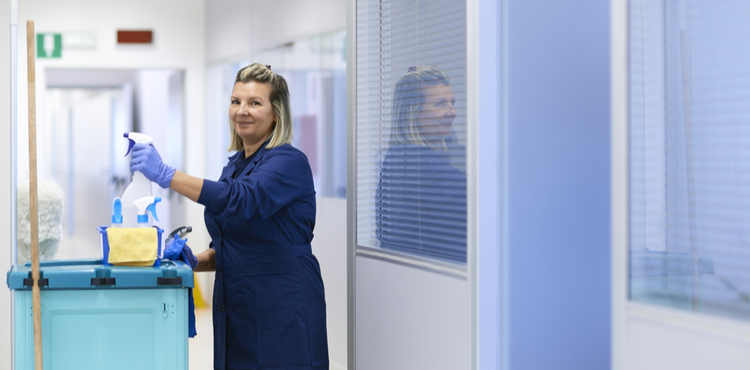 Janitors and owners of professional cleaning services are often placed in a rather precarious position, liability-wise. Employees must travel to their job location, they often have keys to others' buildings and offices, and they often work late at night when buildings are empty or nearly so. They frequently handle (or work near) delicate and expensive items, and they use cleaning solutions that can be caustic or cause floors and other surfaces to be slippery.
Any of these situations can lead to a lawsuit. And even if the allegations are baseless or frivolous, one lawsuit can still wipe out your finances and put into jeopardy the company you've invested so much in. That's where janitorial insurance comes into play. Read on for answers to common questions about insurance for janitors and professional cleaners.
1. I have a general liability insurance policy, so why do I need more?
While your janitorial business almost certainly needs a general liability policy, that coverage alone is likely not enough to adequately cover all your unique risks. A janitorial service operating without a janitorial errors & omissions policy – sometimes called janitorial liability insurance – is like a doctor practicing medicine without Malpractice Insurance. General liability and E&O insurance are not the same thing, and a janitorial service can benefit from both.
2. What does janitorial errors and omissions insurance cover?
To begin with, E&O insurance covers you (the business owner), plus any employees of your company and any subcontractors you hire. Anyone can make a mistake, and sometimes a mistake in the janitorial business can end up costing a client a great deal. Few janitorial companies can afford to take a full hit in today's legal system without insurance coverage.
Among other things, a janitorial E&O policy covers legal defense costs, even if the claim against you is baseless and you win the case. And if you lose the case, it also covers the damages you may have to pay, including court costs, up to the predetermined limits of your policy.
3. Even so, do I really need janitorial E&O insurance?
Even if you believe your risk of facing a lawsuit is too low to warrant carrying insurance, know that many clients who hire a janitorial service require them to carry current errors and omission insurance before they will hire them. Most companies also require that the Janitorial Liability coverage extend to any subcontractors the janitorial service may hire.
This best practice is in place to protect both janitorial services and their clients. For example, what happens if your company waxes a floor and someone slips and falls on it? What happens if one of your employees accidentally knocks over a priceless vase while cleaning an office? What happens if $1,000 mysteriously vanishes from a petty cash box while your crew is cleaning an office? Each of these scenarios (and many others) could easily occur, and if they did, your service could be on the wrong end of a multi-million dollar lawsuit.
4. What is not covered by janitorial liability insurance?
Vehicles are not covered by most janitorial insurance policies, so ask specific questions regarding vehicles. If your business caters to both commercial and residential customers, make sure your agent is aware of this, as coverage for one will not necessarily mean you are covered for both. Ask your agent about fire protection as well. Many of the chemicals used for cleaning are flammable, but coverage for fire damage may require a separate policy.
5. Are hazards to my workers covered?
In most cases, the answer is no. Janitorial liability insurance does not cover your company if an employee sues your firm for lack of proper protective measures, for sexual or other forms of harassment, or for medical expenses or wages should they be hurt while on a job.
It also doesn't cover employees who might be attacked on a job site, hurt by improperly using a power tool, or exposed to hazardous or toxic chemicals. For these hazards, a separate workers' compensation policy is required.
Janitorial services involve a wide range of risks and exposure which may not be covered by one policy alone. It's a good idea for you to speak with an expert insurance agent on how to get your business protected. It is also possible to get an insurance professional to read over existing and new contracts and point out potential pitfalls which could result in a lawsuit.
A good insurance agent will also be happy to review your company policies with an eye toward making your business safer and less prone to lawsuits. By combining a tailored policy with up-to-date best practices, you'll be one giant step closer toward protecting the business you've worked so hard to build.
Compare quotes from trusted carriers with Insureon
Complete Insureon's easy online application today to compare insurance quotes from top-rated U.S. carriers. Once you find the right policy for your small business, you can begin coverage in less than 24 hours.