4 steps to get your cleaning business bonded and insured – and how much it costs
Getting your cleaning business bonded and insured can lower risks and help you grow your business. Learn what you need to do, and how much it will cost you.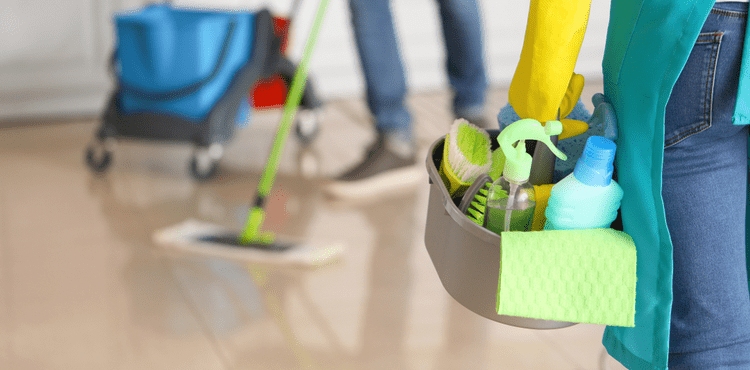 Cleaning businesses face a variety of different risks. Employee injuries, property damage, and employee theft can seriously hurt your business and your bottom line.
Cleaning business insurance and bonds can protect your cleaning business from potential pitfalls and liabilities. Here's what you need to know about how to get bonded and insured, and how much it will cost you.
What does it mean to be bonded and insured?
To be bonded and insured means that your cleaning business has purchased a surety bond, most likely a janitorial bond, along with business insurance coverage. Together, bonds and insurance protect your business, your employees, and your clients from common risks.
Although bonds and insurance are often grouped together, they offer different types of protection. Simply put, bonds safeguard your clients from theft, and insurance shields your business and employees from risks like bodily injury, property damage, and lawsuits.
Cleaning business insurance and janitorial bonds are typically required for client contracts, as well as agreements with landlords and lenders. Being bonded and insured can help attract clients because it shows that your company is reputable. It gives prospective customers peace of mind that they're protected if they hire you.
Cleaning business insurance and bonds can protect you from potential pitfalls and liabilities. Here's what you need to know about how to get bonded and insured, and how much it will cost you.
How do I become bonded and insured?
Becoming bonded and insured for cleaning services is a multi-step process.
Research requirements for your cleaning business
First, you'll need to know what insurance coverage or bonds may be required by your city, county, or state. Start by contacting your local chamber of commerce to learn about the legal requirements in your area. At a minimum, you will need to get a janitorial business license. The agency can also explain any other commercial insurance or bond requirements.
For example, the state of Florida requires cleaning businesses with five or more employees to carry workers' compensation insurance, as well as commercial auto insurance for any business-owned vehicles.
If your business rents office space or cleaning equipment, your lease or rental agreements may also require you to carry insurance coverage. Check with your landlord and any equipment suppliers to learn what coverage you may need to carry.
Clients may also require you to carry a bond or insurance before they'll hire you. It reassures them that they'll be protected in the case of theft or property damage.
Determine your insurance budget
You probably have a limited amount to spend on bonds and insurance protection. That's why you'll need to figure out how much your business can afford to pay for coverage, and weigh the costs against the risks your company faces.
Keep in mind that getting the right cleaning business insurance and bonding protection will likely involve choosing several options to cover a range of business risks. You may be tempted to set aside the bare minimum for insurance protection, but that could hurt your business in the long run.
We've provided a summary of how much you can expect to pay for different cleaning business insurance policies and bonds below.
Evaluate and prioritize your biggest risks
Cleaning businesses face a variety of business risks. Here are some of the most common hazards cleaning companies face, and the types of insurance or bonds that will protect you:
Protect your business with cleaning insurance
The best approach may be to make a list of the biggest risks your business faces, along with what coverage you're required to carry by law or by contract. You'll need to weigh these against your other business needs to determine the coverage that's right for you.
Contact an insurance agent for assistance and coverage
If you need assistance figuring out your risks and prioritizing coverage, Insureon's expert agents can help. Once you've determined the types of coverage that are right for your business, you're ready to apply for insurance. You can get multiple insurance quotes from top carriers through Insureon by simply answering some basic questions about your business.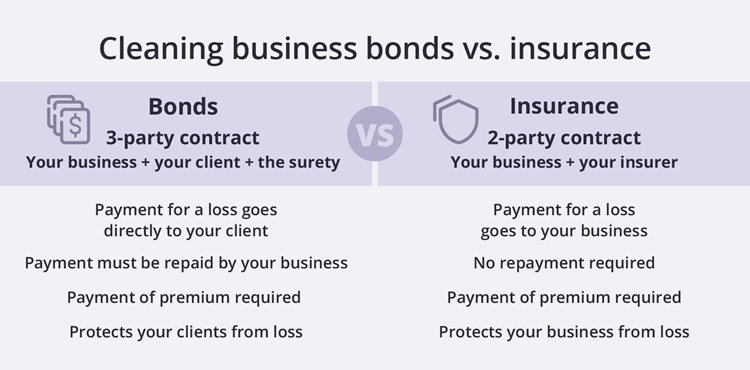 How much will insurance and bonds cost?
The cost of bonding and insuring your cleaning business depends on a number of factors, such as:
Size of your business
Your location
Risks your company faces
Number of employees
Deductibles and coverage limits you choose
You'll probably choose to purchase several different types of protection for your business, and the cost will vary based on the coverage. Here's a run-down of what you can expect to pay for each of the most common cleaning business insurance policies.
General liability insurance
General liability insurance safeguards your business from common business risks, such as:
Third-party injuries
Third-party property damage
Advertising injuries such as libel or slander
General liability coverage is often required in client contracts and lease agreements.
The median cost of general liability insurance for a cleaning company is $530 per year, which breaks down to less than $45 per month. However, keep in mind that higher risk businesses usually pay more.
For instance, the median annual cost of general liability insurance for a large pool cleaning business is $693, while the cost for a small house cleaning business is $504 per year.
Most business owners choose a general liability policy with a $1 million per-occurrence limit and a $2 million aggregate limit. The per-occurrence limit is the highest amount of money your insurer will pay for one claim. The aggregate limit is the maximum your insurance company will pay for all claims during your policy period (usually one year).
Commercial auto insurance
Commercial auto insurance covers medical bills, property damage, and legal costs resulting from an accident in a company-owned vehicle. If you own a business vehicle, like a septic tank truck or pool cleaning van, it's required by law in nearly every state.
It may be that your employees use their personal vehicles for work purposes. If so, you should consider hired and non-owned auto insurance. It also covers rental and leased vehicles.
The median cost of commercial auto insurance for cleaning companies is $1,555 per year, or about $130 per month. Hired and non-owned auto insurance policies cost about the same.
Commercial auto insurance premiums are calculated based on factors like:
The type of company vehicles you own
The number of vehicles you own
Your employees' personal driving records
Most cleaning businesses purchase a commercial auto insurance policy with a $1 million limit.
Protect your business with cleaning insurance
Workers' compensation insurance
Workers' compensation insurance covers an employee's medical bills and lost wages from a work-related injury or illness. It's required in nearly every state for cleaning businesses with employees.
The median cost of workers' compensation insurance for a janitorial services company is $1,785 per year, or less than $150 per month. However, insurers look at the number of employees you have and your occupational risk when calculating your premium.
Coverage requirements for workers' comp vary by state. Make sure you know your state's workers' comp requirements before you purchase a policy to avoid penalties and fees.
Commercial umbrella insurance
Commercial umbrella insurance can boost coverage on these cleaning business liability policies:
Once the underlying policy's limit is reached, your commercial umbrella policy will kick in to provide additional coverage.
Your small business may need this policy to satisfy the requirements of some client contracts.
The median cost of a commercial umbrella insurance policy for a cleaning business is $758 per year, or about $63 per month. The rate you will pay depends on the amount of coverage you buy. Commercial umbrella insurance is usually sold in $1 million increments.
Janitorial bonds
A janitorial bond is a type of surety bond that reimburses your clients for employee theft. Unlike insurance, your bond carrier (surety) will expect you to pay them back for any claims that are paid.
Residential or house cleaning companies are often asked to secure this bond by clients.
Janitorial bonds are usually inexpensive. The median cost is about $8 per month, and 78% of cleaning businesses pay between $100-$150 annually. If you run a high-risk business, expect to pay more than the median rate.
Cleaning business bonds are available in various amounts. Over 50% of cleaning professionals choose a janitorial bond worth $10,000, and about 20% choose a bond worth $1,000. High-risk businesses should consider a larger janitorial bond for more protection.
Getting insured and bonded is well worth the cost. Without this protection, your business is vulnerable to common risks and costly lawsuits that can have a major impact on your company's reputation and bottom line.


Complete Insureon's easy online application today to compare quotes for business insurance from top-rated U.S. carriers. Once you find the right policy for your small business, you can begin coverage in less than 24 hours.