How to start a cleaning business
Learn how to start a cleaning business with a few simple steps and considerations. There's plenty of opportunity in this sector, and the startup costs are relatively low.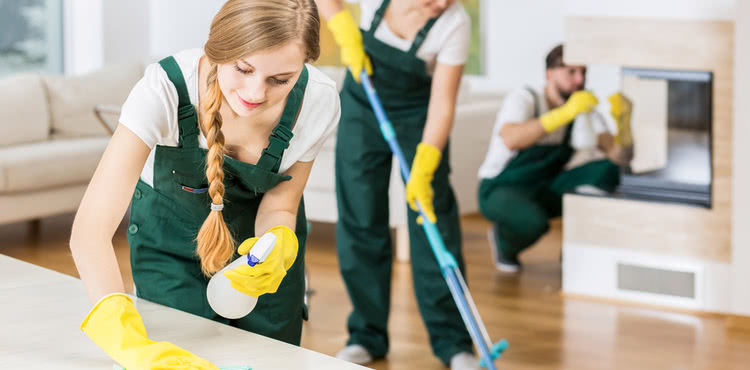 Whether you're interested in cleaning office buildings or people's homes, starting your own cleaning business is a great opportunity to own a company and be your own full-time boss — without spending a ton of money upfront.
But how do you start a cleaning business from scratch? Before you even touch a broom or mop, you'll need to spend time planning your cleaning business strategy, promoting your new company, and protecting yourself with cleaning business insurance.
The process can be tricky and take time, but these seven steps for starting a cleaning business can help you jump-start the process.
1. Create a business plan for your cleaning company
Before shopping for cleaning products or scheduling your first clients, you need to consider how your cleaning company will operate, grow, and present itself. Your business plan is an opportunity to dream about where you see your business in the future and set plans for how to get there.
Your cleaning company business plan should answer the following questions:
What kind of work do you do?
One of the biggest decisions you'll face is choosing between commercial and residential cleaning services. Each side of the industry will require different skills and focus areas from your company.
But even then, you have several different specialties to choose from. Consider these options, along with many others:
Who are your target clients?
Within both commercial and house cleaning, you'll find many different types of people or businesses you could work with. If you choose the commercial route for your cleaning business, will you focus on large office buildings? Schools? Or small businesses? On the residential side, will you market yourself toward Airbnb hosts? Landlords? Owner-occupants?
People trust experts. The more you focus on one specific type of client, the easier it will be to both understand their needs and complete the work efficiently. Having a niche for your cleaning business will help you build trust and win business over some of your more generalized competitors.
Who will do the work?
Will you keep your business lean and do all the work yourself? Or will you hire a team to do the work while you handle company logistics, such as scheduling, marketing, and accounting? Consider these factors in your business plan:
How many additional workers will you need to run your business successfully?
How much will you pay your employees?
What additional costs will you face — like workers' comp insurance — when you hire employees?
What do you need to charge and how many clients do you need to be profitable?
What additional supplies and transportation will you need for your company to be successful?
You may also like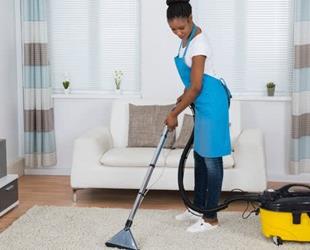 2. Name your cleaning business
Choosing a company name could make or break your cleaning business — so it's essential that you get it right! While you can always change your company name later, it's best that you get it right the first time since you'll be using it to build your reputation and brand recognition in your target market. These tips can help you pick the right name the first time:
Keep it simple. Avoid long names or names that are tough to spell, difficult to remember, or are too similar to another existing business.
Avoid puns. While a good pun may give you a chuckle, not everyone will understand the joke.
Tailor it to your target market. A cute or endearing name may work well for a residential cleaning service but seem unprofessional to a corporate client. On the other hand, a name that would work well for a commercial cleaning company may come across as stuffy and unapproachable to residential clients.
Make it stand out. Pick a name that's not too generic to help you stand out from the competition. If you have a specialty that differentiates you from the competition, it may be helpful to include that in your name as well. For example, if your company uses only eco-friendly products, you could include the word "green" in your business name.
Above all, be creative and original. Don't forget to do your research to make sure that the name you've chosen hasn't already been taken. You can also check with your local county clerk's office to ensure someone else isn't already using that name.
Compare cleaning business insurance quotes from top U.S. carriers
3. Choose a business structure for your cleaning business
Once you've chosen a name, you'll need to set up the legal structure under which you'll operate. While it may be tempting to start scheduling cleaning jobs without giving your business structure too much thought, you'll save yourself a lot of time, energy, and (potentially) money by planning your structure before you start buying supplies or charging clients.
Your cleaning business structure affects both your business taxes and exposure to risk and liability. Choosing the wrong business structure could lead to big problems and expenses if something were to go wrong.
What is the best business structure for a cleaning business?
The best business structure for your cleaning business will depend on your company size, risk tolerance, and local business regulations. Before settling on a specific structure, you should talk to a small business lawyer, tax professional, and your local small business administration.
They'll look at your business plan and recommend the best course of action to keep your business legal and protected. You'll choose the best business structure for your cleaning business from four options:
Sole proprietor
A sole proprietorship is the easiest type of legal structure for starting your cleaning business — but also the one with the most risk exposure. As a sole proprietor, you can be held personally responsible for any liabilities and the performance of your business. For example, if a client sues your company, your personal assets and savings will also be at risk.
However, forming a sole proprietorship is quite simple — in fact, you're already considered a sole proprietor! You don't have to register with the local government or pay any fees to begin operating your business — although you may want to register for an employer identification number (EIN) with the IRS.
Starting out as a sole proprietor is a great option if you want to try getting your business off the ground with as little up-front investment as possible. However, you may have to jump through some hoops should you decide to switch to one of the other cleaning business legal structures later.
Partnership
A partnership is similar to a sole proprietorship in that you are personally liable for your business. However, in a partnership, you share that responsibility with multiple partners. Each partner agrees to share the profits, losses, and financial and legal liability for the company.
Corporation
A corporation is a separate legal entity that you'd create for your cleaning business. Forming a corporation separates you (and your personal assets!) from the day-to-day operations and liabilities of your cleaning company. Most cleaning companies who choose to form a corporation become an S corp.
Forming a corporation is more expensive than remaining a sole proprietor. You'll also need to follow more stringent accounting and bookkeeping rules for tax purposes.
Limited liability company (LLC)
A limited liability company is the most common business structure for cleaning businesses that choose not to be sole proprietors. An LLC offers protections similar to those of a corporation, but comes with different tax and legal requirements.
The biggest benefit of forming an LLC is protecting yourself from risk. Like a corporation, an LLC makes your cleaning company a separate entity from yourself, so your personal assets aren't at risk if someone sues your company.
To form an LLC, you'll need to pay a fee to register with your state or local small business association.
You may also like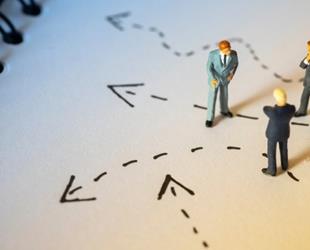 Sole proprietorship vs. LLC: What you need to know
A sole proprietorship is a business that's owned and operated by one person, while a limited liability company (LLC) can be formed by an individual or a group of entrepreneurs. Each has their own unique benefits as an effective business structure.
4. Purchase cleaning business insurance
You could expose yourself to a lot of unnecessary risks if you start booking clients without first protecting yourself with the right cleaning business insurance.
Without this essential protection, you could be on the hook for property damage, lawsuits, and other expensive costs if something were to go wrong with a client.
Window cleaners, house cleaners, septic cleaners, and other cleaning businesses face a lot of unique risks, from slip-and-fall accidents to employee theft. If you or one of your employees were to get hurt on the job, it could mean big medical bills, lost wages, and other expenses that you'd have to cover from your company's bank account.
Fortunately, with the right business insurance, you can avoid many of the most expensive pitfalls that come with the job. You should consider these cleaning business insurance policies based on your company's size, work, and needs:
General liability insurance
General liability insurance covers common injuries, such as slip-and-fall accidents and damage to customer property. This policy also covers risks associated with cleaning business advertising and social media.
This is a key policy for cleaning businesses, given that your employees regularly handle other people's property. Make sure it includes a care, custody, and control (CCC) endorsement to protect against damage to items in your care. Janitors and house cleaners may want to add lost key coverage as well.
Workers' compensation insurance
In most states, you'll have to purchase workers' compensation insurance when you hire your first employee. This policy pays for employees' medical bills for work-related injuries and lost wages while they're unable to work.
Even if your state doesn't require workers' comp, you should still consider it so that both you and your employees are protected from the cost of injuries on the job.
Commercial auto insurance
Commercial auto insurance helps pay for property damage and medical bills from car accidents. It can also cover vehicle theft, weather damage, and vandalism.
Most states require commercial auto coverage for business-owned vehicles. Even if you don't own a company vehicle, extra coverage is a must. Your personal auto insurance may not cover you if you're in an accident on your way to or from a cleaning, which is why you may want to buy hired and non-owned auto insurance (HNOA) for work-related travel in your own car.
Errors and omissions insurance
An errors and omissions (E&O) policy protects you if a client sues over the quality of your work or a breach of contract. This policy covers your legal fees, settlements, and judgments in a lawsuit.
If you bid on larger commercial contracts, you may have to purchase this policy before the client will sign the contract. However, it's still a helpful insurance policy to consider for all cleaning businesses.
Business owner's policy
A business owner's policy (BOP) wraps general liability and commercial property insurance into a single policy. While general liability coverage is typically the first policy any small business owner purchases, many forget commercial property insurance. However, you likely have a lot of money invested in your business' equipment and supplies.
If you want to protect your company property from damage and theft, you should consider this bundle of two essential insurance policies — it's typically cheaper than purchasing each one separately.
Janitorial bonds
Janitorial bonds, also called surety bonds, guarantee that a client will be reimbursed if one of your employees steals from them. If you need to hire additional help, you should vet your new hires carefully, but it's hard to know whether a person will end up making poor decisions. Janitorial bonds will protect you if an employee steals valuables or cash, or makes an illegal funds transfer.
Insureon has helped cleaning business owners compare insurance quotes and buy and maintain their policies since 2011. Start a free application to compare quotes from top U.S. carriers.
You may also like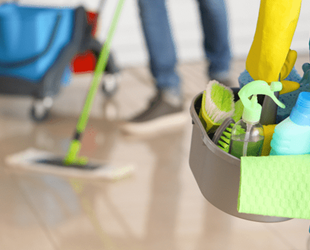 5. Set pricing
A cleaning business can be lucrative, but you'll need to do your homework first and figure out what competitors in your area are charging. Don't lose out on prospective clients by charging too much – and don't sell yourself short by asking for too little.
Call other local cleaning services to find out how much they're charging and how they set their rates. Many cleaning services charge by the hour, but others go by the number of rooms or square footage. Once you get a general idea of local rates, you'll want to factor in the cost of materials and whether you'll need to hire additional help.
Sometimes it's best to use an hourly rate when you're first starting your business. That way, you'll get a better idea of how long certain tasks or property types take you to complete.
Once you are set on your pricing, you can benefit from introducing some basic contracts if you aren't already using them. Having service agreements in writing can help ensure that you get paid on time and your clients have clear financial records.
6. Finance your cleaning business
Your biggest concern initially will be financing. Luckily, a cleaning business requires little upfront costs. You can start small, with just some standard cleaning supplies, and build up your inventory as you grow.
However, you'll still have to purchase your basic supplies — which can be tough to do before you have any money flowing in.
If you don't want to drain your personal savings on trash bags and disinfectants, you could consider taking out a business loan or using a business credit card to get started. You'll have to pay some interest on these purchases, but hopefully your investment into your cleaning business will more than make up for it.
7. Find clients for your cleaning business
Building and maintaining a solid clientele is critical to the success of your cleaning business. As part of this, you'll need to come up with a marketing strategy to attract customers. Here are some strategies for marketing your cleaning business as it grows.
Start a cleaning business website
Most people begin their search for a cleaning service online. You should set up a simple website for your cleaning company so people can find you. Your site should include the services you offer, who you typically work with, and a way to contact you.
Register on Google Business Profile
Setting up a Google Business Profile (formerly "Google My Business") allows your cleaning company to show up in Google Search and on Google Maps. This is a free and easy way to make sure people see your business when they're searching for cleaning companies in your area.
Reach out to potential clients directly
An effective strategy for finding new clients is searching for companies or homeowners who could benefit from your cleaning services and asking them directly. This is a great way to get your name out there, introduce yourself to other businesses in your area, and find new clients that you wouldn't have met otherwise.
Advertise in your community
Posting flyers around town could catch the eye of potential clients. You could also reach out to your local Chamber of Commerce to see if they have or know of any community boards where you can advertise your business.
You may also consider posting an ad with your local paper, news network, or radio station.
Use social media
Along with your website, you should consider sharing information about your cleaning business with people on social media. You can use these sites to connect with potential customers online, update people on your availability, and give people a look "behind-the-scenes" at how you operate your business.
Many social media sites also have advertising platforms where you can pay to have a post shown directly to a group of people that you think will be most likely to pay for your services.
Earn referrals
Word-of-mouth advertising is the most effective way to get new clients and grow your cleaning business. Each referral from a previous client comes with their stamp of approval — helping you quickly earn the trust of the person they referred you to.
If you don't have customers who could give you referrals yet, you might consider cleaning homes for friends and family members then letting them know that you're looking for new customers. They can share your new business with their friends and give you a foot in the door for future work.
Remember, a good testimonial will go a long way in making sure you continue to gain new clients, so be sure to go above and beyond with your service so that a client is more likely to rave about you and refer you to others.
You may also like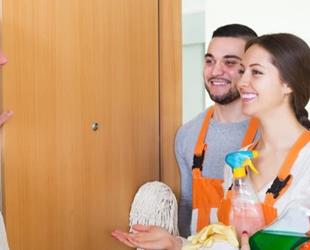 Compare quotes from trusted cleaning business carriers with Insureon
Complete Insureon's easy online application today to compare cleaning business insurance quotes from top-rated U.S. carriers. Once you find the right policy for your small business, you can begin coverage in less than 24 hours.