How to start a cleaning business
Learn how to start a cleaning business with a few simple steps and considerations. There's plenty of opportunity in this sector, and the startup costs are relatively minimal.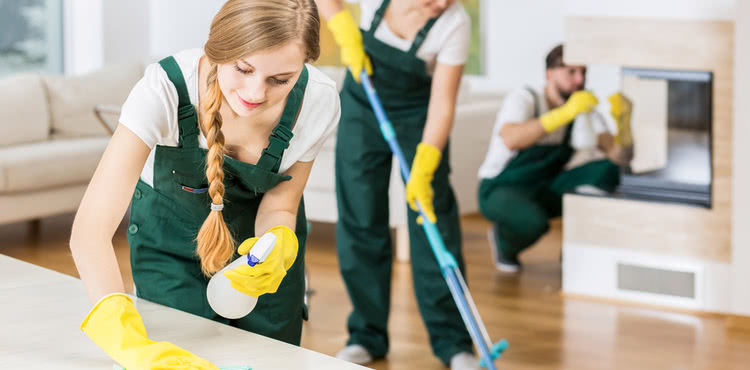 If you're handy with a mop or broom, you may have thought about starting your own cleaning business. Whether you're interested in cleaning homes or office buildings, there's plenty of opportunity in this sector, and the startup costs are relatively minimal.
But starting a cleaning business from scratch can be tricky, and it requires more than getting your hands dirty. You'll need to do some planning and promoting to make sure your business succeeds.
From developing a business plan to protecting yourself from risks, here are six tips for starting a cleaning business.
1. Create a business plan
Before turning your cleaning business dream into a reality, you'll need to think carefully about how you want to structure your service and how it will mature and evolve. Consider what kind of clients you want to target. You could focus on residential customers, or pursue bigger commercial clients like schools and office buildings.
Since people tend to trust experts, consider specializing your cleaning business in a niche area. This approach wins client trust, narrows the playing field (generalists always have more competition), and simplifies your marketing and outreach efforts.
From there, you'll need to figure out if you will do the work yourself or if you'd prefer to have employees to assist you. Factors to consider include:
How many additional workers will be required to run your business successfully
How much you will pay your employees
Additional materials and transportation costs for you and your employees
Your biggest concern initially will be financing. Luckily, a cleaning business requires little in upfront costs. You can start small, with just some standard cleaning supplies, and build up your inventory as you grow.
2. Name your business
Determining the right name for your cleaning service is no easy task – and it can make or break your business. Avoid names that are too long or that include puns not everyone will understand. You'll want to choose a name that people can remember easily, but it should also convey some kind of meaning without sounding too silly.
Pick a name that's not too generic to help you stand out from the competition. If you specialize in a specific niche, be sure to include that in the name. For instance, if you use only eco-friendly products, you could add the word "green" to your business name.
Above all, be creative and original. Don't forget to do a Google search to make sure that the name you've chosen hasn't already been taken. You can also check with your local county clerk's office to ensure someone else isn't already using that name.
3. Choose a business structure
Once you've chosen a name, you'll need to set up the legal structure under which you'll operate. You can organize your business in a variety of ways. The primary forms for cleaning services include:
Sole proprietor or partnership. This is the easiest kind of business to form. It also carries the most risk since you can be held personally responsible for any liabilities and the performance of your business.
Corporation. The primary benefit of a corporation is that it helps you avoid personal liability since the corporation is an entity separate from the person who founded it. Corporations have higher costs and more intense record-keeping.
LLC. A limited liability company, or LLC, offers protections similar to those of a corporation, but it differs in some of the finer details, such as taxes and legal requirements. Think of it as a hybrid of a corporation and partnership.
4. Set pricing
A cleaning business can be lucrative, but you'll need to make sure you do your homework first and figure out what competitors in your area are charging. Don't lose out on prospective clients by charging too much – and don't sell yourself short by asking for too little.
Call other local cleaning services to find out how much they're charging and how they set their rates. Many cleaning services charge by the hour, but others go by the number of rooms or square footage. Once you get a general idea of local rates, you'll want to factor in the cost of materials and whether or not you'll need to hire additional help.
Sometimes it's best to use an hourly rate when you're first starting your business. That way, you'll get a better idea of how long certain tasks, such as washing windows or scrubbing the stove, take you to complete.
5. Protect your cleaning business with insurance
While running your own cleaning business can offer plenty of flexibility, if you haven't protected yourself against risks, it can be extremely costly. Window cleaners, house cleaners, carpet cleaners, and other cleaning professionals face unique risks, including slip-and-fall accidents and property damage. With the proper insurance policies in place, you can avoid many of the more expensive pitfalls that come with the job.
Policies that can help cleaning services professionals include:
Insureon has helped cleaning business owners compare insurance quotes and buy and maintain their policies since 2011. Start a free application to compare quotes from top U.S. carriers.
6. Spread the word
Building and maintaining a solid clientele is critical to the success of your cleaning business. As part of this, you'll need to come up with a marketing strategy to help you expose your business to potential customers. That could be as simple as posting flyers or leaving business cards at people's doors, but it's also good to have a website and a social media presence in case prospective clients are turning to the web in search of cleaning help. If you're not on Facebook or Yelp, they might not be able to find you.
If you're staying local, word-of-mouth is usually best. You can spread the word by offering to clean the homes of friends and family first and then letting them know that you're looking for new customers.
Reach out to businesses that could use your services to make their jobs easier. For example, you may partner with a contractor to offer a free home cleaning after they finish renovations.
A good testimonial will go a long way in making sure you continue to gain new clients, so be sure to go above and beyond with your service so that a client is more likely to rave about you and refer you to others.
Compare quotes from trusted cleaning business carriers with Insureon
Complete Insureon's easy online application today to compare cleaning business insurance quotes from top-rated U.S. carriers. Once you find the right policy for your small business, you can begin coverage in less than 24 hours.