What types of business insurance do you need for a cleaning company?
General liability insurance, workers' compensation insurance, property insurance, and janitorial bonds keep your cleaning business safe from financial liabilities. Learn more about the types of insurance your business needs to help protect your bottom line.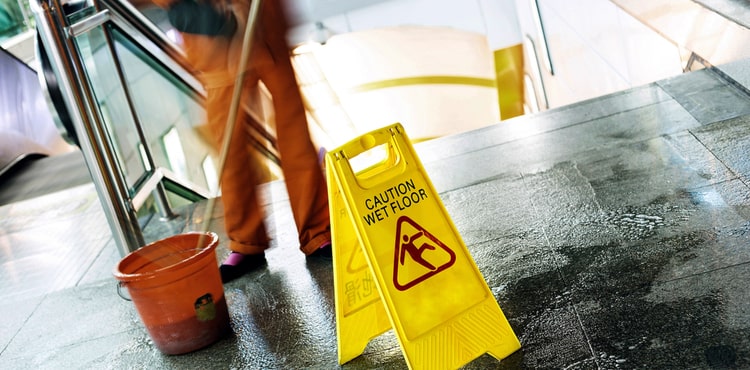 Whether you're thinking of starting a small cleaning business or looking to grow, it can be easy to get swept up in all the things you have to do before you can get to work. What is your specific business idea? How will it be structured? Has your small business loan paperwork been filed? With so many things to review, insurance may be the furthest thing from your mind.
Whether you're a sole proprietor or have a team of employees, the right small business insurance can give you both financial protection and peace of mind for your cleaning business.
Why do you need cleaning business insurance?
Most likely, you've started or will be starting your house cleaning or janitorial business as a sole proprietorship – the easiest business structure for first-time entrepreneurs. This means any business losses will hit your personal checking account.
For example, imagine that someone sues your business over a slip-and-fall accident, and the court orders you to pay thousands of dollars in damages and legal fees. Without small business insurance, you'd have to pay for this out of your own pocket.
How does insurance help you protect and grow your business?
Insurance is much more than financial protection. It also solidifies the stability of your business. In addition to insurance, janitorial bonds are a way to show clients that they can trust your business with their valuable property.
Let's go over the different types of cleaning service business insurance that can protect your company at any stage of its development.
General liability insurance: The slip-and-fall lifeline
General liability insurance, also known as "slip-and-fall insurance," is crucial for any small cleaning business.
In your line of work, the risk of falls, trips, and slips is very real. If your client's visitor slips on your freshly waxed floors, your client could be sued for damages. In turn, that client may shift the blame to your janitorial business.
That's where a general liability insurance policy can help. Also known as commercial general liability, this policy covers you when your business is sued over:
Third-party bodily injuries (those sustained by a non-employee)
Property damage on a job site (e.g., an employee uses the wrong solution while mopping the floor of a client's home)
Advertising injuries (e.g., you publish a defamatory statement about a competitor on social media)
Business owner's policy: Because two policies are better than one
You've likely invested significant capital in your business already.
For example, you've probably purchased commercial cleaning equipment, such as vacuum cleaners, buffers, personal protective equipment, and cleaning supplies. Or maybe you purchased or rented a commercial office.
This means you have physical investments that need protection, which is where commercial property insurance steps in.
Commercial property insurance pays to replace or repair your insured cleaning equipment, in case they are lost or damaged due to:
Fire
Theft
Vandalism
Severe weather
You can purchase property insurance on its own, or you may be able to bundle your property and general liability coverage together in a business owner's policy (BOP). By bundling these two policies in a BOP, you can save money on your premiums.
Workers' compensation insurance: Care for employees and comply with state laws
Injuries are common for cleaning employees, and it's your responsibility to make sure your employees get the medical care they need.
Cleaning businesses deal with a variety of hazards, including:
Biological: Diseases, bacteria, and mold
Chemical: Cleaning solutions
Physical: Repetitive motions, moving equipment, slip and fall accidents
You can make sure your employees' medical costs don't come out of your own pocket by carrying workers' compensation insurance. This helps pay for:
Lawsuits over worker injuries
Employee medical bills and replacement wages related to workplace accidents
Most states now require that you carry this coverage, even if you only have one employee.
If you're a sole proprietor, workers' comp can give you a financial lifeline if you're ever injured on the job and unable to work. Your regular health insurance may not cover a work-related incident, but workers' comp coverage would help with your medical bills and make up some of your lost income.
Some businesses require their independent contractors to have this coverage if they work in riskier fields, like construction and roofing.
Commercial auto insurance: Required in most states
Commercial auto coverage is just like your personal auto insurance, but it's for your company-owned vehicles. It's now required in most states.
If you or an employee are at fault in an accident while driving a company-owned vehicle, any repairs, legal bills, and injuries could cost you a fortune. Commercial auto insurance helps cover these costs, as well as vehicle theft and damage from events like vandalism and severe weather.
Hired and non-owned auto insurance: For personal vehicles while at work
If you or your employees use any personal, leased, or rented vehicles for work, you'll need hired and non-owned auto insurance (HNOA) to stay financially protected.
HNOA insurance offers financial protection against the cost of damages from an accident, including lawsuits and medical expenses. It covers vehicles your business may rent, or your personal vehicle when used for work.
Your personal auto insurance covers you while you're driving to work, but it doesn't insure you while you're on the job. If you or an employee are in an accident while running work-related errands, such as fetching supplies, you'll need HNOA coverage to be financially protected.
Commercial umbrella insurance: An extra layer of financial protection
One of the most economical ways to boost your insurance coverage is through commercial umbrella insurance. It's essentially an insurance policy for your general liability, commercial auto, or employer's liability coverage (a component of your worker's comp insurance).
If you reach the policy limits of your liability coverage, a commercial umbrella policy would kick in and cover any additional losses.
For example, if you faced a $1.5 million claim against your general liability insurance and had $1 million in coverage, you would have to pay the $500,000 difference out of pocket. If you had a $2 million commercial umbrella policy, your insurance company would pay that $500,000 instead.
You may also like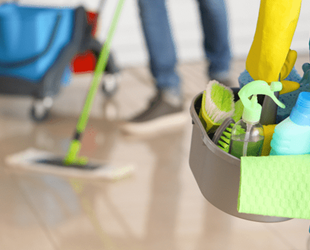 4 steps to get your cleaning business bonded and insured – and how much it costs
Getting your cleaning business bonded and insured can lower risks and help you grow your business. Learn what you need to do, and how much it will cost you.
Go to article
Janitorial bond: Proof of your cleaning business's trustworthiness
Janitorial bonds (a type of surety bond) show prospective clients that you have an insurance company vouching for your work. It's a great way to establish trust with new clients.
When a client sees the word "bonded" on your website or on marketing materials, they are reassured that if an employee steals or breaks something, your bond provider will cover the replacement costs.
To learn more about the benefits of being bonded, check out Insureon's guide to cleaning licenses and bonds.
Compare quotes from trusted insurance companies with Insureon
Complete Insureon's easy online application today to compare free insurance quotes from top-rated U.S. carriers. You can also discuss your insurance needs with an insurance agent. Once you find the right policy for your small business, you can begin coverage in less than 24 hours.