Workers' compensation insurance

Workers' compensation insurance covers medical costs and lost wages for work-related injuries and illnesses. This policy is required in almost every state for businesses that have employees.
Workers' comp protects your employees
If a janitor slips on a wet floor and suffers a back injury, or a carpet cleaner trips on a flight of stairs and breaks an arm, it could cost thousands of dollars in medical expenses. Workers' compensation insurance can cover medical bills if an employee is injured on the job or develops an occupational illness. It also ensures the employee still gets paid part of their wages while recovering from an injury.
What coverage can workers' comp insurance provide for cleaning and janitorial services?
Workers' compensation insurance provides coverage in three primary areas:
Employee injury and illness expenses
Employee injury lawsuits
Compliance with state laws
Employee injury and illness expenses
When an employee is injured on the job, workers' compensation insurance helps cover:
Immediate medical costs, such as an ambulance ride and emergency room expenses
Ongoing medical costs, such as medications and physical rehabilitation
Partial lost wages while the employee is unable to work
Death benefits for fatal incidents
Employee injury lawsuits
Typically included in a workers' comp policy, employer's liability insurance provides protection for business owners if an employee decides to sue over a work-related injury.
For example, one of your window washers complains of vertigo and requests modified duty. If you aren't able to accommodate the request and they end up falling off a ladder, you could face a lawsuit. In that case, employer's liability insurance can help cover:
Attorney's fees
Court costs
Settlements or judgments
Witness fees
Even if a lawsuit is frivolous, without workers' comp coverage, you could find yourself paying for a costly legal defense.
How much does workers' compensation cost for cleaning and janitorial businesses?
The amount you pay for workers' compensation is a specific rate based on every $100 of your business's payroll. Your premium is determined by the type of work done by your employees (classification rate), your experience modification rate (claims history), and your payroll (per $100).
The formula is:
Classification rate x Experience modification rate x (Payroll / 100) = Premium
Compare workers' compensation insurance quotes for cleaning businesses
Each state sets its requirements for workers' comp
Workers' comp laws are decided at the state level, which means the rules will depend on where your business is based.
For example, cleaning businesses in Florida are not required to purchase workers' comp coverage unless they have four or more employees. However, cleaning businesses in New York are mandated to purchase a policy if they have even one part-time employee.
While self-employed or independent contractors, sole proprietors, and partners don't have to carry workers' compensation insurance, you can purchase a policy to protect yourself, too.
Find workers' comp requirements in your state
Choose your state to learn about workers' compensation insurance requirements for your small business.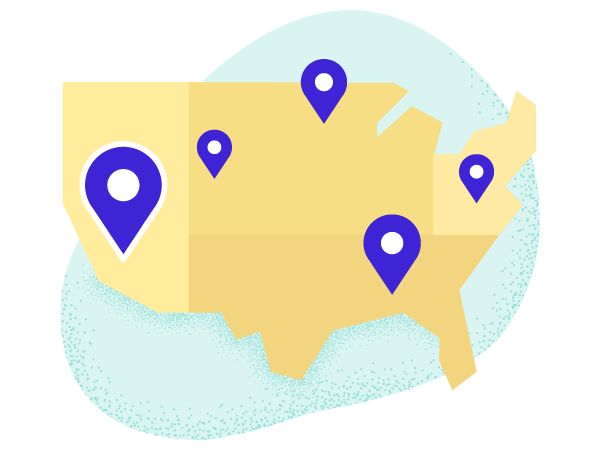 Monopolistic state funds
In certain states, businesses must purchase workers' compensation insurance through a monopolistic state fund. Those states are:
If you purchase workers' comp through a monopolistic state fund, it may not include employer's liability insurance. However, you can purchase it from a private insurer to fill this gap in coverage.
Workplace safety can lower your workers' comp costs
If carpet cleaner suffers a back injury while moving a heavy couch, or a house cleaner develops breathing problems from years of exposure to toxic cleaning chemicals, it could lead to an insurance claim – and a rise in your premiums.
To help prevent workplace injuries, cleaning service business owners should provide safety training and protective equipment for all employees. This can also potentially reduce your insurance rates.
Other important insurance policies to consider
Workers' compensation insurance protects your employees and to some extent your business, but it doesn't cover every risk. Owners of cleaning businesses should also consider purchasing:
General liability insurance: This policy helps cover common third-party claims, such as a client tripping over your cleaning equipment. You might need this policy to fulfill the terms of a lease or client contract.
Commercial auto insurance: Commercial auto insurance protects vehicles owned by your business. It can cover injuries and property damage in an accident, theft of a company vehicle, and certain types of vehicle damage.
Business owner's policy: A BOP is a cost-effective way for a cleaning business to purchase general liability insurance and commercial property insurance together. Small, low-risk cleaning businesses are usually eligible.
Commercial umbrella insurance: Cleaning businesses can purchase umbrella insurance to increase the policy limits on their general liability insurance, commercial auto insurance, and employer's liability insurance.
Janitorial bonds: Also known as employee dishonesty bonds, janitorial bonds protect your clients from employee theft. Some clients won't hire your company unless you have this coverage.
Get free quotes and compare policies with Insureon
Are you ready to protect your cleaning business with workers' compensation insurance? Complete Insureon's easy online application today to compare quotes from top U.S. carriers. Once you find the right policy, you can begin coverage in less than 24 hours.
Compare workers' comp insurance quotes
Save money by comparing insurance quotes from multiple carriers.