What licenses and insurance are needed to start a cleaning business?
Your cleaning business may need licenses, bonds, and commercial insurance to operate legally. While it might seem like a lot, these added forms of protection can provide peace of mind for your business and help you secure clients.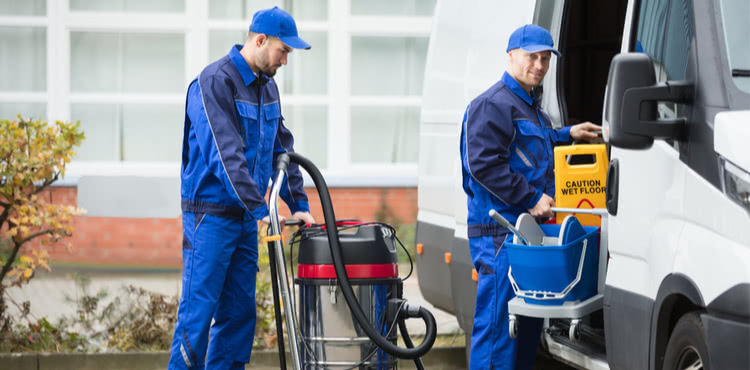 No matter what type of cleaning jobs you take on or the type of business entity you choose, you'll need to follow certain regulations. Typically, you're required to get a general business license to legally operate. You may also need a special license or bond to comply with laws in your area or work with certain clients.
In addition to licenses and bonds, your cleaning company may need insurance. Cleaning business insurance provides financial protection during incidents like employee injuries and client lawsuits. As with licenses and bonds, the rules for commercial insurance depend on where you work, your clients, and your type of business.
Here's an overview of licenses, bonds, and insurance for cleaning businesses. Remember, even when it's not required, marketing your company as licensed, bonded, and insured can give your company an edge over competitors and help attract bigger clients.
Types of cleaning business licenses
When you start a house or commercial cleaning business, there are two licenses you might need: a vendor's license and a "doing business as" (DBA) license. At a high level, business licenses allow your company to legally conduct business in your state or municipality.
Here's what you need to know about each type of license:
Vendor's license
A vendor's license is usually the same as a basic business license. It allows you to collect sales tax on the cleaning supplies you purchase, which some states require. If you charge clients for cleaning products separately from the service, you are likely required to collect sales tax.
DBA license
A "doing business as" license is required if your business is called anything other than your legal name. Most states require DBA licenses to protect consumers from unethical business practices. It also prohibits other companies from using your business name.
Operating without a proper cleaning business service license is illegal. The consequences can be steep, including fines, suspension, jail time, and denial of a future license.
Many customers will also verify your license before hiring you, which means you could miss out on clients if you don't have one.
Remember, even when it's not required, marketing your company as licensed, bonded, and insured can give your company an edge over competitors and help attract bigger clients.
How do you get a business license?
To get a license for your cleaning business, start by contacting your state's department of revenue or department of taxation. You might be redirected to your county clerk or city licensing board depending on where you live.
When you find the right agency, they'll explain what's required in order to get your cleaning or janitorial license. You might need to open a business bank account or purchase a surety bond first. They'll also give you some paperwork and go over the fees.
Most vendor's licenses need to be renewed annually or every few years. DBA licenses are valid for five years in every state. With either license, most states charge a renewal fee to keep your cleaning business license valid.
You may also like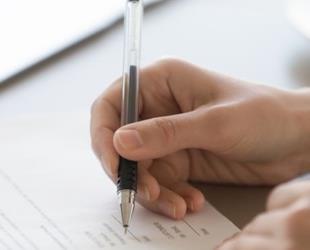 How to get a business license
Regardless of your type of work, you'll likely need a small business license from your state or local government in order to operate in your industry.
Go to article
What does it mean to be bonded and insured?
Once you obtain the correct license, you can start looking for clients. But keep in mind that some customers may require you to be bonded and insured. Being bonded simply means your cleaning business bought a bond; being insured means you've purchased business insurance.
A surety bond involves three parties:
The principal: The business purchasing the bond
The obligee: The client that has requested the bond
The surety: The company that underwrites the bond
Insurance, on the other hand, is an agreement between you (the insured) and your insurance company (the insurer).
Though they are often grouped together, bonds and insurance provide different types of coverage. In short, bonds protect your customers and insurance protects your company. The difference is most obvious during the claims process.
Here's a brief overview of how bonds and insurance policies work:
Bond claim
With a bond claim, your client collects money from the bond carrier (also called a surety). For example, a janitorial bond reimburses your client if they claim that one of your employees stole from them. Your business is then required to repay the surety for the full cost.
Insurance claim
When you file an insurance claim, the insurance company reimburses your business for the loss. You receive a check for the lump sum and use the money to cover repairs, lawyer fees, etc. There is no need to repay the insurance company – which is why commercial insurance costs more than a bond.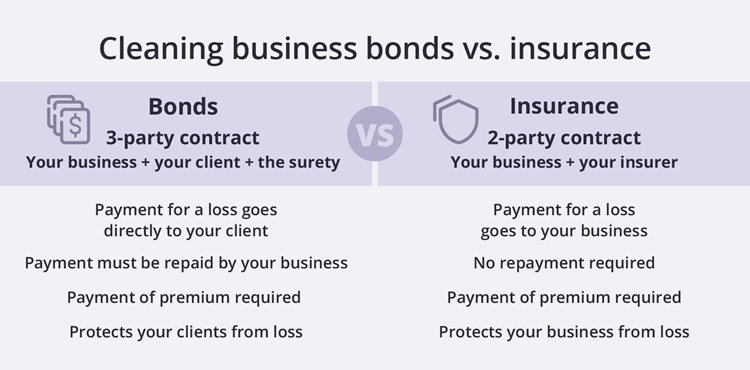 What bonds do you need for your cleaning business?
There are two types of bonds that your cleaning business might need.
License and permit bonds
Your business will need a license and permit bond only if it's required by your local government. This bond certifies that your cleaning business will comply with all state and local laws. It also protects government agencies from lawsuits that clients might file due to unsatisfactory work from your cleaning company.
Surety or janitorial bonds
Surety or janitorial bonds are not required by law, but they're often required in client contracts. This bond protects clients if one of your employees steals from them, or if the client claims you didn't provide cleaning services as promised. However, it doesn't cover basic property damage to the client's home or personal belongings.
Protect your business with cleaning insurance and bonds
What insurance do you need for your cleaning business?
Bonds help safeguard your cleaning business from lawsuits since a client who is paid for damages is less likely to sue. However, bonds aren't the only protection you'll need. Cleaning businesses typically carry some combination of the following commercial insurance policies:
General liability insurance
A necessity for most small businesses, general liability insurance protects your cleaning company from lawsuits caused by client injuries and property damage. Cleaning businesses may want to consider adding endorsements to this policy. For example, you can get lost key coverage that will cover the cost of replacing locks, or coverage for equipment brought to different work sites.
Workers' compensation insurance
As soon as you hire your first employee, most states will require you to carry workers' compensation insurance. Workers' comp helps cover injured workers' medical bills and reimburses them for lost wages. Employer's liability insurance is usually included in a workers' comp policy. It protects business owners if an employee sues over a work-related injury.
Commercial auto insurance
Commercial auto insurance is usually required by state law for cleaning companies that own business vehicles. Commercial auto insurance covers legal costs, medical expenses, and property damage if a business vehicle is involved in an accident. It can also cover theft, vandalism, and non-accident losses, like fires and falling objects, depending on the policy.
Hired and non-owned auto insurance
Whether your business primarily cleans houses or office buildings, you and your employees likely drive to job sites daily. Personal auto insurance usually doesn't cover accidents that occur when driving for work. If you or your staff use their own vehicles for business purposes, you'll need to purchase hired and non-owned auto insurance coverage.
You may also like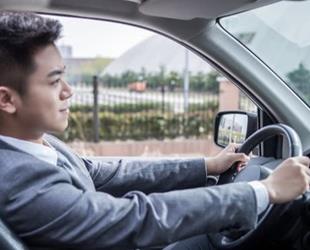 Why personal car insurance may not cover business use
Insurance companies view business drivers as bigger risks than personal drivers. That's why you may need auto insurance that specifically covers driving for work purposes.
Go to article
Make sure your cleaning company is covered
Like all companies, residential and commercial cleaning businesses face risks on a daily basis. Having the right bonds and cleaning insurance policies ensures your company and your clients are protected. It may take a little research, but make sure you're following state and local laws by getting the proper cleaning business license, bonds, and insurance.
Insureon has insurance agents who specialize in janitorial services, house cleaning businesses, and more. Please feel free to contact us to find out exactly what kind of coverage you need.
Complete Insureon's easy online application today to compare quotes for business insurance from top-rated U.S. carriers. Once you find the right policy for your small business, you can begin coverage in less than 24 hours.