Safeguard building services with lost key insurance coverage
If you own a business that's responsible for the keys of multiple clients or for an entire building, lost key insurance may be worth investing in.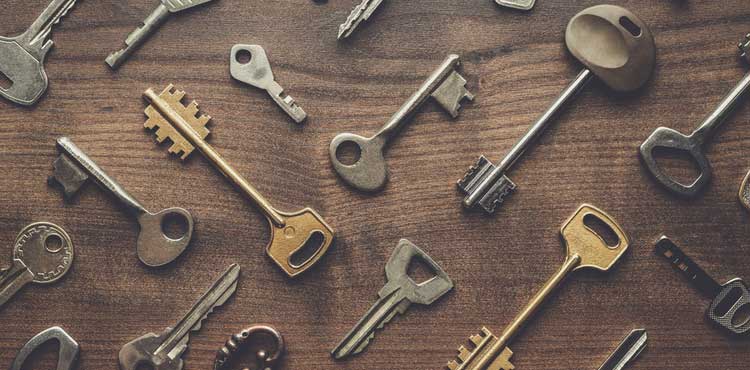 If you're like most people, you probably have a mental list of things to grab as you leave home or work: keys, wallet, phone.
We all get distracted sometimes, and items get lost. But sometimes those losses can add up to a big expense, especially if you own a business that is responsible for keys for an entire building or multiple clients.
Lost key insurance coverage can help minimize the cost to your business if a client's keys go missing and you are held responsible for replacing the locks and keys.
The cost of retooling a lock might not sound like an insurance-worthy event, but if you lose a master key to a large office building, it will be a sizable expense. Digital locking systems can also be costly to reprogram. The cost of replacing keys and installing locks will depend on the size of the property and the technology used with the lock systems.
Even for a micro-business owner, such as a dog walker or childcare provider, the cost could result in a significant impact on normal business expenses.
What is included under lost key coverage?
Lost key insurance usually covers the contractor who is responsible for keeping the keys (for example, a cleaning service) and its employees (the specific people who come to the building to perform cleaning).
If a building custodian accidentally tosses a client's keys out with the trash, the lost key policy typically includes the cost of rekeying the building and replacing the locks.
However, if the custodian had to leave the building unlocked for a night when the keys were missing, and computers were stolen during that time, the lost key coverage would not include the cost of replacing the computers.
Lost key coverage does not include criminal behavior, including if an employee intentionally takes a key from a client's building. (Instead, look to a janitorial bond for this coverage.)
Add lost key coverage to general liability
Lost key insurance coverage is usually an endorsement, or rider, to a general liability policy. In other words, it's a mini policy that you add to the coverage you already have for other types of business liabilities.
If your business offers janitorial or cleaning services or another service that involves working with a client's keys, Insureon can help you compare quotes from top U.S. carriers for policies that will protect your business.
Compare quotes from trusted carriers with Insureon
Complete Insureon's easy online application today to compare insurance quotes from top-rated U.S. carriers. Once you find the right policy for your business, you can begin coverage in less than 24 hours.