The 7 best small business groups for networking
Building relationships with the right people is critical to the growth and success of your small business.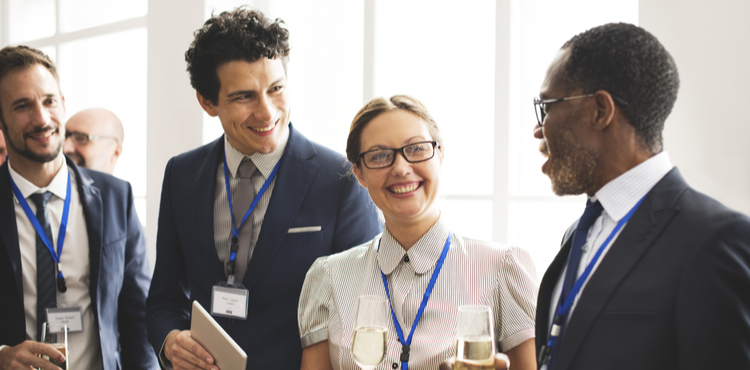 It's no secret that success in business has a lot to do with who you know. Relationships and partnerships with the right people are critical to growing your customer base and making your business succeed.
Despite the undisputed importance of networking, most small business owners have no idea where to start. If you have decided to make building strategic relationships a priority for your business, these small business groups are great places to start. Here are seven of the top small business groups for networking.
1. Your local chamber of commerce
To form business connections within your immediate community, the best place to start is often your local chamber of commerce. The quality and involvement of local chamber organizations can vary from city to city, but many of them provide foundational training, professional development, and resources for local business owners.
Along with networking opportunities, many local chambers of commerce bring in guest speakers and provide mentoring opportunities at affordable rates for new business owners. Contact your city's commerce department to learn more about your local chamber.
2. SCORE
For more than 50 years, this nonprofit business association has provided opportunities for small business owners to gain skills, grow their networks, and achieve their business goals. From free online learning opportunities to in-person mentor relationships, entrepreneurs across the country attribute their business success to the connections they've formed with veteran business owners through SCORE and its partner organizations. Because SCORE is supported by the U.S. Small Business Administration as well as corporate donations, it is one of the most affordable avenues to grow your business network.
3. Entrepreneurs' Organization
Through mentor relationships, online networks, and global networking events, Entrepreneurs' Organization has cultivated a community of more than 10,000 business owners around the world who share knowledge and build their business networks through EO's various programs. The demographics of Entrepreneurs' Organization are vast, and each local chapter has a different set of offerings. Overwhelmingly, though, invested EO members cite the impact of this organization not just on their professional careers, but on their lives as a whole.
4. Business Networking International
5. Young Entrepreneurs Council
For entrepreneurs under 40, this invitation-only organization provides incredible concierge services, professional development, and networking opportunities. Along with the quality of connections and resources, millennial business owners remark on the fast-paced, heavily digital nature of this organization as compared with older and more traditional small business groups.
6. American Marketing Association
Regardless of whether you work specifically in the marketing industry, every small business owner is involved in marketing. Along with the marketing education resources available from the national American Marketing Association, your local AMA chapter is a great place to form connections and learn from fellow marketers and entrepreneurs in your community.
7. Rotary Club International
If you value using your business to do good within your community, you may find a like-minded network in your local Rotary Club chapter. Keep in mind that the Rotary Club isn't specifically a small business group. Rather, it focuses more on community service and leadership development. That said, while demographics and quality of Rotary Club programs can vary widely between communities, many successful small business owners cite their local Rotary Club as crucial to their own business success.
Now, a word to the wise. While each one of these organizations can provide amazing networking and learning opportunities for you, you absolutely should not join them all. Being a cursory member of a dozen small business groups will not provide nearly as much value as investing deeply in one or a few organizations.
Choose one to three small business groups to try at a time, see what resonates, and aim to invest significant time and energy into at least one. As with anything in life, when you decide to join one of these small business groups for networking, you will get out of it what you are willing to put in.
Compare quotes from trusted carriers with Insureon
Complete Insureon's easy online application today to compare quotes for small business insurance from top-rated U.S. carriers. Once you find the right policy for your small business, you can begin coverage in less than 24 hours.