The 10 best small business networking groups
Success in business has a lot to do with who you know. Building relationships and partnerships with the right people is critical to the growth and success of your small business.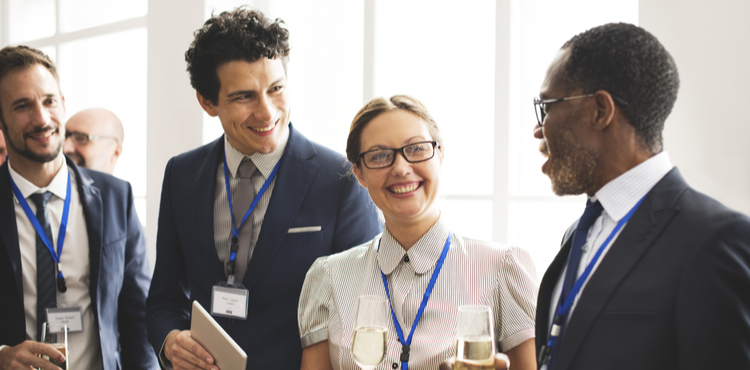 It's no secret that success in business has a lot to do with who you know. Relationships and partnerships with the right people are critical to growing your customer base and making your business succeed.
Despite the undisputed importance of networking, many small business owners have no idea where to start. Whether you've formed your own LLC or are looking to pave your way as a business consultant, once you have decided to make building strategic relationships a priority, a great place to begin is with business groups made for that purpose.
Here are ten of the top small business groups for networking.
1. Your local chamber of commerce
To form business connections within your community, the best place to start is often your local chamber of commerce.
The quality and involvement of chamber organizations can vary from city to city, but most of them provide foundational training, professional development, and resources for local small business owners.
Along with networking opportunities, many chambers of commerce bring in guest speakers and provide mentoring opportunities at affordable rates for new business owners. Contact your area's chamber of commerce for more information.
2. SCORE helps mentors and small business owners connect
For more than 50 years, this nonprofit business association has provided opportunities for small business owners to gain critical skills, grow their networks, and achieve their business goals.
SCORE calls itself the largest network of free volunteer small business mentors in the nation. It offers free online learning opportunities and a platform where small business owners and mentors can connect.
Because SCORE is supported by the U.S. Small Business Administration, as well as corporate donations, it is one of the most affordable avenues to grow your business network.
3. Entrepreneurs' Organization (EO)
Entrepreneurs' Organization (EO) calls itself the only peer-to-peer network exclusively for entrepreneurs.
Through mentor relationships, online networks, and global networking events, it has cultivated a community of more than 15,600 business owners around the world who share knowledge and build their business networks through EO's various programs.
4. Business Networking International (BNI)
If your primary goal in business networking is to gain a large volume of referrals, Business Networking International (BNI) may be a valuable resource for you.
BNI calls itself the world's leading business referral organization, with more than 286,000 members and 10,600 chapters available worldwide.
Rather than focusing on community building, members of this organization take a more transactional approach to sharing contacts.
5. Young Entrepreneur Council (YEC)
For entrepreneurs under the age of 40, this invitation-only organization provides concierge services, professional development, and networking opportunities.
Along with the quality of connections and resources, millennial business owners tout the fast-paced, heavily digital nature of this organization as compared to older and more traditional small business groups.
Get small business insurance quotes
Have a question? Schedule a call.
6. American Marketing Association (AMA)
Every small business owner utilizes marketing, even if you're not working in the marketing industry itself.
Along with marketing education resources available from the national American Marketing Association, your local AMA chapter is a great place to form connections and learn from fellow marketers and entrepreneurs in your community.
7. Rotary Club International
If you value using your business to do good within your community, you may find a like-minded network in your local Rotary Club chapter. Keep in mind that the Rotary Club isn't specifically a small business group. Rather, it focuses more on community service and leadership development.
The demographics and quality of Rotary Club programs can vary widely between communities, though many successful small business owners cite their local Rotary Club as crucial to their business success.
8. LinkedIn groups
Although having a comprehensive LinkedIn profile can help promote yourself and your business, it is more than just creating an online resume.
LinkedIn has numerous groups based on business interests and location. Joining these groups can help you connect with others in your field and community.
Some of these groups exist for the sole purpose of networking across all industries within a region. A lot of times these groups hold public events, which can be a great way for you to mingle and connect with others face-to-face.
9. Network After Work
Network After Work calls itself a professional community of entrepreneurs and other business professionals, with the goal of developing relationships to grow their businesses and careers.
Members can create online profiles, search for other members within the same field or location, and attend both virtual and in-person events. The organization also hosts live events in 87 locations across the United States.
10. Social calendars
Both Meetup and Eventbrite are online directories where you can search for a variety of activities based on your interest and location. Activities range from business networking events to music festivals and creative adventures.
You can also join groups within each platform that specialize in specific interests. This makes it easier to find people near you who are interested in professional networking.
Networking tips to help you succeed
Successful networking doesn't happen overnight. Below are a few tips for successful networking:
Have your 'elevator speech' ready. This is a brief explanation (30-60 seconds) of who you are and what your business is about. It's crucial for face-to-face networking.

Always carry business cards. Nothing says "amateur" like a home-printed business card. Have yours professionally made through an online or local print shop and bring plenty to networking events.

Have a two-way conversation. Successful networking works best when it's a two-way street, so don't just talk about yourself. Make sure you ask people about their business, what they're looking for, and how you might help them.

Take notes and make connections. To help build stronger connections, jot down a few notes on the back of someone's business card as a reminder of how you met them and what you talked about.

Follow up. After an event, send a quick email to remind someone how you met, what you're looking for, and if you heard of any business opportunities that would benefit them. Instead of an email, you could also send a connection request through LinkedIn. This should be done as soon as possible after the event, within 24 hours.

Keep at it. Successful business relationships take time to establish. The more businesspeople you meet and connect with, and the more business networking organizations you try, the better your networking skills will become.
In time, you'll be networking like a pro and forming your own business community by utilizing some of the skills you've developed along the way.
You may also like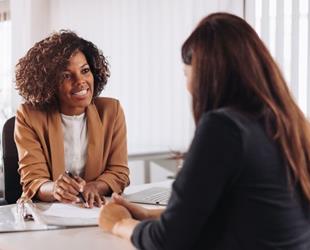 How to grow your small business to new heights
A business expansion can gain new customers, and potentially more profits, for a small business owner. Of course, you'll need the right strategy to avoid growing pains and remain profitable.
Go to article
Find insurance quotes from trusted carriers with Insureon
Complete Insureon's easy online application today to compare quotes for small business insurance from top-rated U.S. carriers. Once you find the right policy for your small business, you can begin coverage in less than 24 hours.