8 ways to reach new customers online
Because you can target digital marketing to reach qualified leads, it's one of the most effective forms of advertising your business. Get the most out of digital marketing by defining your marketing goals and finding your best tactics.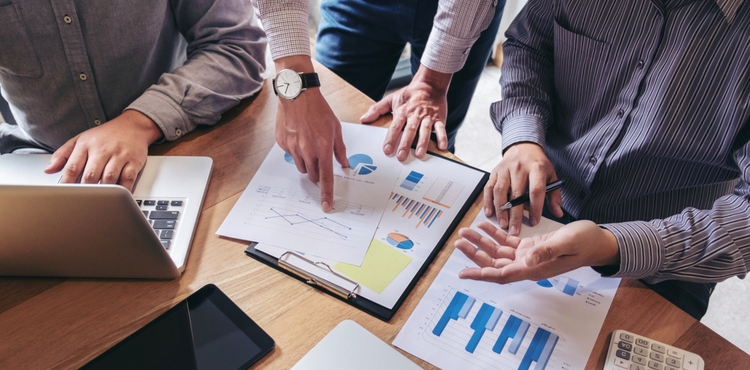 Digital marketing is one of the most cost-effective ways for small business owners to reach new customers and grow sales. Digital messages can be highly targeted to reach specific audiences at a fraction of the cost of traditional mass media like television, radio, and print. And best of all, you can manage many digital marketing tactics yourself with the help of free or affordable software tools.
With digital marketing, the options are almost unlimited – and that's the problem! Small business owners can easily find themselves overwhelmed with choices. Even worse, you could waste your time and advertising budget chasing a dozen different channels instead of focusing on the two or three digital tactics that are best for your business.
To truly harness the power of digital, you need a game plan – a specific digital marketing strategy to help your business grow. You need to decide what you want to accomplish and the best way to accomplish it, and then measure if your plan is working so you can adjust if needed.
What are your marketing goals?
The first step to defining your digital marketing strategy is to determine your goals. Knowing where you want to end up will help you figure out the best way to get there. Most digital marketing campaigns include one or two of these common goals:
Gain exposure
Build trust
Increase web traffic
Increase phone calls
Capture new leads
Increase conversions
Retain existing customers
What are the best marketing tactics?
The next step is to determine which tactics will best help you reach your goal. Some of these channels are free but require your time and effort; others rely on paid advertising budgets. Don't spread yourself too thin! Pick a few tactics that will be most effective for your business and focus your time and investment there.
These are the most common digital marketing tactics for small business owners.
1. Search engine optimization
Search engine optimization (SEO) is a collection of tactics that, over time, improves the reputation and visibility of your company's website so that it is found more often by major search engines like Google. These tactics include having a mobile-friendly website, using relevant keywords in your content, and getting links to your site from other reputable sites. When your website is optimized for search engines, more customers will find it when searching for businesses like yours.
2. Local search
Local search optimization is similar to SEO but it is geared toward local businesses that want to be found by nearby customers. Local search tactics include placing your business on Google Maps and similar smartphone apps, creating separate web pages for each of the locations you serve, posting content that is relevant to your local customers, and using long-tail keywords that include your business's location ("emergency plumbing Rochester," not just "emergency plumbing").
3. Online business listings
There are more than 50 online directories that publish listing information about local businesses: business name, address, phone number, hours, and other info. These directories are the 21st-century version of the yellow pages. When a potential customer uses a smartphone or laptop to search for a product or service, they will get results of nearby businesses from one of these directories. To ensure that they find correct information for your business, you should claim and update your listing on as many of these directories as possible.
4. Search engine marketing
With paid search engine marketing (SEM), you can buy placement on search results pages. While SEO tactics can take months to organically improve the visibility of your website, SEM lets you instantly get your business in front of customers who are searching for specific keywords. The most common SEM tactic is pay-per-click advertising (PPC), such as Google AdWords, which lets you bid for keywords like "pet care Springfield." You only pay when a potential customer clicks on your ad.
5. Social media marketing
Businesses can use social media to build awareness and engagement with customers by posting on popular online platforms like Facebook, Twitter, LinkedIn and Instagram. Effective social media marketing starts by thinking about who you're trying to attract and then engaging in a conversation. Ask for your followers' feedback and respond to them. When you post content, make sure it will interest your customers in some way – not just promote your business.
6. Content marketing
The articles, videos, and photos you post on your business website can prompt customers to find your website and trust your business. One common content marketing tactic is to post expert advice related to your industry. For example, a roofer could post helpful blog articles like "When it's time to replace your roof" and "How to maintain your new roof." Customers who are looking for information about roofing would find these articles via a search engine and, if they like the articles and see the author as a trusted expert, they might decide to purchase from that business.
7. Mobile marketing
More than 75% of Americans own a smartphone, according to the Pew Research Center, and the majority use those phones to search for local businesses and make purchase decisions. Mobile marketing tactics ensure that your business can reach those customers with a mobile-friendly website, marketing emails that look good on smartphones, click-to-call buttons on your website so smartphone searchers can phone you directly, and updated business listings that place your location on smartphone maps.
8. Online reviews
Online reviews are the feedback left by customers on websites like Google, Facebook, Yelp, and others. When a customer leaves a review, the comment (often accompanied by a star rating) is posted publicly on the business's profile, and they also appear in Google search results and Google Maps when customers look for a business. Small businesses owners who depend on reviews should develop a strategy to solicit reviews from satisfied customers and quickly address negative reviews by posting gracious, constructive responses.
Remember, digital marketing is affordable and effective, but it's not free. For your strategy to succeed, you need to devote time and resources to your chosen tactics. The good news is that digital marketing results are measurable. Pay attention to the metrics that support your marketing goals (number of social followers, number of web clicks, number of phone calls) so you can adjust your strategy, abandon tactics that don't work, and focus on the digital channels that truly help your small business grow.
Compare insurance quotes with Insureon
Before you put your business out there online, make sure your liabilities are covered. Complete Insureon's easy online application today to compare quotes for general liability and other kinds of business insurance from top-rated U.S. carriers. Once you find the right policy, you can get coverage in less than 24 hours.
About the author
Brian Lindamood, content director for Manta, is passionate about great marketing and management advice. Manta helps small business owners succeed on their own terms with educational resources and digital marketing tools that are simple and effective.